Students Advocate for Holiday on Diwali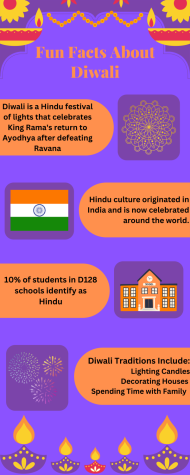 Students at Vernon Hills High School are speaking out to have District 128 recognize the Hindu festival Diwali as a holiday.  This would mean that Diwali would be recognized as a holiday and students can get the day off to celebrate.
Most holidays recognized by D128 are Christian holidays, which means people of other religions have their festivals interrupted because of school.
Diwali is the Hindu festival of lights that celebrates King Rama's return to Ayodhya after defeating Ravana. It is a festival of light triumphing over darkness. Diwali marks the start of the Hindu New Year and is celebrated across the world in India, Indonesia, Fiji, Malaysia, Sri Lanka, Nepal and many other countries.
To celebrate, people light lamps on the streets, pray to Hindu Gods at Mandirs, decorate their houses and come together with their families to exchange gifts and spend time together. 
10% of students in D128 schools identify as Hindu. Those students have to choose between their education and religious festivals every year. When choosing between education and religious holidays, students can feel disconnected from their culture. 
"Some [Hindus] don't celebrate Diwali, because they don't have enough time and it becomes this issue where we're unable to be deeply rooted in our culture" stated Ishani Anand, a sophomore at VHHS, who spoke to the Board of Education to get the day off. 
Diwali often falls around midterms, which can often cause stress for students who celebrate Diwali; they have to sacrifice either school or celebration, when they should be able to participate in both. 
 "It becomes this thing in [our] brains where when it is Diwali, we're unable to celebrate," said Anand. "They both conflict with each other and we want to do both."
Since Diwali can often conflict with school, and missing a day is simply not an option for some people, students at VHHS's Indian Student Association decided to suggest a change. They want D128 to recognize Diwali as a holiday and give a day off for students to be able to celebrate. 
The students recently spoke at the November Board of Education meeting, where they talked to board members about what Diwali is, as well as the stress of balancing school and religious holidays.
Two of the students who spoke will be chosen to join the calendar committee to help figure out how a day off can be implemented.
A very similar event occurred at LHS and VHHS in 2020, when Muslim students at the school wanted to have Eid as a day off from school. Like Diwali, Eid is a religious holiday that was not considered a holiday by D128 and was therefore a regular school day.
Throughout the spring of 2020, students from LHS and VHHS spoke at board meetings and were able to come to a compromise: to have Eid be a teacher institute day. This way, Muslim students didn't have to compromise their religious obligations because of school, and teachers could still come into school and work. 
Recognizing Diwali as a holiday can help make students at D128 more well rounded and educated about many cultures around the world. 
"It would be able to put Global from our DARING mission statement into action," said Anand.
However, due to the complicated nature of calendar planning, even if Diwali were to be recognized as a holiday, getting a day off would not be possible next year, as the calendar has already been officially adopted. Additionally, a day off could be too difficult to implement, and it would be easier to designate Diwali as a teacher-institute day, much like Eid.
Getting a day off for Diwali is a very complicated process, but members of the Indian Student Association are determined to complete their goal – if not for themselves, then for future generations.
There are currently no schools in Illinois that recognize Diwali as a holiday, and according to Anand, "We could be one of the first."
Leave a Comment