Feeling Ethereal
On Nov. 26, 2021, Ethereal Spiritual Boutique opened at 111 E. Cook Ave. in Libertyville. The store sells a variety of items including crystals, incense, jewelry, books and candles as well as other mystical merchandise. They also carry wellness products such as lotions, sprays and salts. 
Store owners Nicole Glunk and Norma Lara live locally and are proud that Ethereal is now considered part of the Libertyville community. 
"We love the town, we love the people," Glunk said. She and Lara were drawn to Libertyville due to the feeling of community. 
Libertyville is home to an array of boutiques, salons, restaurants, and fitness studios. Ethereal adds to this diversity of establishments as the first mystical shop.
 "They have everything else here in Libertyville. So why not implement this as well?" said Lara. 
Although Ethereal caters to all ages, they particularly aim to provide for teenagers. 
"Our store is targeted for younger people," Glunk stated. "[For] that early intervention, learning how to live their best life is so important." 
One of Ethereal's defining features is the personal connection they hope to achieve with their clients. 
"Greeting somebody and making them feel welcome is what sets us apart," said Glunk. "We're working on that one-on-one individual basis, and doing so builds relationships and that have trust."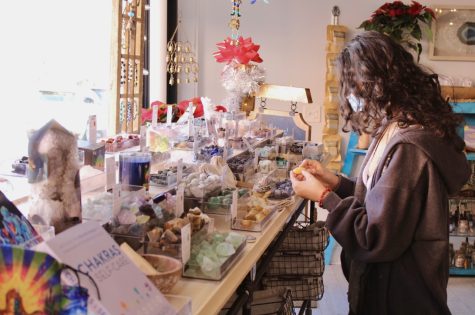 Ethereal represents both Glunk and Lara's appreciation for spiritual growth and well-being. 
"This is part of my life and it has been for a really long time," said Glunk.
Both Glunk and Lara explain Ethereal's number one priority is servicing their clients however they can, whether that be assisting them on their spiritual journey or improving their physical and emotional well-being.
"It's not about money. It's about personal growth, and that's the difference," Glunk stated.
"I think it's a way of life now. I really do believe that helping [others] has become a huge thing for us," said Lara.
Another defining feature is Ethereal's religious inclusion. Ethereal has a variety of jewelry and handmade pieces, all with different religious origins in an effort to connect and provide for everyone in Libertyville, regardless of religion.
"We're encouraging growing and embracing each other," said Glunk. "We hope to collectively help [our customers] and work one-on-one with them."
The store isn't meant to convert or force ideas of one religion or belief. Ethereal encourages open-mindedness and indulges curiosity.
"Our store is for those trying to understand themselves. We have the education and the supplies all in one place," said Lara.
Ethereal is for people of all ages and religions. Their goal is to establish a safe, positive environment for the Libertyville community.
"It's about positive wellness, mind, body and soul," said Glunk. "Encouraging spiritual growth, in a positive way."
Ethereal is open Tuesday through Thursday 11 a.m.-6 p.m. Friday's they are open until 7 p.m. They are closed Sunday and Monday. Ethereal has several give-aways and raffles, and display their crystal of the week on their Instagram, @etherealspiritualboutique, you can purchase the crystal for 25 percent off. Ethereal has a student discount of 10 percent off purchases if they bring their LHS school ID with them.
Leave a Comment