Cultured Roots: The Art of Green Thumbs
The story of how a woman's love for plants grew into a full-fledged business in the middle of a pandemic.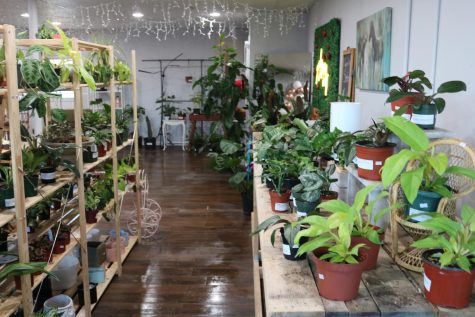 Located on Peterson Road, Cultured Roots is a small plant shop that features indoor plants of all shapes and sizes.
Having opened during the pandemic, Cultured Roots is a fairly new store in Libertyville that has spread the word through their many social media platforms which include Instagram, Twitter and Facebook.
On the home page of Cultured Roots' Instagram, patrons can find the shop's hours, the latest deals and the store's pet-friendly guests. Crystal Peña, the owner of Cultured Roots, started out with a few small plants at home, before developing a green thumb through practice. She eventually turned her love for plants into a full-fledged business, leaving her five-to-nine job at an educational toy company where she worked for five years.
"It's always about social media." Peña mentions, "The only thing that helps is social media, always post, post, post," She says, discussing her following on Instagram and how she shares information regarding Cultured Roots.
"I used to buy fake [plants], but through the pandemic, I did a lot of research on plants, and I did learn a lot from my own mistakes of how not to kill them," Peña mentions, "So it's all from my own experience as well."
Inside her shop, patrons can find every kind of indoor common plant from all across the United States.
"I have a lot of hanging plants, as well as the ground ones." Peña says. "I don't have outside plants, but in the future I will be having flower arrangements and dried arrangements as well," 
She also supplies information for ways to care for the plants patrons buy in her store. With plants lining the walls, a small lounge chair with the words "Good Vibes Only" lit-up in neon yellow for aesthetic photos, and quiet music playing overhead, the tranquil atmosphere is a welcoming place for patrons to shop for their plants in peace
However, outside, is Peterson Road, a loud street, which Peña explains is one of the reasons people may not know about Cultured Roots.
"Since the street is so heavy on traffic, I don't get a lot of foot traffic," Peña says, "that's why social media is so huge because there's not a lot of foot traffic over here."  She plans to move to downtown Libertyville next spring.
"I'm so excited," she says. "I have so many plans for there. Just a few more months, I can't wait." 
After relocating, Peña plans to have pop-up events in hopes to bring in more foot traffic. Some ideas involve painting pots for the plants or displaying the community's artwork.
Constantly showcasing her shop and the items in it, Peña supports local artists as well by showcasing their art inside Cultured Roots, which is where the name for the plant shop comes from.
"It's like how the name goes from your roots, everyone's roots." She explains. "Everybody has their own roots, their family roots. I want to bring in different cultures here. So that's why we call it Cultured Roots. So everyone can be like a family you know, all together," she explains.
Peña looks forward to developing a strong relationship with the community of Libertyville, even if the pandemic has gotten in the way of seeing other people.
"I love Libertyville, their community, especially because there's a lot of small businesses in Libertyville, and they're so huge and supportive with each other," she explained.
Peña continues to run her shop, opening Thursday at 11 a.m. and closing on Sunday at 4 p.m. with Monday, Tuesday, and Wednesday off for restocking, supply delivery, and cleaning for the week per COVID-19 protocol, which mandates strict health guidelines for all accessible, open to the public businesses. Cultured Roots, despite being new to Libertyville, has become the plant shop for everybody's needs. Cultured Roots has a wide variety of indoor plants and plans to welcome more varieties as they move to their downtown location in Libertyville.
Leave a Comment