Illinois General Assembly passes Climate and Equitable Jobs Act
On Sep. 13, 2021, the Illinois General Assembly passed the Climate and Equitable Jobs Act (CEJA), described by House Speaker Emmanuel "Chris" Welch as "monumental."
The bill puts Illinois on a path to use 100 percent clean energy by the year 2050 and to be carbon free by 2045, while providing economic opportunities in the clean energy sector.
In the short term, the bill reduces carbon emissions by 45 percent, with many traditional energy plants being closed down. The main focus is the closure of the Prairie State Energy Campus in Washington County, which has been the seventh biggest source of pollution in the country.
Closer to home, the Waukegan Generating Station announced it will close in June 2022. While this was not a direct result of the CEJA, this further shows the changing culture in Illinois that no longer promotes coal plants and their dangerous health effects.
The closure of the Waukegan Generating Station will not be the only local effect of the CEJA. David Wilms, an energy consultant at Advance Renewables and former member of the Village of Libertyville's sustainability committee, explained this. 
"We're trying to figure out how we can help both schools and municipalities become aware of the fact that solar is actually cheaper than buying [coal-powered] electricity. Science continuously makes advances so there's a lot of different things that collectively will help reduce the threat of climate change [and our carbon footprint]."
According to the Sierra Club, an environmental activism group, 90 percent of Illinois coal plants had unsafe pollutants in their groundwater. Coal plants that focus on cleaning the air, in turn, have that pollution end up in the water
Although the law takes steps to mitigate the effects of climate change, the bill still allows for construction at former sites of coal plants immediately after their closure without any cleaning of the area, as is the case with the Crawford Generating Station in Chicago. This could kick up coal ash into the atmosphere or permanently lock it in the ground.
This bill especially focuses on minority communities, many of which have been negatively affected by coal plants and/or rely on coal plants as employment.
Under the CEJA, job opportunities in the clean energy sector are set to grow, especially in these disadvantaged communities.
"What's exciting is that there's a lot of funding that's been devoted to training for jobs that involve installation and maintenance of solar and wind [energy], so that could absolutely affect a lot of people in [Lake] County who want to take advantage of the training," explained Dr. Jennifer Kahn, the AP Environmental Science teacher at Libertyville High School.
Although the bill does limit jobs in coal plants, which have been employing Illinois residents for a very long time, it would still create more net jobs and help to stop the health risks that come with work in coal mines.
Wilms stated, "Being in the renewable energy sector is going to be much safer and much more pleasant. A lot of people say that this is really going to hurt coal miners and cause unemployment. Well, it turns out that today there's very few people employed in the coal mining industry so there's no sense in trying to maintain a career path that is no longer economically feasible, as well as dangerous."
Another key tenet of the bill is its expansion of clean energy transportation, including more public transport and the expansion of electric cars, especially in more rural areas.
"[Illinois] really needs a huge investment in charging stations for people with electric vehicles. Without that [electric vehicles] are really not going to take off, if we don't have convenient and reliable and fast energy sources," said Dr. Kahn.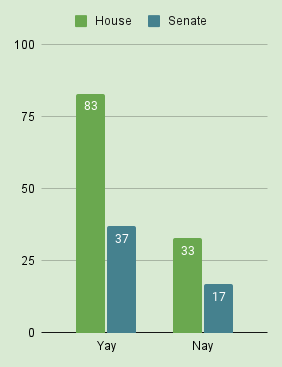 This bill had bipartisan support in both the House of Representatives, passing 83-33. and the Senate, passing 37-17.
Legislators in the Libertyville area predominantly voted for the bill, with Representative Dan Didech (D-59) and Representative Sam Yingling (D-62) both voting 'Yay' on the bill. Representative Chris Bos (R-51) voted 'Nay' on CEJA.
The legislation emerged from Governor J.B. Pritzker's office, according to Politico. This bill was an amendment to SB 1751 that further regulated carbon emissions in the state of Illinois and cracks down on coal plants.
This bill was created with the support of many environmental activism groups, including the Illinois Clean Jobs Coalition, Sierra Club Illinois, Clean Power Lake County, Climate Jobs Illinois, and others.
During debates about it in the House and Senate, one major sticking point was funding for a nuclear power site run by Exelon, which has been a center for a corruption scandal. In the end, however, the legislation was passed while still funding Exelon plants.
The passage of the bill in the senate was described as a 'nail-biter' by one representative, according to Politico, as Exelon had set Sep. 13 as the day of closure for one of its nuclear plants, if it were not given funding. The plant would not be able to operate without CEJA's funding, so timely passage of the bill was necessary.
The CEJA has set an example for legislation to mitigate climate change all around the world, as Governor J.B. Pritzker recently went to the United Nations Climate Summit in Glasgow, Scotland to speak on the bill's efficacy.
Leave a Comment