Remembering Mr. Bogumil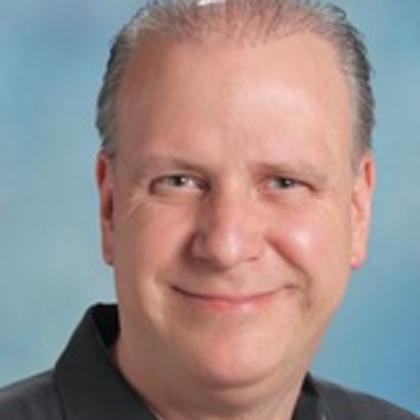 A constant smile and joyful, contagious laugh continue to echo in the minds of those whose lives were touched by Scott Bogumil, who passed away unexpectedly from a heart attack on Feb. 13. A passionate coach on the basketball court, a loving father and husband, and a devoted counselor at the high school, those closest to Mr. Bogumil remember his willingness to listen and the energy he brought to each part of his life.
A "basketball junkie," his proficiency in every aspect of the sport was admirable to many. Head boys basketball coach Brian Zyrkowski, who started his LHS coaching career under Mr. Bogumil, recounted his continued amazement at Mr. Bogumil's knowledge when he sought advice for an upcoming game. 
"He knew every single thing about [our] opponent that we were playing that weekend," Mr. Zyrkowski noted. "He [hadn't] seen them play. They haven't played in over a year, but he knew every single player who left, who was on [the team], what they were going to do…and I remember stepping [into] the game like 'oh my gosh, he called it.'" 
After a successful coaching and counseling career at Gordon Technical High School, now DePaul College Prep, Mr. Bogumil entered LHS in the same roles in 2004. He served as Libertyville's head coach for 11 years and then resigned to pursue an assistant coaching position at Northridge Preparatory School in Niles.
Even with the prominence of basketball in his life, Mr. Bogumil always maintained the energy to be with his wife and two daughters. 
Briant Kelly, District 128's associate superintendent who coached under Mr. Bogumil as his assistant for three years, emphasized the love Mr. Bogumil had for his family. 
"Being a coach, being a counselor, being in school, you spend a lot of time away from your family, but he always tried to make sure that he took time with them…whether it was on the weekends or [when it] wasn't during basketball season," Mr. Kelly said. 
Mr. Zyrkowski echoed this sentiment: "It's very easy to spend less time with family during the seasons [but] he found ways. He always had the energy to do it."
As a grounded and compassionate teammate, Mr. Bogumil focused on cultivating relationships.
"One of the first things [I noticed] is how caring he was of his staff and players," Mr. Zyrkowski shared. 
Jason Schroeder, the G-P LST team director, worked with Mr. Bogumil for 10 years and noted the way he would continue to "tell new stories about stuff from the past that you had never heard…and they were all true." 
Mr. Zyrkowski also recalled many of his memories of Coach Bogumil sharing stories about the "basketball situations, coaches he has met, [and] players that are in the NBA that he remembers in little kids camps." 
"He always brought up stuff [about] how much kids impacted him, how much coaches impacted him," Mr. Zyrkowski said. "But really, if we think about it, it was…more him impacting coaches and him impacting those kids."
Mr. Bogumil's presence on the basketball court and in the LST were known to be vastly different as he kept those spheres of his life separate. 
School nurse Cam Traut described her first experiences getting to know Mr. Bogumil, remembering his in-school personality as "very mild mannered" and "very quiet…except for his loud laugh."
"I remember going to the first game to watch him and he [was] totally opposite," she shared. "You would never know that that's the same guy that would sit here so quietly and do his job…and when he got on the court, and if you look at some of the pictures…his arms spread out, and you could just see the emotion and the passion with his hands flailing and stuff, and he's stomping his foot."
Whether he was walking into the LST with his daily cup of Dunkin' Donuts coffee or sharing his love for the Cubs, one aspect of his life was consistent: his character.
"If you asked him how he was doing, I just always remember that his response was 'I'm doing terrific,'" Mr. Kelly shared. "He just enjoyed coming to work every day, whether it was [as] a counselor or was [as] a coach."
"He was a very morally just person…he always did things the right way, would never cut corners, especially when it comes to working with kids and making sound decisions on what's best for them," Mr. Schroeder emphasized. "He did what was right all the time, even if he didn't think anybody was going to see it."