LHS close to bringing therapy dog to the school
The LHS administration is making plans with social workers to have a long-term therapy dog in the A-F LST in order to provide students an outlet to de-stress whenever they need.
LHS was inspired to begin the process of finding, training, and eventually integrating a therapy dog into the school after Vernon Hills High School recently received a therapy dog of its own, Basil. The LHS Principal's Advisory Board discussed the possibility of adding a therapy dog last year, but the administration found that getting a therapy dog can be a lengthy and uncertain process.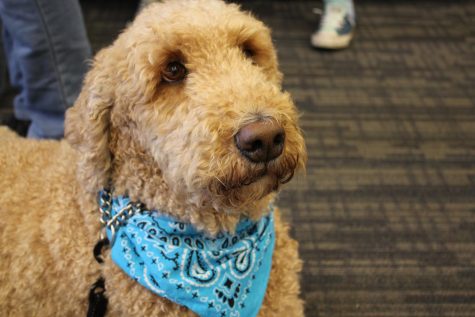 Basil is a labradoodle and hypoallergenic, so as to be a source of comfort even to those with dog allergies. He has been at VHHS since the beginning of the school year and is expected to help out especially during finals, AP testing and other various stressful periods for students and teachers.
Mr. Greg Loika, the A-F LST social worker, said that LHS is looking to reap the benefits of having a therapy dog beyond just having dogs come in for short periods of time at the end of semesters, as has happened in the past. School officials reached out to the Michigan-based organization Interquest, where the therapy dog candidate, whose name has not been disclosed, is training. If and/or when the dog is found to be qualified for the job, they would begin their time at the school anywhere from November to early second semester, Mr. Loika said.
Interquest is a nationally recognized organization for training dogs in therapy and in detecting contraband substances, and it also provides orientation programs with canine demonstrations.
When a therapy dog does arrive, it will be in the A-F LST. The dog's owner and/or trainer is unknown at this point, but that information is expected in the coming month.
"The goal is to utilize what has been a sort of regular around high-stress times [service where] a dog is coming into the building [for a short period and instead have] one that's here more full-time, three days a week, available to all students for various needs, both individual but also [in] classrooms and other areas of the building," stated Mr. Loika, who has been overseeing the process to this point.
Mr. Loika hopes that having a therapy dog with a long-term presence at the school will encourage students and staff to build connections and look to accept the dog into the culture of LHS.
"[It is important] to have an animal that kind of fits into the fabric of LHS and not just a random visitor," emphasized Mr. Loika. "[This provides] the support that comes along with having an emotional support animal in the building."
Students would be able to come into the LST and meet with the dog during any period of the day as long as it is a day the dog is scheduled at the school. At Vernon Hills, the dog is at the school Tuesdays, Wednesdays and Fridays.
Much like at VHHS, the dog would be present three consistent days a week, although the specific days are not yet certain. The dog would not be at LHS the full week as the dog would need time off and social workers would need days designated for work where the therapy dog (and the many students coming to visit) would not be a hindrance.
The benefits of having a therapy dog are clearly seen at VHHS, where the service dog is a hit with students and staff alike. He can even be found on social media platforms Twitter and Instagram and is featured regularly on VHHS students' accounts.
"A lot of times, it's students coming in here and hanging in [my office] with him; other times, I try to get out into the hallways and into the foyer, and we'll go into the classes, so it's all still kind of a learning phase for us too," expressed VHHS counselor and Basil's owner, Ms. Tiffany Heinlein.
Basil had to go through extensive training to be qualified to become a therapy dog at an organization called A Closer Bond located in Palatine. Basil passed the initial evaluation and entered a class with fewer than 10 other dogs, where he passed the good citizenship test and a test through the nursing home where Basil's behavior was assessed. 
"Just having him here in the hallways changes people, just makes them smile. For whatever might be going on that day, maybe a bad grade on a test, just seeing him has been a good influence here," said Ms. Heinlein.
Leave a Comment