Following walkout, LHS teachers peacefully protest in downtown Libertyville
On Wednesday, March 14, as students all over the country — including here at Libertyville — walked out of their schools in honor of the victims of the Marjory Stoneman Douglas High School shooting, teachers stayed behind. Because it was during work hours, public school teachers were not allowed to leave their classrooms, but many still wanted to show their support for the victims and express their voices on the matter of school safety.
Therefore, about twenty LHS teachers banded together after school on the day of the student walkout and walked from LHS to downtown Libertyville, peacefully protesting just as hundreds of LHS students had done hours before.
According to AP European History and World History teacher Mr. Kevin O'Neill, who participated in the event, the idea for teachers to march had been in the works only a couple of days before the planned student walkout, and it was a grassroots development.
Physics teacher Mrs. Suzanne Torrence, who also marched, explained that, "We couldn't take part in what [students] did during the day because those were our working hours, but once our working hours were done, we were able to step forward and show [students] that we thought it was important too."
Teachers met after school on Wednesday with signs that read "Teach Peace," "I live for my students, Don't ask me 2 die 4 them," "Not one more," "Arm me with books, not bullets," along with others.
They chose a specific route from LHS to Cook Park in downtown Libertyville so that the most amount of people would see them. Mrs. Torrence explained that, once there, they all lined up along Milwaukee Avenue and stood there holding their signs as many passersby honked their car horns and gave thumbs up in support.
More than anything, Mrs. Torrence explained that teachers "wanted to be a visual representation of support for what [students] had done, and we thought it was important for us to model certain behaviors."
Other reasons teachers decided to walk ranged from personal beliefs to raising awareness on the topic in general.
"I wanted an opportunity to participate in the national walkout that didn't conflict with my responsibilities at school," said U.S. History teacher Ms. Sarah Greenswag. "I was proud to stand with my colleagues and show the community that we want to see something done to make our schools safer."
For Mr. O'Neill, it was more personal.
"I brought my four kids on [the march]. I don't want to have to think about [school gun violence]; that is something that terrifies any parent," he said. "School is supposed to be a safe place, and I wanted to do this not only for the kids I have in class now, but for my own kids."
Many people in the community and around the country wondered whether the walkouts everywhere would have any political or social effect, but all teachers who participated strongly believe that there is positive change that can come from these demonstrations.
"There are so many legislative proposals being considered, and any action would be encouraging. I think we have learned the status quo isn't working," Ms. Greenswag said.
O'Neill added, "I wouldn't have done it if I didn't think it would do anything. Is anyone paying attention to our 30-person walk? Probably not. But this one, combined with that one, combined with another one [gains attention] and is changing the conversation. I hope some common sense prevails."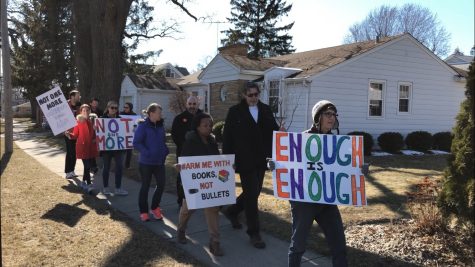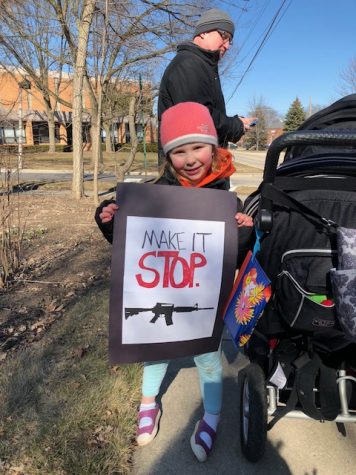 Leave a Comment