"Best day ever": Honoring veteran B&G worker Ronny "Ron" Ray Curtis
On the wall of Building and Grounds Supervisor Mr. Chris Stancil's desk is a standard LHS-issue clock. It looks just like a normal clock, but if you get close enough, right underneath the 6 is a small, label-maker sticker that says, "ron is awesome" in tiny black letters. 
This humorous little message is just one of many that Mr. Ronny "Ron" Ray Curtis left for Stancil and his assistant Ruth Vasquez. Vasquez would find hidden little post-its around her desk with messages like "You are awesome" and "You're the best." These little artifacts, pieces of Curtis, are just a tiny fraction of the impact Curtis has had on the LHS community in his 31 years here. 
Curtis, 56 years old, passed away on Feb. 2, 2023.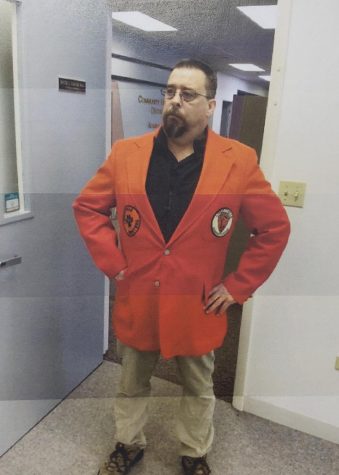 An icon at LHS
31 years ago, Curtis started working as a custodian at LHS. Since then, he has done it all: groundskeeping, plumbing, maintenance. For the last ten or so years, he ran the last shift maintenance crew. 
A veteran member of the Building and Grounds team, Curtis was compared to The Professor from "Gilligan's Island" by those who knew him: A man who, along with great expertise in his trade, was characterized by his intelligence, rationality and kindness.
"He knew this school like the back of his hand," Stancil said. "He was a very, very smart guy. A technical maintenance wizard. Hardworking. A fixer."
English teacher Ms. Dyan Naslund had a close relationship with Curtis, and she has witnessed his skills and work ethic since the year they both started working at LHS 30 years ago. Throughout the years, they would just sit and chat in her classroom when they could, and of course, he was consistently there whenever he was needed. 
"He was always this guy who you could count on for anything," Ms. Naslund said. "Like if my pencil sharpener was busted, he would come in within 10 minutes and fix the pencil sharpener and he would always say, 'Whatever you need, whatever you need.'"
Amongst his copious skills, Curtis was especially a whiz at plumbing. His knowledge and experience was especially obvious when it came time for Certified Pool Operator (CPO) certifications. CPO certification classes are a couple of days packed densely with information about chemicals and include lots of math. The class ends in a two hour test. 
Curtis, whom Stancil took the class alongside one time, was such an expert that two hours was completely unnecessary for him. 
"After 24 minutes he throws [the test] down to the instructor," Stancil said. "They're like, 'Do you want to know your scores?' He goes, 'I passed' and walks out. The whole class was literally jaw-dropped," Stancil said. 
Even though he was always alert and attentive, he didn't always show it. During meetings, it was characteristic of Curtis to doodle in the back. 
"He was always doodling," Stancil said. "When he would sit back there, he would draw like he was taking notes. He's just drawing stuff."
As a whole, his knowledge of all the ins and outs of LHS was unmatched.
"[He was] super handy," Ms. Naslund said. "He just kind of ran this place."
Due to his wide-ranging skills to tackle whatever issue arose, his presence throughout the halls of LHS was felt every day by much of the staff.
"From the faculty point of view, especially the old timers, he was an icon of this building," Science teacher Mrs. Suzanne Torrence said.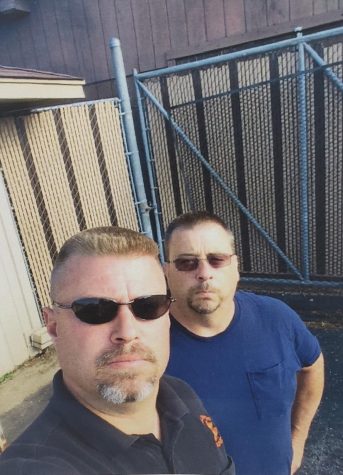 Perhaps one of his most iconic quirks was his consistent answer to "What's up?" or "How are you": "Best Day Ever!" 
"'Best Day Ever,' no matter what's going on, " Stancil said. "He could have stepped in dog [poop]. Or he could've slipped and fell. But always, 'best day ever.'. Just to lighten up the mood a little bit, you know?"
Music, barbecues, and volunteering
Outside of his mastery of all things maintenance, Curtis had a love for music and was a lifelong guitar player. 
Assistant Principal Mr. Eric Maroscher, a close friend of Curtis for many years, shared this passion with him.
"Ron and I have spent hours writing, playing or recording music together," Mr. Maroscher said. "When we played music, hardly a word was spoken. There was no need." 
Additionally, Curtis used to hold music jams and barbecues during the summer at his house. He invited any fellow LHS adult that wanted to come to play instruments with him and spend time together.
"People would sing, and it was just super fun to hang out," Ms. Naslund said. "He loved being outside and just hanging out with his friends."
Curtis also consistently spent a large portion of his vacation days volunteering at Camp Ma-Ka-Ja-Wan, a popular 100 year old facility in Pearson, Wisconsin, visited every summer by many Boy Scout troops from Libertyville. . 
"He used his vacation away from LHS, where he worked keeping this aging facility safe for students and staff, to go volunteer at that older facility, keeping that facility safe for those students and staff," Mr. Maroscher said. 
A man of few words and deep feelings
Externally, Curtis was a blunt man, with no time for nonsense. 
"If you wanted to talk nonsense, he was out," Ms. Torrence said. "He didn't want to hear anything of fakeness and inauthenticity."
Yet, underneath his gruff exterior, or as Stancil described it, his hard outer shell, he was a caring man who worked hard for the people around him. 
"Ron also was a man of very few words, but when he spoke, it really meant something," Mr. Maroscher said. "What most might not know about Ron Curtis, were ironically the best aspects of him. Ron was a man of deep feelings, whose capacity to care for others was uncommon, even amongst the uncommon."
Ms. Naslund saw him as someone who she could talk to about anything, and she knew he would do anything for her. 
"He sort of gave off an air of sort of like, 'Whatever,' but he cared so much about people," Ms. Naslund said. "He just would be there for you, no matter what. He would always check in on me. Like if I was gone for a few days, he came in to be like, 'Hey, I haven't seen you. Everything okay?' I was just really lucky to kn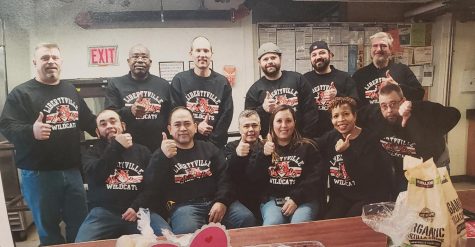 ow him as well as I did."
Building and grounds worker  Ronald "Allan" Engresso worked alongside Curtis for 19 years, and had a special bond with him.
"He was just something special," Engreso said. "He was a really nice guy. I could just open up personal stuff… [He was] like my brother."
As an integral part of the lives of many of those who work at LHS, he will be sorely missed. 
  "He was a man with a strong moral compass, a tremendous work ethic and a genuine goodness to his soul," Mr. Maroscher said. "Traits so caring and worthy that you were better from just knowing him. Traits so honorable that when he passed it left a hole in the hearts of those fortunate enough to have really known him well."
Leave a Comment