LHS Students Sing Their Hearts Out at the Spring Choir Concert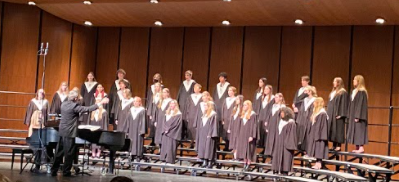 On Thursday, May 19th, students from the Libertyville High School's choir class performed their last seasonal concert for the year. The production received a standing ovation from the crowd as they performed popular songs such as, "Paparazzi" by Lady Gaga and "The Wellerman" a popular Sea Shanty arranged by Roger Emerson. The crowd was able to clap, dance, and snap along with the live performance as students sang their hearts out.
The Spring Concert was sectioned into 8 portions to highlight every section of the LHS Choir — Chorale, Cleftomaniacs, Concert Chorale, Acabellas/Treblemakers, BEL Canto, Master Singers, Concert Choir, and finally everyone combined into one large choir. It was a beautiful, emotional performance, especially as all the seniors came to the front of the stage to showcase their dedication to all 4 years in choir. The theme of this concert was love, emphasized by the last two songs on the setlist sung by all the choirs combined. 'Kala Kalla' by Eric Whitacre which means 'easy going' in Hebrew, and 'Open your Eyes' by Paul Langford.
Leave a Comment