Culturally responsive teaching and leading standards adopted in Illinois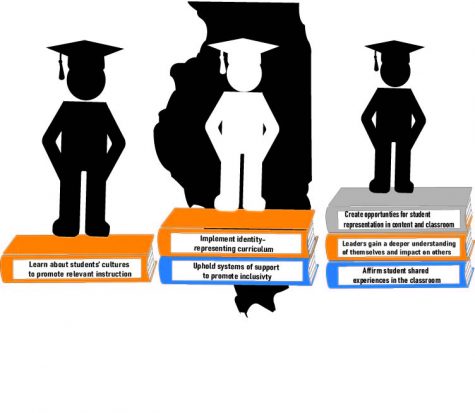 In mid-February, the Illinois General Assembly's Joint Committee on Administrative Rules voted in favor of the Culturally Responsive Teaching and Leading standards, which were then adopted by the Illinois State Board of Education.
These guidelines require all teacher training programs in Illinois to incorporate culturally responsive teaching and leading standards into their curriculum. For new teacher training programs, the rules will be included by October, but for ones that have already been established, they have until October 2025 to implement the standards. 
According to Dr. Rita Fischer, the assistant superintendent for curriculum and instruction for District 128, the new standards will mainly be enforced in colleges and universities where students are learning how to become educators. 
The new guidelines prepare educators to effectively connect and teach students from diverse backgrounds.
 Dr. Fischer explained that the purpose of these standards is "so [that teachers are] aware of who their students are, their cultural backgrounds, [and] their perspectives, and [teachers use that information] to design effective strategies for welcoming multiple perspectives in the classroom." 
According to Anne Singleton, the LHS equity coordinator, the standards are intended to help teachers build connections with each and every student that they have in their classroom. Their intent is to try to ensure that whatever biases a teacher may have will not impact the learning of the students and not interfere with the students' success. 
"Responsive teaching is about developing relationships with students in order to support their learning. It's a learning partnership and helps students recognize their strengths," explained Mrs. Singleton. "As an educator, [the goal is to] see students' strengths first and then leverage those strengths of students in order to help them understand new information to improve things in areas of struggle." 
This addition to the teacher training programs sparked some debate about whether the standards were pushing political viewpoints onto the educators and then, as a result, to their students. Some opponents of the new standards believed that what educators will be teaching is being changed as opposed to how educators will teach. 
"I was surprised, actually, that there was some misunderstanding about this being an initiative to teach about different cultures in our classroom," said Lisa Hessel, a D128 school board member. "But I think the controversy was really a misunderstanding of what this actually was." 
Mrs. Singleton shared that another aspect that those opposed to the standards are against is acknowledging the different cultural backgrounds represented in a classroom. 
"They don't believe that [culturally responsive teaching] has a role in education, and an educator's job is to teach the content and all of that other stuff is something that families should be doing if they want to be covering that information," she said. "And then the other side would say, 'No, no, no, this stuff is important. We need to acknowledge students' identities and how my identity as an educator impacts the work that I do with students.'"
Opportunities to learn about culturally responsive teaching are nothing new for the staff of D128 as "we determine our own professional learning opportunities for our educators and we have provided professional learning on culturally responsive teaching already and will continue to do so," said Dr. Fischer.
But this doesn't mean all Illinois school districts do the same. 
"I think from a global perspective, it is necessary. We know that when we look at metrics that there are students that are being left behind because they come to the classroom equipped with a different perspective than their peers," stated Hessel. "And if that's happening, it needs to be addressed."
Leave a Comment