Local Businesses Struggle But Survive
Since the shutdown of restaurants and retailers in March due to CDC guidelines in response to COVID-19, most American businesses — particularly small businesses — have taken a hit, including those in Libertyville. 
Heavily relying on foot traffic and walk-ins, many downtown Libertyville shops had to dramatically adapt and change their business tactics to be successful in this new world of social distancing. Without having a blueprint for managing a nationwide pandemic, the small business community has been under a lot of pressure. 
"It started off rough," executive director Jennifer Johnson of Mainstreet Libertyville explained. "We didn't really know how to approach it at first." 
This was the case for businesses across the country. According to the U.S. Census Bureau Small Business Pulse Survey conducted on August 20, 83.5% of the local food sector and retail businesses experienced a negative impact from COVID-19. In addition, 51.4% of those business owners surveyed have the expectation that it will take more than six months for their business to return to normal. 
These numbers can seem alarming and discouraging, but Johnson said local residents, aware of how businesses have been impacted, have tried to help Libertyville businesses: "With having such a tight-knit community, our local businesses were [relatively] lucky, even though the numbers don't show that." 
Donations through the Mainstreet Libertyville website became more popular during quarantine, Johnson said.. She said many people got together and donated available money to local businesses to help pay employees as well as for other costs. In addition, the Lake County Small Business Recovery Grant Program was developed to help. 
Businesses could apply to see if they were eligible to receive grants to cover occupancy costs and other related expenses. Proof of severe loss of revenue and business was required to apply. If accepted, businesses received money to cover up to four months of mortgage, rent and utilities costs. 
Johnson went on to describe the different efforts Libertyville restaurants and retailers took to "stay alive" during COVID. 
"All shops downtown had to find their advantage," she explained. "Outdoor seating, online orders, curbside pickup, catering menus. Everyone had to change aspects of their businesses in order to stay afloat."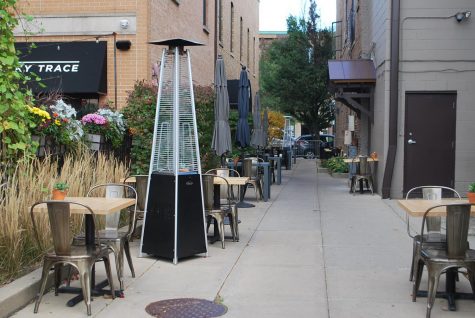 Restaurants like O'Tooles and The Liberty utilized their large outdoor areas and patio to seat people outside. This allowed for social distancing and more seating.
For The Liberty, a manager who asked for her name not to be used, explained the idea of using a big tent in their parking lot "was pretty obvious, honestly. We have [such] a big parking lot that wasn't being used. It really helped business and we got to see our regulars again." 
With the main crowd of The Liberty being older, a population at higher risk for COVID-19, getting those customers back was more difficult than for some other restaurants downtown. 
"Making everyone feel safe and comfortable was our top priority," she explained. 
Other restaurants, including Mickey Finn's and Cluckers, adapted their takeout and catering menus to fit a family-style meal. 
Junior Jasmine Seay is a hostess at Milwalky Taco, and explained their new QR code menus: "We changed the menus to QR codes to keep [everything] sanitized," she said. 
Customers are given a slip at their table that they can scan with their cell phone cameras, and it shows them the menu on their phones. This significantly reduces the amount of cleaning and sanitizing that Milwalky Taco would have to do with reusable menus. 
"We take the virus [very] seriously. Our workers are all safe about what we are doing outside of work as well," Seay explained. "It's a little stressful, but our customers are [pretty] understanding and for the most part follows the rules. That's all we can really ask for."
While the COVID-19 pandemic has caused lots of small businesses to change the way they operate, including those in the downtown Libertyville area, Johnson explained that the main factor that kept so many local businesses open was "the undeniable and consistent support from the people of Libertyville. We couldn't have done it without them." 
Leave a Comment