LHS Hosts Events to Engage Student Body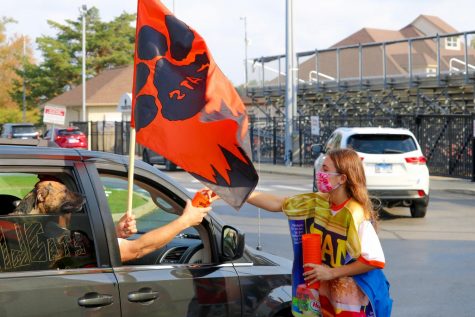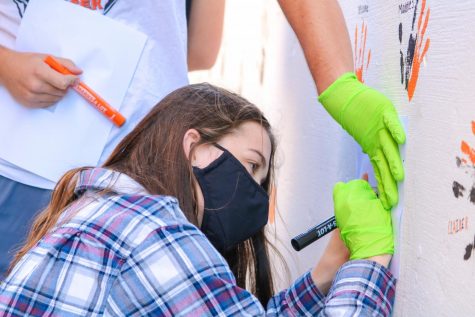 E-learning has not stopped LHS from encouraging school spirit and bringing students together during these confined times. Either through Zoom or carefully monitored in-person events, students have been able to express their school spirit while getting to reconnect with their peers. 
Due to the COVID-19 pandemic and its associated health risks and restrictions, the usual homecoming festivities could not happen this year. Junior Paige Bleck, a member on the Student Council executive board, shared that instead of the usual homecoming week, Student Council decided to do a "homecoming month." 
Toward the start of this, instead of an in-person assembly, this year it was virtual. There was an announcement video for each day of the week featuring cheer, choir, poms, guy poms and marching band. 
Prior to the assembly videos, there was a senior drive-in movie, where a large screen was set up in the back parking lot and students were invited to watch "High School Musical" from their cars. Hot chocolate, popcorn and goody bags were given to those who bought tickets.
During the event, the homecoming court was announced. 
"I definitely think it's just been super fun to get back to kind of semi-normal in a safe way, and the school is allowing us to do that," said Annalese Chudy, a senior on the homecoming court.  
Because this was an in-person event, many precautions were taken in order to keep students and staff safe. Andrea Lara, a co-advisor for Student Council stated, "Lots and lots of attention was put into how far the cars were parked and how many kids could be in a car. The fact that we can still be outdoors, we know that that makes it even safer, and everyone is in a mask."
Similar safety precautions were taken at the in-person events that followed the senior drive-in. These events included Homecoming window painting, senior handprints and the reverse parade. 
"[Window painting] was actually really successful," Bleck said. "It felt like how it would usually feel, which was nice." 
A few days later, Student Council gave seniors the chance to leave their handprints and signatures on the wall outside the new dance studio and multipurpose room building, where the old pool used to be located. 
Amanda Comeaux, another co-advisor for Student Council, explained how the mural of handprints would be like a time capsule for the class of 2021 because they are intended to last as a memory to look back on. 
On Saturday, Oct. 10, the original date of the homecoming dance, a reverse parade was set up at LHS. Around 19 clubs and sports teams were assigned a space around the school campus and anyone from the community was welcome to drive by. 
After these homecoming festivities, there are still more events in the making. To kick off the yearly canned food drive, the junior class is hosting a "trunk or treat" event on Friday, Oct. 30 from 6-8 p.m. This will allow kids from the community to go trick or treating on the LHS campus with an entry fee of canned goods. 
Mrs. Comeaux explained that this is a very important event for people in need: "Especially during this time when a lot of people have been hit, we find that it's a really important time and event to collect food and help support our community." 
According to Ms. Lara, another Halloween-related event being planned is the pumpkin walk, which will take place on the same day as the "trunk or treat" event. There will be a pumpkin carving contest and students will bring their pumpkins to school to light them up with glow sticks. The students will then get to see the pumpkins all lined up as it gets dark and maybe even have the fire pits at Butler Lake going. 
"We keep bringing up the phrase 'Stand Together,' and that's really just what we want to do," Bleck said. "We want to bring everyone together. We want to make LHS feel like home again, and I feel like we're just doing the best we can to make everyone feel like we are still LHS, we are still Wildcats, we are still one."
Leave a Comment