New York Times bestselling author visits LHS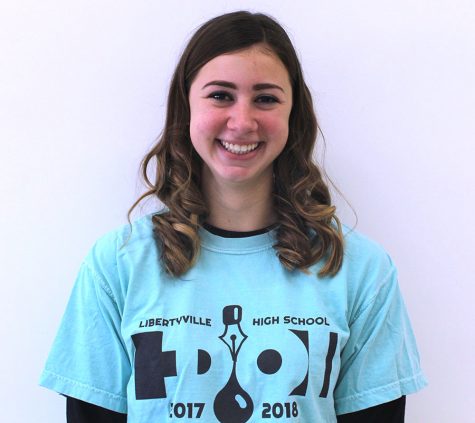 More stories from Hannah Hutchins
On Monday, April 9, New York Times bestselling author Craig Carlson visited Libertyville High School to talk to the Honors and AP French classes.
Carlson published his book, "Pancakes in Paris," in 2016. It tells the story of how he opened and established an American breakfast diner located in Paris, called Breakfast in America.
"Although I've always loved having croissants and pains au chocolat for French breakfast, after living a year abroad I was craving a real American breakfast. That's when I had my 'ah-ha moment,'" Mr. Carlson said over email. "I knew what I wanted to do next with my life: open an American diner in Paris. I even knew what I was going to call it: Breakfast in America.
"However, I faced a lot of obstacles right from the start, mainly that I'd never owned my own business before, let alone a restaurant – the riskiest business of all – and certainly not one in a foreign country with a foreign language that just happens to be the culinary capital of the world. But no matter, I was so sure of my idea I was determined to make it happen," he said.
After graduating high school, Carlson attended the University of Connecticut, where he spent his junior year studying abroad in Paris. He advised all prospective college students in his audience to study abroad at least once.
"When people go off to university, go to a semester abroad, at least. A year goes so fast, but studying abroad is so important because you get to really immerse yourself in the culture and it opens your world so much more," Carlson said during the presentation.
It was, in fact, on a trip abroad that Mr. Cristophe Guiard, an LHS French teacher, first met Carlson. While on the French Exchange program in the summer of 2017, Mr. Guiard went to one of Carlson's restaurants, met him, and asked him if he would be interested in coming to present to LHS French students.
"Monsieur Guiard received my book, Pancakes in Paris, as a Christmas gift from his wife. He really loved the story and decided to visit my diner when he was in Paris with his French students. The moment I met Mr. Guiard at Breakfast in America, I really liked him and discovered we had a lot in common — only in the opposite direction: he moved from France to the U.S. to start a new life, while I did it the other way around!" Mr. Carlson said. "As we talked, the subject of speaking to his French classes came up. He thought his French students might find my story interesting, particularly how the French language influenced my life, especially the whole studying abroad experience."
Mr. Guiard agreed, saying that he loved Mr. Carlson's story and wanted to share that with the French students.
"I found his story so inspiring, so poignant, so touching that I wanted him to share in person," Mr. Guiard said. "Like Craig said, his entire experience would not have been the same if he hadn't [studied] French. French was the reason why everything happened in his life, not only on one occasion, but in many different situations. French has been the key factor [that] guided or influenced him through his life."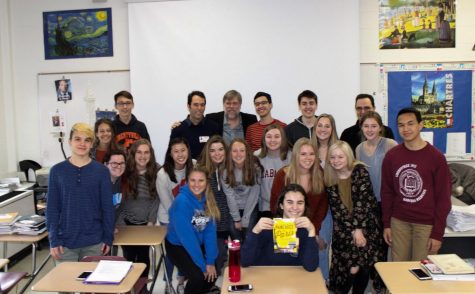 Mr. Carlson actually began learning French when he was in seventh grade, after the "popular kids" told him not to take Spanish, as they would be taking that class. However, once he began studying French, he found identity, and his viewpoint of the world changed.
"To put it simply, I wouldn't be where I am in my life without French. I come from a small working class town where none of my friends or family went to college. French changed all that. By the time I was in my senior year, my French teacher told me that I could get college credit for my French class. That's when I first seriously considered going to college," Mr. Carlson said. "Most importantly though, French allowed me not only to travel and make friends from all over the world, it definitely helped me with my career – and my personal life: after all, my husband of seven years happens to be French!"
Added Mr. Guiard: "He's living his French dream in Paris and in a way, I am living my American dream in Libertyville."  
Through the colloquial presentation Carlson gave to French classes, students learned about his experiences abroad and listened to anecdotes about his travels, but the main message was this: put yourself out there.
As Mr. Carlson said: "Trust me, it'll change your life forever. It did for me!"
Editor's note: This story has been updated since its original publication to update inaccurate information. It was previously stated that Mr. Carlson began French classes in sixth grade, however, he did not start them until seventh grade. It was also stated that his book is called Breakfast in America, which is the name of his diner, not the book. These errors have been fixed. 
Leave a Comment