Bogumil Resigns as Head Varsity Basketball Coach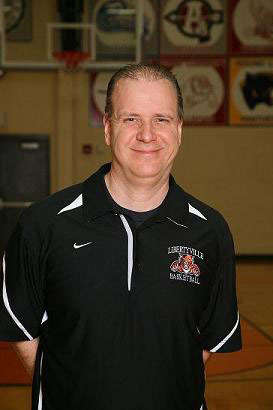 Kyle Laska, News Editor
March 11, 2015
Hang on for a minute...we're trying to find some more stories you might like.
After 11 seasons as Varsity Head Coach of the boys' basketball team, Coach Scott Bogumil is stepping down.
Including his six seasons as head coach at Gordon Tech High School, Bogumil is capping off a career that saw him win more than 230 games. Over this span, he also won three IHSA Regional Championships, two conference championships, one IHSA Sectional Championship, one IHSA Super-Sectional Championship, and a berth in the IHSA State Tournament Finals.  Coach Bogumil has also won the IBCA District Coach of the Year twice. These accomplishments occurred during his tenure at Gordon Tech.
Although the postseason success was limited at LHS, Bogumil did change many aspects of Libertyville basketball. Bogumil started the tradition of taking the team up to play a game at the BMO Harris Bradley Center, the home of the NBA's Milwaukee Bucks. The team plays a game on the court against another opponent, followed up by staying at the Center for a Milwaukee Bucks game. Bogumil started this by using his connections gained through previous coaching endeavors.
He also gained the team access into the elite Proviso West tournament, which is an 18-team tournament played among some of the best in the area. One thing that many take for granted is the team's game against Carmel. After years of not playing each other, Bogumil continued to call until Carmel finally agreed to play against the Wildcats.
Bogumil's career as coach at LHS didn't include a State title. It didn't include a Sectional, or even a Regional title. However, it did include some big wins against some major talent.
"In the time I've been here it's almost unheard of with some of the great talent that's come through the conference. Jalen Brunson, Lenzelle Smith, Ben Brust, [Evan] Boudreaux, Brandon Paul, and Darius Paul. We've had Mr. Illinois basketball 3 times since I've been here. We've had like 3 or 4 players play in the Final Four from our conference. That's just unheard of. We went and, we didn't have a D-1 player, and we went toe-to-toe with these players. For the most part, I'd like to say we won at least one game against most, if not all, these players," stated Bogumil.
Senior center Peter Feely has played for two years under Bogumil on varsity basketball, as well as playing basketball at the school for four years.
"For as long as I've been around LHS basketball, it's been Bogumil's team. He's kind of been the face of the program for a while, so that'll definitely be weird when he's gone. Coming back to games and not seeing his passion on the sideline will be different. That's going to be hard to replicate with another coach," said Feely.
As much as coaching has become a part of daily life for Bogumil, it has become more difficult for him to be as excited about hitting the sidelines as in years past.
"Well, I've been wrestling with it for a while now, and last summer I really thought I was going to do it. I thought the timing was bad though. So I decided to come back after talking to the athletic director. But it's just a toll with people asking about next year and who's all going to be playing. It's hard for me to, you know… lie. I like to be straightforward so we decided to just go ahead and announce it. But yeah, it'd been a long time coming, you know, doing something in the same place for 11 years gets kind of repetitive and I just think it's good for me and good for the program to get a different voice in here and have some new energy," explained Bogumil.
As he begins to move on, he moves on with pride that the team he has worked with and helped mold has become much more than a team. Referencing the passing of former point guard Jack Lipp, Bogumil mentioned how the community was able to come together and work through the tragedy together. He also has great pride in "all the kids that have gone through the program and moved on to bigger and better things." While the team hasn't always had Division I talent, they've had a fiery coach and staff.
"The staff has been terrific, especially the current staff. They've just done a great job working with the kids and with great knowledge of basketball, so that's always been good to have them. One of those things you take for granted is going out for pizza with the staff and talking about the game and the next opponent. That's the kind of stuff that when you think about it, you miss the most, outside of working with the kids," reminisced Bogumil.
As Pete Feely graduates and moves on to the next step of his life, he remembers the coach who helped him along the way.
"There was definitely some good stuff I learned, definitely some stuff I improved on. A lot of that goes to the staff and Bogumil for progressing my game," explained Feely.
Staying with the school in a counselor role, it will be hard for Bogumil to ignore and escape the basketball team. The team and the program will be all around him. While it seems like that may be tough on a the former coach, Bogumil doesn't believe it will be.
"I have no regrets. Only thing I wish we could've done was win a little more. Obviously regionals, we never won a Regional Championship. The school I worked at previously went to 4 sectionals in 7 years, including going down state. So, as a young coach, you begin to think that maybe the success is all about me, but you just realize that it's not that easy. You look back and see some state playoff games that were close and could've gone either way. You just think maybe a play or two could've gone a different way, but no, absolutely no regrets."