Everything you need to know about thrifting
A study from INSIDER showed that 46% of teens have bought and wear second hand clothing, and even more have sold their clothes to resale stores. In recent years, this percentage has greatly increased, as what was once considered just a fad gains popularity.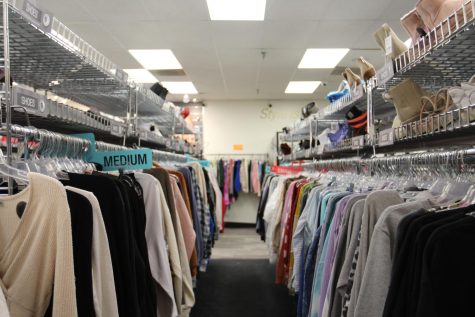 From Rags to Riches: How "Thrifting" came to be
As widespread as the practice is becoming, thrift shopping hasn't always been a popular pastime. Organizations like GoodWill and the Salvation Army were founded in America around the early 20th century to help the poor, and were supported by an influx of donations given by people who, in the midst of a period of bustling urbanization, were owning less material goods. 
These non-profit organizations would donate the money made to support charities, religious endeavors and more. However, even though these stores increased in size, it was unthinkable for higher-income people to shop second hand. 
It wasn't until after the 60's that thrifting was seen as a unique shopping experience rather than a place simply for donations for those who couldn't afford new clothes. 
Moving into the 2000's, the phenomenon continued to expand and more people began to understand and value the benefits of thrifting beyond just economics. 
Modern day influencers also encouraged their audiences to shop second hand by producing content showing either thrift hauls, thrift "flips", or just simple vlogs of themselves thrifting. Seeing people they admired styling clothes from thrift stores inspired many to give it a try.
Reducing your Carbon Footprint
Many of us rely on "fast fashion" brands such as H&M or SHEIN to buy our clothing because of their constantly-changing selection and attractive prices, but is the lighter charge really worth the hefty environmental cost of the product? 
These businesses and others are notorious for producing their clothing using cheap labor, harmful chemicals and production methods that are extremely detrimental to the environment. 
While it is significant to note that fast fashion brands, specifically H&M, are slowly but surely improving their ethics of production as well as the environmental effects of the brand, buying second hand is always the cleaner option. 
The cotton in one average t-shirt takes 715 gallons of water (TFL) to produce, let alone the 1800 gallons to make a pair of jeans. So, by buying one pair of jeans from the thrift store, enough water is saved to the equivalent of filling 5 average size hot tubs. 
Not only does fabric production consume necessary resources, it also releases chemical pollution into the air and water. According to "Sustain Your Style," the textile industry is the cause of more than 20% of the world's water waste because of dyes and chemicals. 
Putting your Money in a Better Place
Clothes are expensive. A simple T-shirt can cost as much as $50 at some stores. Especially for people who frequent the mall, more money than we realize is spent on our wardrobe alone. Plus, that money is going straight to corporations, then back into the circulation of producing clothing.
When you buy clothing from a thrift store, not only are you helping the environment, but you are also investing in something far more valuable than any big corporation. 
GoodWill is fully non-profit, meaning all of their earnings go to a better cause. GoodWill puts the money back into the community by supporting people with disabilities, job training, and other efforts to help lower-income families.  
The Salvation Army also is using their stores for a better cause. Most of the money they make is put into one of their many missions, including funding rehabilitation programs, restorations for families and their newest: sponsoring a child in poverty. 
The economic benefits of thrift shopping is not lost on many teenagers, and is a huge factor in why the practice is increasing among students. Senior Audrey Clemens found her love for thrifting as she was growing up and purchasing clothes with money from her own bank account. "I probably have a shopping addiction, [but when thrifting,] I could get so much stuff for just 20 dollars," she said.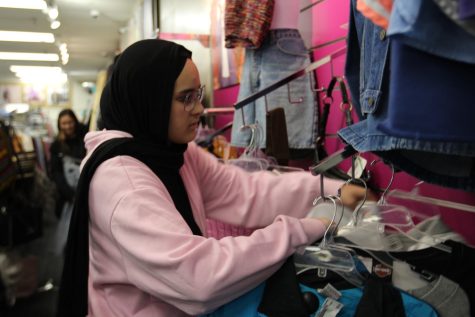 Building your Own Unique Style
The beauty in thrifting is the diversity of style that is offered at the stores. Since anyone can donate their clothes, there is likely to be styles that appeal to all ages, genders, and sizes.
Another draw for people to shop second hand is the fact that "vintage" styles and trends are coming back, which, aside from raiding their parent's closets, is a chance for teens to find older clothing in the styles they want. 
Thrift shops contain any and every type of clothing, both new and old. There is no configuration to what is new or popular, so it is almost impossible not to find something unique to one's own interests. 
For Clemens, she can be seen wearing one of her many unique thrifted sweaters every week in the winter, as they have become her staple piece to find and wear second hand. Everybody can find something that appeals to them, fits them, and they can wear without the worry of an accidental matching outfit with anyone. 
Getting Started
For some people, their first time walking into a thrift store can seem daunting. The rows and rows of racks can look endless, but for Clemens, there is a method to the madness. 
"When you are just beginning, just go through every single piece and take your time if you don't know what you're looking for," advised Clemens. "If you are going thrifting, [take] a Saturday morning. You can't rush it."  
When getting started thrifting, it is also important to find your favorite spots to return to. "[My favorite place] is probably the [store] behind Culvers, Upscale Rummage. It's awesome," Clemens said.
There are many different types of stores that tailor well for different people. 
For example, there are certain GoodWill stores that have all the clothes in bins instead of on hangers. While this digging can be the hardest and most time consuming endeavor, for many, that challenge is the most fun. Plus, a large bag of clothes from the bins can be less than $16 in total.
 For people who are just beginning, they may prefer a more upscale second hand shop such as Plato's Closet, which is a bit more selective when taking donations, but is also a bit more expensive. It is easier to find nice brands such as Lululemon in these stores. 
Clemens shares how thrifting has impacted her life and can change someone else's, if they give it a chance: "[it] kind of just changes the way you see and buy clothes, and if you're willing to do it, do it."
Leave a Comment