Road to State
On Saturday, Feb. 19, two LHS athletes brought home state championships. Senior wrestler Josh Knudten and junior gymnast Anna Becker won the state finals in their respective sports within hours of one another. It was an incredible day for LHS Athletics as well as for Knudten and Becker, who had been on the path towards this title for many years before they stood atop the podium.
Anna Becker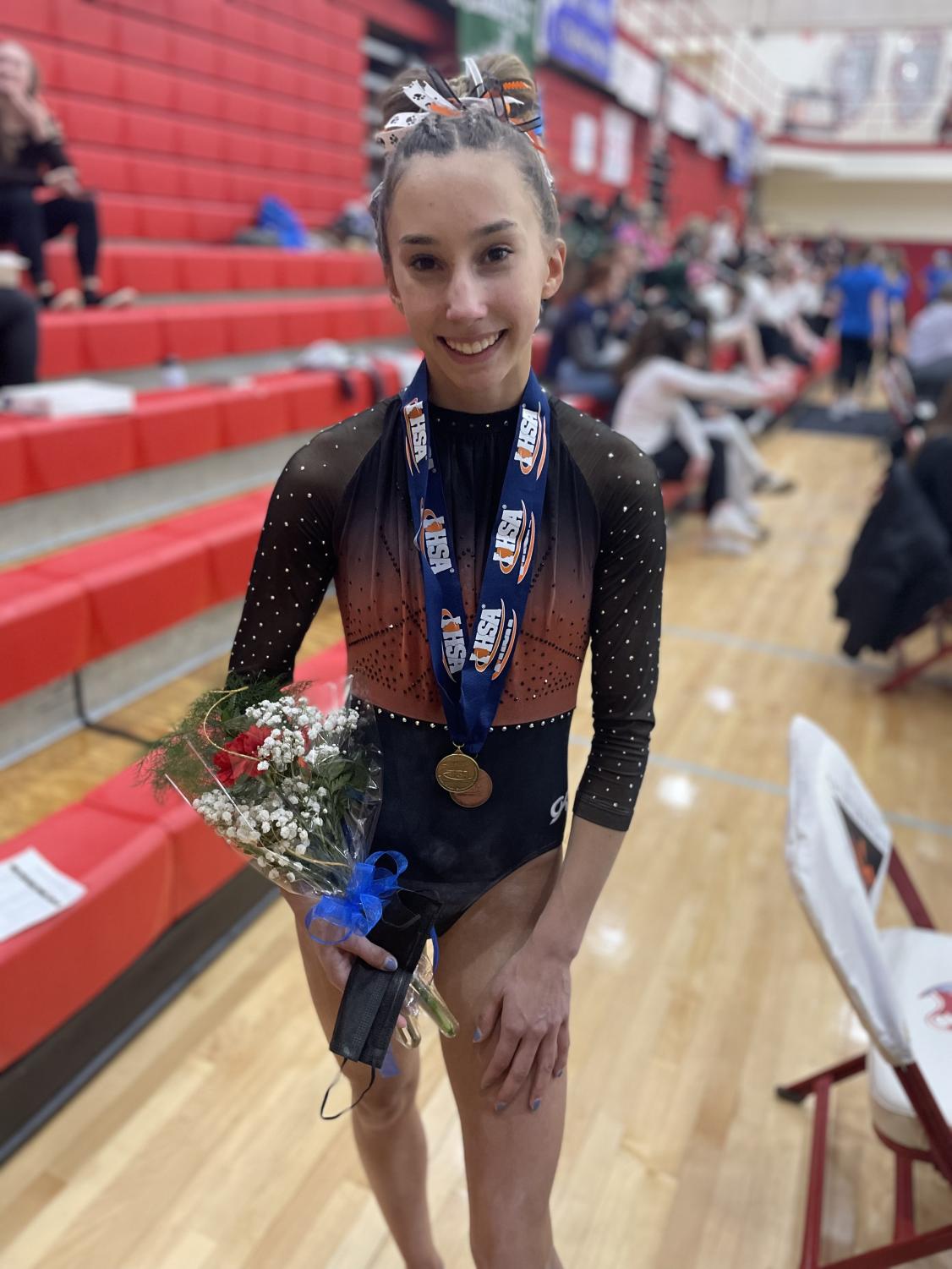 Girls high school gymnastics has four events: vault, bars, beam, and floor. LHS knew they had a special gymnast on their hands when Anna Becker qualified for state in all four of the events in her freshman year during the 2019-2020 season. After a year of COVID-19 disruptions, Becker returned to state her junior year, and came away with a state championship. 
Becker has been a gymnast since she was 3 years old. After years upon years of club gymnastics, she brought her talents to LHS when she was a freshman. After her remarkable run of state qualifications, Becker "made it to the event finals in vault and bars." 
"I didn't place in either of them my freshman year but being at state was a really nice experience," she reflected. 
Becker's sophomore season featured many disruptions due to the COVID-19 pandemic. With the mitigations and uncertainty, Becker did not participate in LHS gymnastics. She continued training with her club gymnastics team and honed her skills so she could succeed when the pandemic subsided. 
Becker returned to LHS gymnastics her junior year with lofty goals and expectations.
"During the season, I had fun but it was definitely stressful and nerve wracking," she explained. "I always really wanted to make it to the next meet."
Becker didn't just make it to the next meet, she did so in spectacular fashion. "I won Conference," she said. "Then I won Regionals and Sectionals so that was really exciting." 
Next up was state. Becker was making her triumphant return two years later and went into the meet with an attitude of enjoyment.
"Once I made it to state, I felt like all of the pressures were off. I thought, 'I did it. I made it to this step.' So I just wanted to go out there and have fun. You need to enjoy the ride and not worry about anything else. Just having fun with your team because you'll miss it once it's over." 
After two days of competing in the four events as well as the All-Around competition, Becker landed her final vault in the event finals and waited for the other competitors to vault and receive their scores. After all ten finalists had their turn, Becker was announced as the 2022 Vault State Champion.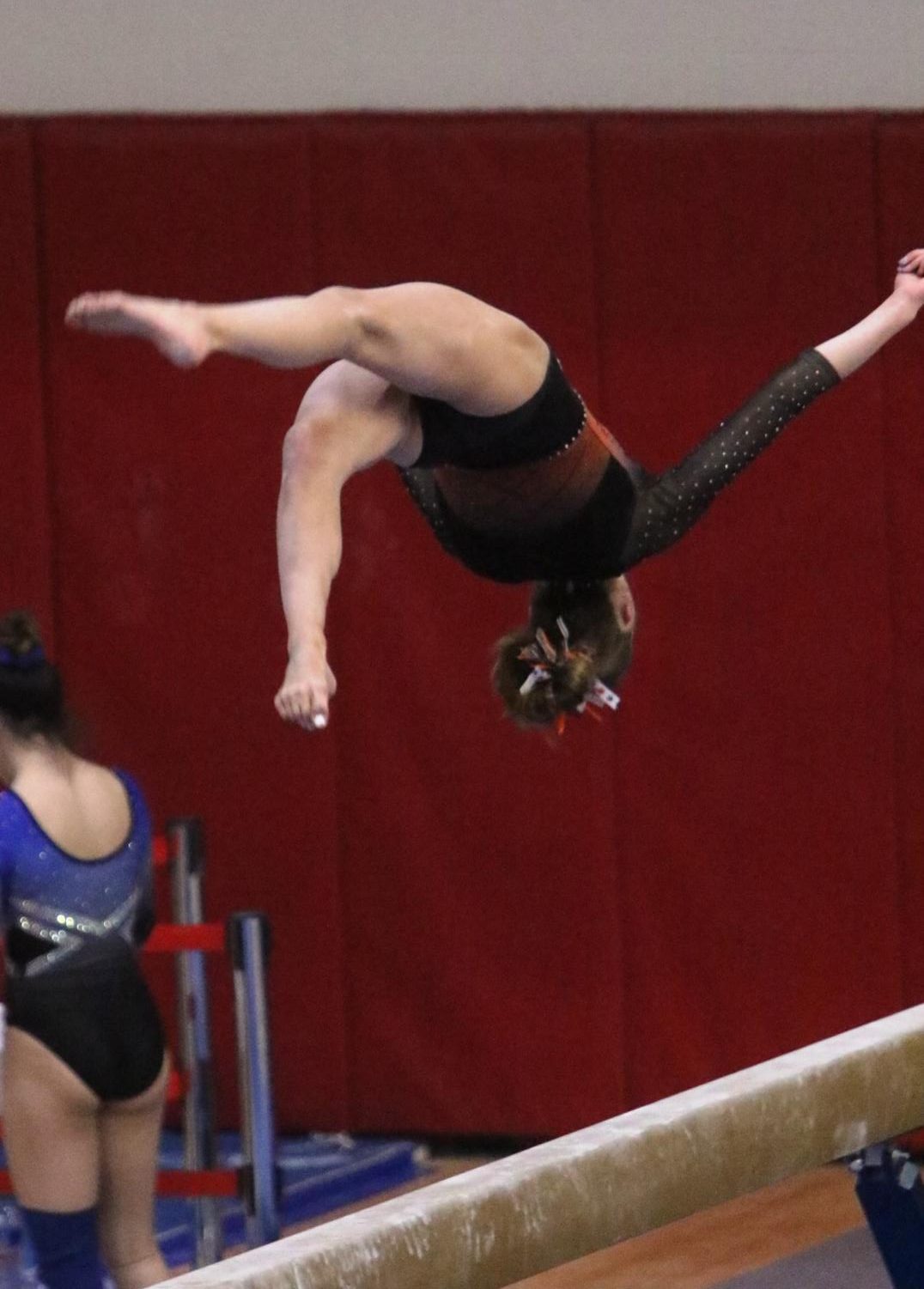 However, her celebration was somewhat short-lived. "I was pretty excited but then I also had to focus on bars, which was right after so I had to keep my focus." 
Becker went on to place fourth in the bars, bringing home two state medals, one of which was the state championship. 
Becker will return to LHS gymnastics for her senior season as a reigning state champion.  Her goals are to "not put too much pressure on myself, have fun, and just enjoy my senior year."
Josh Knudten
"I was just feeling so happy," said senior Josh Knudten, reflecting on the moment that the official lifted his arm to declare him the 2022 Wrestling State Champion. Knudten's final high school wrestling match placed him at the peak of the mountain. However, the climb and the journey he took to get to that moment was long and arduous. 
Knudten almost never became a wrestler. Beginning the sport in Kindergarten, he "hated it and quit that year." It wasn't until sixth grade that he tried it out again. One of his friends in his carpool went to sign up for wrestling after school. Knudten figured he would too, since the two of them were friends and rode home from school together. When he began wrestling in middle school, he "loved it." 
After a successful wrestling career in junior high, Knudten had a goal freshman year of making the varsity team at LHS. After tryouts, he was disappointed to have not made varsity, but he absolutely proved he belonged in high school wrestl
ing by going undefeated on the freshman level.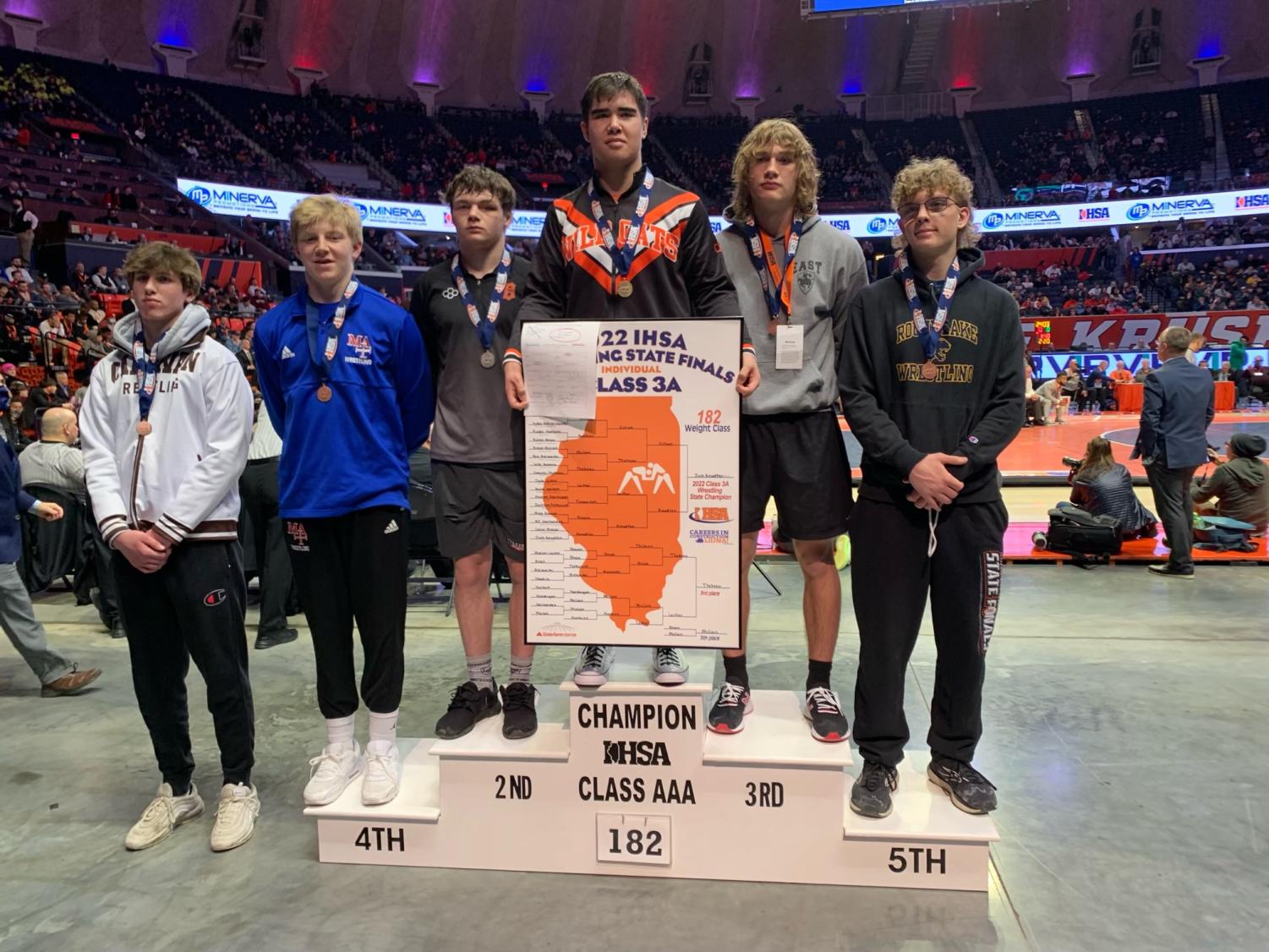 As a sophomore on varsity, Knudten had a defined goal: "Qualify for state." He trained hard all season up until the double elimination Sectional tournament. 
"I lost my first match at Sectionals," he said. "Then I won three straight matches over three seniors to make it to state. That was pretty fun because I accomplished my big goal for the year."
Knudten called this one of his "favorite moments" of high school wrestling. "I don't know if anyone thought that I'd make it to state then. I was the only sophomore in that bracket of all seniors."
Unfortunately, just weeks after the state meet his sophomore year, the country went into lockdown due to the COVID-19 pandemic. This derailed nearly every aspect of life. 
"My junior year was a really awkward season because everything was pushed back and delayed," he explained. "We had a state meet, but it wasn't even organized by the IHSA. It was just planned by a group of wrestling coaches." 
Even though it wasn't the same as in previous years, "most of the top guys in the state were there," according to Knudten. He took fifth place and began to train for a senior year he hoped wouldn't be shrouded by COVID-19. 
"Training before my senior season I was just focused on the little things like getting my pace better and making sure my technique was perfect," he explained. He went into the season with the goal of winning state. 
However, he began "a little rocky. I didn't have the best conditioning because we didn't have a preseason and I took a loss at the first tournament of the year. From then on, I realized that I needed to practice harder and get my conditioning up." 
Throughout the rest of the regular season, Knudten only lost one additional in-state match. This loss came at the hands of a wrestler from DeKalb who was the defending state champion. He took Knudten down by one point. 
When the postseason began, Knudten won Conference, Regionals, and Sectionals. "I was pretty much dominating everything," he said. "I thought I was definitely peaking at the right time. Going into the state tournament, I was feeling really good." 
Knudten felt many emotions the day of the state tournament. "Before my last match. I sat there and I was like, 'Oh my gosh, this could be the last match of my career right here.' I stood there at the edge of the mat, looked up, said a quick prayer to God, and was thankful for the moment." 
At state, after making it all the way to the semifinals, Knudten was met by the wrestler who beat him in his first tournament of the season. But this time it went differently. He avenged his loss by "pretty m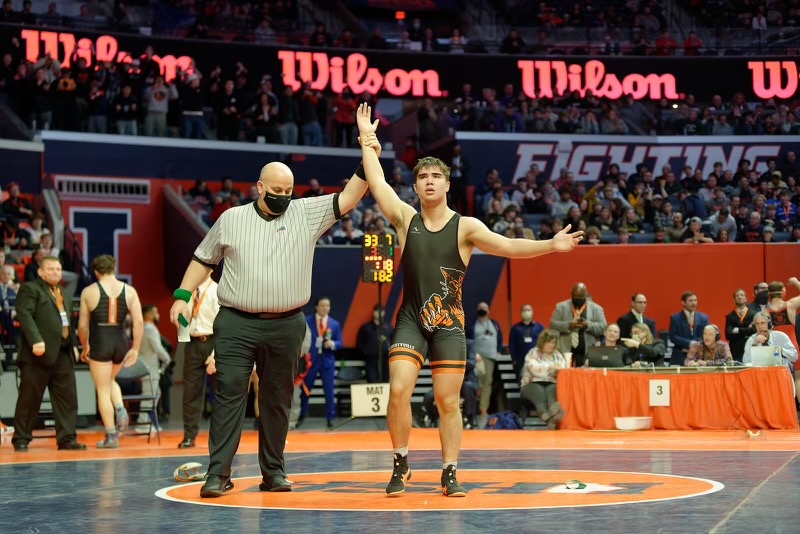 uch dominating the whole match." 
Finally, it was on to the state finals, where he once again earned a chance at redemption. His opponent was the DeKalb wrestler who had beat him a few weeks earlier and won state the previous year. But Knudten did not let him go back-to-back.
"I just kept to what I know, made my moves, and eventually got a take down in overtime to win it," he said, describing his state finals match. 
This state championship victory marked the 100th and final win of Knudten's LHS wrestling career. However, he is far from done wrestling, as next year he will take his talents to the University of Michigan to join their wrestling team. 
Leave a Comment