Girls volleyball fights but loses on Teacher Appreciation Night
The girls volleyball team came up short against Hersey on Monday, October 4. The Wildcats lost 25-18 and 25-13 in the best two-out-of-three format. Their record drops to 10-10 on the season.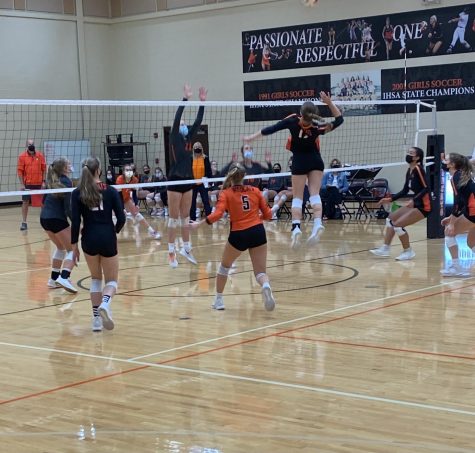 Senior Grace Bonjour believes the team "didn't play to our fullest potential." The Wildcats trailed 16-5 in Game 1 and mounted a run to threaten Hersey's lead behind a serving streak from sophomore Hannah Fleming. However, they fell short in the end due to a few costly errors and violations. 
"Our strategy was to keep our energy throughout the match, and we did not carry it out to the end," Bonjour said. 
Head Coach Greg Loika reflected this view. "We're up and down," he said. "We've beaten teams that are as good or better than these guys and then other times, we're just kind of beating ourselves. Steady consistency is something we're still searching for." 
From the team's perspective, the game wasn't without positive takeaways. Bonjour said that ahead of the next match, the team will "focus on the points that we did play aggressively."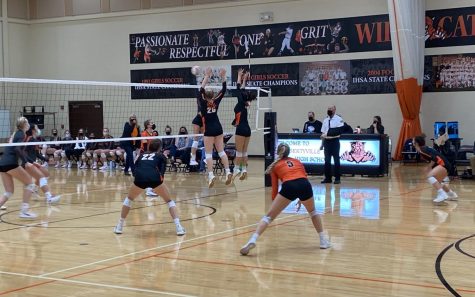 The most successful combination of hits came when senior Grace Comilla began the play with a bump, Bonjour executed the set, and junior Keira Kasten finished it off with a spike.
"When the pass is good and we're being aggressive with our hitters, I like what we're doing and we're hard to stop," said Loika.
The team will continue their season Wednesday night in Zion-Benton for a match against the Zee-Bees. They will wrap up the season with five more regular season matches and two weekend invitationals before the playoffs begin on Monday, October 25.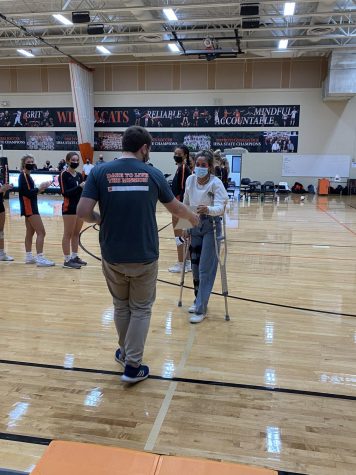 Loika wants the team "to be playing our best" once the postseason arrives in three weeks. "I think [the team] is disappointed and that is something that will hopefully keep our fire going to get better every day," he added.
Monday also marked Teacher Appreciation Night for the girls volleyball team. Each of the players invited a teacher to the game that she wanted to recognize for outstanding work as an educator. Before the game, the teachers were called onto the court to receive a thank you certificate from their student. 
The teachers recognized by the players were Mr. Murchison, Mrs. Owens, Ms. Bosman, Ms. Lara, Ms. Greenswag, Ms. Joesten, Mrs. Schreck,  Mrs. Gallivan, Mr. Olszewski, Mr. O'Neill, and Mr. Thompson.
"It's just awesome," said Murchison, who was invited by junior Amelia Doughty. "It's great to be a part of the community. It's good to be here. I love supporting the kids and getting to see all of the different sporting events."
Leave a Comment