Taking the Paths Less Traveled
For graduating seniors at LHS, the most traditional path is to go to a four-year college somewhere in the U.S. In 2020, 87% of the 98% of college-bound students at LHS were headed for four-year universities in America. This year, there are again unique exceptions to this, such as training to be in the military during college, taking a gap year or studying outside of the country. 
Gap Year:
Senior Celia McDermott-Hinman is taking a gap year in between graduating and going to the University of Michigan in 2022 to study history or sociology. For McDermott-Hinman, taking a gap year before going to college will be a much-needed break after 12 years of school.
"Going from [high school] right into college, then right into grad school is just so much school, so experiencing something different will help me be more engaged and not burned out going into college," she explained. 
McDermott-Hinman has mapped out two major experiences for her gap year. During the fall and winter, she is taking a 90-day trip on a sailboat, starting in the Mediterranean and ending in the Caribbean. During the "Seamester," McDermott-Hinman will be alongside seven staff members and 23 other students, helping with maintenance of the ship, while taking marine biology and oceanography classes through the University of South Florida. The senior is eager to see new places and experience something so different. 
For the second half of her gap year, she will be staying abroad in Germany with a host family, while going to a German high school. She isn't planning on learning any new material — she just intends to improve her German. 
Although deferring her admission to next year with the University of Michigan took some work, her biggest obstacle was figuring out her gap-year plans.
"It was nice to see everything fall together," she articulated. "I've had big-picture ideas for so long, so figuring out the specifics was the hardest part."
College Abroad: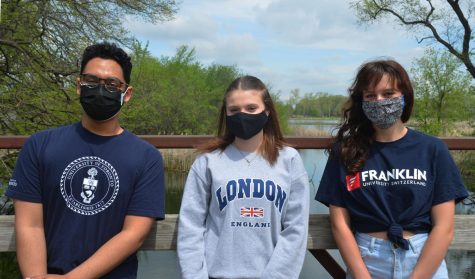 Emily Scheibler, Kiah Smith and Daniel Maliekal have all opted to go to four-year colleges, only in different countries outside the U.S. Scheibler will be getting a dual American-Swiss degree studying international studies at Franklin University of Switzerland. Smith will be studying environmental science at University of Plymouth in England. Maliekal is attending the University of Toronto at Scarborough campus in Canada, planning to study co-op business administration. 
Applying to schools outside America usually comes with added complications. Smith experienced difficulties in applying to schools in England because the English education system varies so much from the American system. Also, most colleges in England do not accept the Common Application. Therefore, Smith's ACT and AP scores were taken into heavy consideration as part of her application instead of the Common App. 
Other schools abroad, such as Scheibler's and Maliekal's schools, use the Common App. Scheibler stressed the notion that applying to international schools is not really as difficult as people might think. 
"It's a lot easier than you think it's going to be," she expressed. "More schools are on the Common App than you may realize, and the cost is similar to many American schools. People shouldn't be as tentative to [apply]. It sounds scary but it's worth it."
All three expressed profound excitement for their futures abroad, despite the obstacles they faced. Covid-19 proved to be another challenge for Smith when applying, and Maliekal is still in the process of getting dual citizenship in order to get in-state tuition. Scheibler is wary of the cultural differences that come with being at an international school. 
The physical distance away from home is another common obstacle in going to a school abroad. However, for both Smith and Maliekal, going outside of the U.S. for college is actually bringing them closer to their families. Smith moved to Libertyville from England seven years ago, and most of her family lives in England. Maliekal will be able to see his mom's side of the family more often. 
Contrasting this, Scheibler will be moving far away from her family and her home here. 
"It was hard for [my family] to grapple with the fact that I'm literally moving across the world, and it was scary for them at first," Scheibler explained. "But now, they're really supportive about it!"
In the end, regardless of any roadblocks on their paths to their schools, Maliekal, Scheibler and Smith are enthusiastic about their commitments to their schools. Scheibler loved that she would be able to travel the world through a program at her school. Maliekal's school is his mother's alma mater, and he is excited about participating in the University of Toronto's business program. Smith is thrilled to be returning home to England, as well as surfing and scuba diving in Plymouth. 
"I'm looking forward to moving back home, being able to see my family more and being able to re-immerse myself into the English culture," Smith said. 
Training for the Military: 
Another path for students graduating from high school to follow is to join the military. There are many avenues to get involved in the military, such as enlisting right out of high school, applying to service academies or applying to Reserve Officers' Training Corps (ROTC) programs. Seniors James Steinhaus and Ryan Allen will be part of the ROTC program, and both having received ROTC scholarships. Steinhaus is doing Army ROTC and Allen will be in the Naval ROTC. 
Through the ROTC program, Steinhaus will be studying criminal justice at Liberty University while training to become an army officer through classes and field training. Allen will be participating in training to become a naval officer as he pursues electrical engineering at University of Illinois at Chicago. 
Both Steinhaus and Allen were inspired by their own family members to join the military. They both learned a lot from and were influenced by their grandfathers who served. Steinhaus said he always knew he wanted to serve, and going to a military school for first semester this school year in New Mexico solidified his decision. Allen had an interest in the Navy from when he was young, and his father, who was in the Air Force, also inspired him to go into the military. 
"I've always liked the water," Allen remarked. "I like being on boats, submarines and aircraft carriers. I'll enjoy experiencing new things out at sea while also working with a team representing my country."
Both Steinhuas and Allen are looking forward to training to become military officers as they also continue their education. 
"I'm excited to just see where I'll be, what I learn and who I become in the future," Steinhaus said. 
Leave a Comment