Seniors playing sports in college
Whether on a court or a field, many kids growing up had dreams of making it to college one day to play the sport they love. However, according to the NCAA, only about 7 percent of highschool athletes go on to play varsity sports in college. These Libertyville athletes are a part of that 7 percent who've earned their way to the next level of competitive sports
Brian Stacy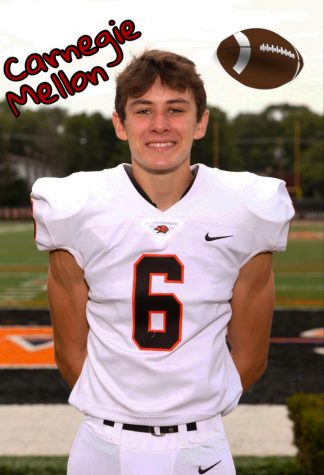 Brian Stacy, an all-around athlete who's played football, baseball, wrestling and track and field over his high school career, is playing football at Carnegie Mellon University, a Division III school located in Pennsylvania. Stacy, a wide receiver, has been "playing football since [he] was 6 years old," he stated in an interview. "I started out with flag football…and began playing tackle football in third grade. I've been playing ever since." 
One of the reasons Stacy has fallen in love with the game is the "relationships I've developed over the years. There hasn't been a team that I've played with where there hasn't been a genuine camaraderie." Another reason why Stacy loves football is
"the lessons it teaches you, like how to overcome hardships. Football has prepared me for a lot of what life will bring," he explained.
Stacy chose Carnegie Mellon over other schools "not only because of football, but also their top-tier academics. I plan on majoring in finance, and Carnegie has a world-class education to offer, so I took the opportunity." 
One goal Stacy has for his college career is "to get a little bit better every day. This is a goal the coaches at LHS have helped me work towards. I'm not super concentrated in personal or statistical goals." 
Margaret Buchert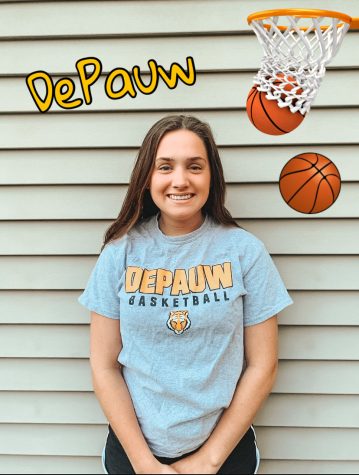 Margaret Buchert, an all-conference player on Libertyville's highly ranked girls basketball team, will be taking her talents to DePauw University, a Division III school located in Indiana, in the fall. Buchert, who's been playing basketball since she was in preschool, has fallen in love with the game throughout her career. 
One of her many reasons for loving the game is because "it's how my dad, brother and I bond. My dad rebounds for us when we shoot and comes up with workouts for us to do," Buchert explained. "I love to win, and I'm a very competitive person, so I use that to my advantage when I play." 
Her competitive nature helped the Wildcats to a 23-game win streak this season, which included a buzzer-beating three-pointer to defeat the Lake Forest Scouts, who were ranked in the top three in the state at the time. 
Her diverse skill set and willingness to improve is what landed her at DePauw. Buchert chose the Tigers because "when I visited the campus, it was beautiful. I met the team and coaches, and they were all so nice. They made me feel like a part of the team," she articulated. "The school itself is somewhat small, and I liked that a lot." Buchert's goal for her collegiate career is to "win a national championship. They've won a few national championships over the last 10 years, so I hope to help them win another one!"
Emma Manojlovic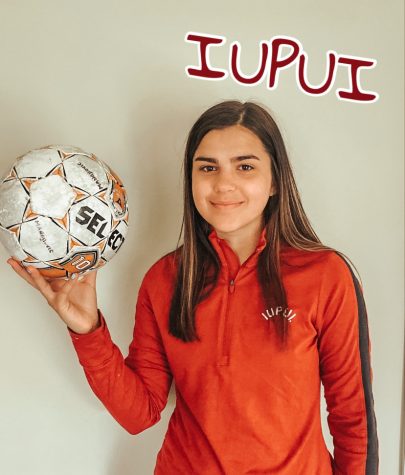 Emma Manojlovic, a three-year varsity player for the girls soccer team, is taking her skills to Indiana University–Purdue University Indianapolis, a Division I school. Manojllovic has been playing soccer since the age of 4, and she said it has grown to become a big part of her life. One of the reasons she loves soccer is "being a part of a team and the competitive atmosphere that goes along with the sport," she explained. Her most memorable moment in her long career was winning the state championship three years in a row with her club team. Emma chose IUPUI because "their coaches were really friendly and made me feel welcome." 
The head coaches recruited her while she was at a tournament in North Carolina, and she stated that "they pride themselves in creating a family atmosphere," which helped her make the decision to continue her athletics career with the Jaguars. Her goal for her next four years is "to be the best I can be and eventually become a starter." 
Mickey Reilly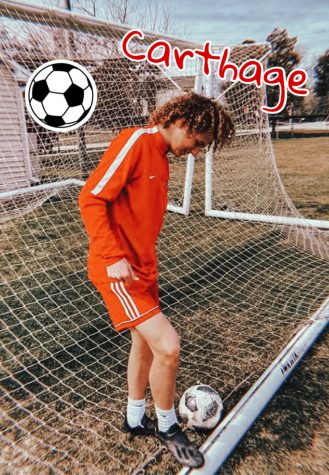 The youngest of three brothers, Mickey Reilly had big shoes to fill the moment he entered high school, thanks to his older brother Kevin, who was a captain on Libertyville's 2015 soccer squad that won a state championship. Reilly, who was a star player on Libertyville's state runner-up team during his junior year, took his game to another level his senior year, receiving all-state honors from the IHSA. He racked up 21 goals and 17 assists while leading the team to a 15-win season, in which they spent numerous weeks as the number one team in the state. Thanks to his successful senior season, Reilly will be continuing his athletics career at Carthage College, where his brothers Kevin and Shane both played. 
Mickey stated that "I chose to play at Carthage, opposed to Division I colleges, because my brother Kevin [will be] a senior on the team. Getting to play with him in a competitive environment is a dream come true." 
Mickey also said that Carthage, a Division III school, appealed to him because "I want to be a star." His goal for his college career is to lead the team to multiple conference championships, and eventually, a national championship.
View Comments(1)