How Students Are Filling Their Free Time
On Friday, March 13, District 128 announced that in-person classes would be canceled for the immediate future. This was eventually extended, as Governor J.B. Pritzker ordered that all Illinois schools remain shut for the rest of the academic year. On Saturday, March 21, Illinois, along with much of the country, went under a stay-at-home order that goes through the end of this month. This meant that people were encouraged to stay inside their homes and only leave the house if absolutely necessary.
With nowhere to go and less school work to do, students have been forced to find ways to fill their time. In a survey measuring 90 students, 72.2 percent said they have picked up a new hobby while at home. Additionally, 80 percent have binge-watched a TV show.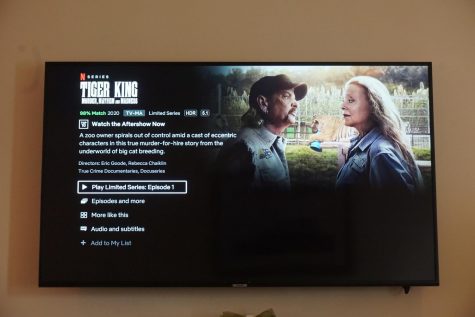 The most popular shows students have been binging are "Grey's Anatomy," "Tiger King" and "The Office." Students have also been watching "All American," "Criminal Minds," "Brooklyn Nine-Nine" and "The Vampire Diaries." 
According to the survey, most people who have picked up a new hobby have begun an art-related one; the most popular craft students have started is painting. More than 20 percent of all students who responded to the survey have also begun working out. They shared that this has not only been a good way for them to get out of the house, but it's been a beneficial way for them to take care of their mental health.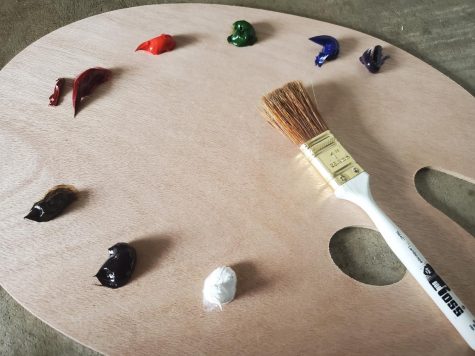 A favorite activity among students who have been exercising is going for walks. Whether taking long walks with their family or quick walks around the block with their dogs, students mentioned that simply being outside has had a positive impact on the rest of their day. With that in mind, some students have been sitting outside to do their e-learning, weather permitting. This makes sense, as a 2015 study conducted at Stanford University found that spending time outside led to decreased anxiety and overthinking. 
Some students are taking advantage of the time at home to make some money. Senior Aidan Holmes has been providing landscaping services with his business, Aidan's Lawn Service. Holmes started the one-man company last year, but he said business has been especially booming during the stay-at-home order. Since April 7, Holmes shared, he's worked every single day; he specializes in laying mulch but will do any lawn treatment.
When Holmes isn't doing yard work, he's getting ready to play football at the University of Wisconsin-Whitewater next year: "I've been doing this and then getting ready for college football. This is the most committed I've been to getting better for football, and I'm really looking forward to that."
Holmes shared that "it's the first time I thought I'd ever say it, but I actually, genuinely miss school. This sucks. And I was hoping to return even though I think everyone thought there's no way we [would] go back."
Dillon McDonald, a junior, has been spending his time a little differently. He's used his increased free time to record and produce a podcast: "Mack Diesel Podcast." McDonald started this podcast over spring break and has since been trying to post twice a week while also keeping up with e-learning. It's available on Spotify and most streaming services. 
In an episode, McDonald and his co-host, typically a friend of his, may discuss any number of topics, such as answering questions asked by his listeners. The idea for McDonald to start a podcast wasn't new, but quarantine has finally given him ample time to make it happen: "We've been talking about it — me and my friends — for a while because we just love having deep talks about just silly stuff. It's kind of our thing," he shared.
McDonald touched on his mindset when creating his podcast: "It was easy for me because for me, it's really casual. It's not really something that I'm worried about if people like it or not. It is what it is, and…I'm just going to give it a shot."
When asked what his favorite part of his podcast is, McDonald said: "I just like to express what I'm thinking sometimes, and if I can make people laugh at the same time, that's fun." He continued, "Right after I record it, I go listen to it with my parents, and I always love watching them laugh at what I say. That's probably the best part."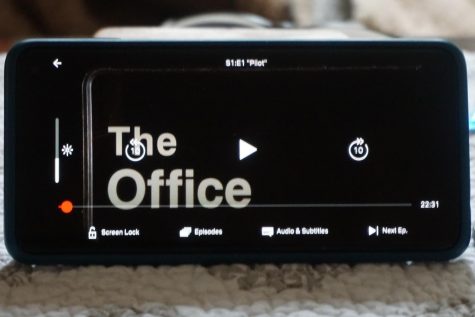 While not all students have been working or recording a podcast, something new that all students have been doing is e-learning. It was an abrupt change to transition from in-person school to online learning, but many students have found what works best for them. On the survey taken by students, one suggestion students had for their peers is to get into a routine for e-learning, similar to the one they had for in-person school. This includes waking up relatively early, changing out of your pajamas and finding a workspace that isn't your bed. 
Students have also found it beneficial to give themselves "passing periods." This means doing a class's work for about 45 minutes (the length of a standard class period) and then spending five minutes doing something non-school related. Results of the survey showed that, for some, acting like they're at school has proven to be a successful way to learn. This might include making to-do lists or turning your phone off and putting it somewhere it won't distract you. 
On top of everything else, quarantine has given students more free time to read. Students' most recommended book is "Six of Crows," by Leigh Bardugo, followed closely by the "Harry Potter" series written by J.K. Rowling. Students also recommended "Little Fires Everywhere" by Celeste Ng and "Call Me By Your Name" by André Aciman.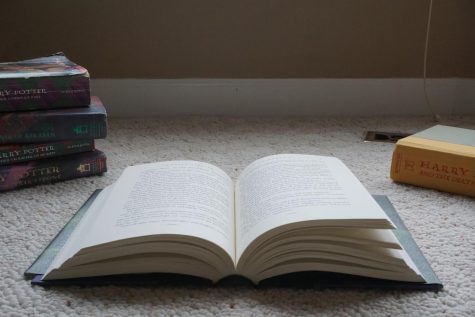 According to many students surveyed, the most important thing they've been doing is keeping in touch with classmates and friends. Everyone is experiencing the pandemic for the first time, so they've found it helpful to work through thoughts and feelings with others. On top of that, many students have found it beneficial to keep a journal and write about any major happenings and take note of their thoughts and reactions.
Click here to find out how students and local businesses are finding ways to help the community during the pandemic.
Leave a Comment