Libertyville Lends a Hand
From painting windows to creating food drives, many Libertyville residents have had an impact on their community during the pandemic.
Several neighborhoods in Libertyville have used Facebook pages to organize ways to help. In addition, a group of former LHS students is shopping and delivering groceries, pet supplies and more for free.
Businesses have also found ways to offer support. For example, Libertyville's Sports 11 has created a line of clothing with the words "Libertyville Strong." All of their profits will benefit Condell Hospital to help fight COVID-19 and the business has raised about $8,500.
Senior Kylie Pacholski is a part of the COVID task force at LHS, a group of seniors who are working with teachers to keep LHS students entertained and connected, in ways such as planning a movie night and the Cats Connect program.
Pacholski has taken her own initiative in several ways to aid people during this time. She was able to provide 50 medical workers at Condell Hospital with a Picnic Basket meal by asking for donations.
"I just like giving back to people. Every day, [medical workers] are putting their health at risk and even their families when they go back home. They need to be recognized as much as possible," Pacholski commented.
She has also taught herself how to create masks with a sewing machine to give to immediate and extended family as well as to potentially donate.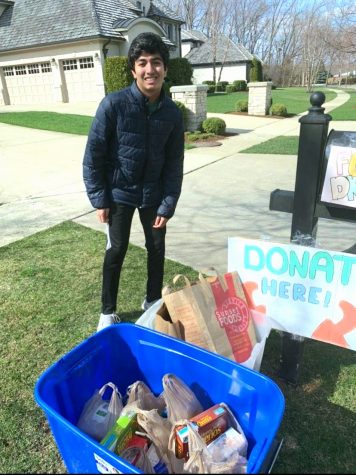 Pacholski painted the front windows of her house with different themes to spread positivity to children taking walks. Inspired by her, some of her neighbors took pictures and then painted their own windows.
Similarly, sophomore Tavish Sharma has supported people in need by creating a food drive. In the past, he has volunteered at different food banks and noticed that many people, including himself, take food for granted.
 By promoting his food drive on Instagram and on his neighborhood Facebook page, a large number of people donated cans of food, placing them in the bin in his front yard. Near Easter, he then delivered about 80 to 90 paper bags of food to food pantries around Lake County.  
At El Puente, a food shelter in Waukegan, "there was a mile-long line of cars waiting to get in," Sharma described. "That was really striking and made me feel like I'm doing something that helps."
Sharma hopes to have another food drive this month and potentially donate to PADS.
Other ways to contribute include sending medical supplies to Condell, mailing letters of encouragement to isolated seniors at nursing homes, and donating groceries or meals to Lake County Haven.
Patrolski believes that Libertyville residents should continue to aid the community during this time: "After seeing everybody that signed up to donate food, it emphasized the fact of how caring Libertyville is."
Leave a Comment