Meet Wrigley: LHS's furriest staff member
Since November, a new staff member has been walking the halls of LHS, comforting students and bringing smiles to their faces. Wrigley, a therapy dog who can normally be found in the A-F LST, is just like a typical high school student: she loves lounging around, meeting new people and playing with squeaky toys. 
The idea of having a permanent therapy dog at LHS started a few years ago after the district recognized how beneficial bringing in animals during high-stress times like finals week or during Healthy Relationships week is for students. Social worker Greg Loika offered to take care of the dog full time and bring her to work with him, and so, the hunt began for LHS's perfect therapy dog.
"Wrigley came from an organization up in Michigan that we partnered with. You don't get to pick the dog you want; the agency matches the dog to you and what you're looking for. Wrigley was selected for being in a school setting because of her temperament and how social she is. She's really calm all of the time and great in this kind of atmosphere," said Mr. Loika.
Wrigley is at school on Mondays, Wednesdays and Fridays to support and help students in different capacities. She's always wearing her work uniform: a red bandana around her neck. According to Mr. Loika, she "gets super excited when I pull out the bandana, and we're ready to jump into the car. She knows that when she wears the bandana, she's on duty."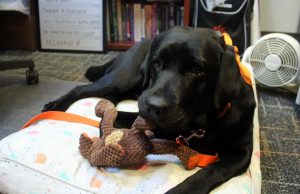 On her days off, Wrigley loves playing fetch with Mr. Loika and his family or laying around the house enjoying the dog life. She also enjoys going to sporting events and school activities where she can socialize with others.
Mr. Loika explained how Wrigley is even great around kids younger than high schoolers, like his two daughters, ages 4 and 2: "Wrigley's very tolerant of them, and you know, things that kids do, like pulling her, squeezing her neck, sitting on her, all kinds of things. I took Wrigley to my daughter's day care for a little visit, and she had 25 four-year-olds screaming and shouting at her, and she was perfectly calm."
"I think it's awesome how much people have liked having her here, and I love when people come up to say hi to her, even if it's 10 seconds or five minutes," said Mr. Loika. "There's a lot of research out there that says that when a dog is in the room with people, they kind of just bring stress levels and other things down. So it's great to see someone's anxiety or stress kind of dissipating around her."
Leave a Comment