Takeoff: Future Pilots of LHS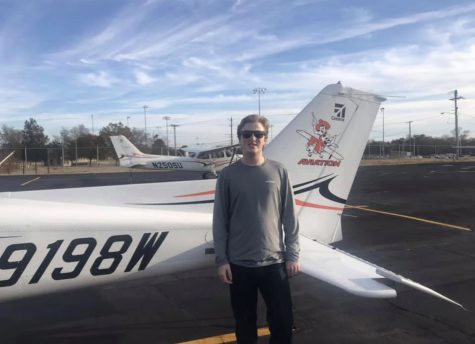 Most current seniors at LHS are in the midst of college applications, looking to further their study in areas such as business, engineering, education, psychology and more. Among possible majors and future careers is aviation, but it doesn't occur to many that it is possible to work toward a pilot's license in high school and college, getting a head start in the field.
However, several LHS students are either working toward a private pilot's license or already have one. A private pilot's license allows pilots to fly almost anywhere in the United States and even possibly outside of the country.
"[About] two years ago, I really wanted to be a pilot; first I wanted to be an engineer or something along those lines, and I noticed I didn't know much about the life of a pilot, but we talked to a few and I was like, 'that's kind of a cool [profession],'" stated senior Bradley Larsen.
Since then, Larsen has obtained his private pilot's license through training on a Cessna 152 and Cirrus SR20, and he has plans to obtain instrument and commercial licenses as well to become an airline pilot. 
He began the process earlier than most because he didn't want to get to college and realize aviation wasn't for him.
Larsen also found during his solo flights that flying is an enjoyable pursuit as well as useful for his future career goals.
"It's really peaceful in the air. There's not a whole lot going on. There is [air] traffic, but it's always cool when you can always look down on the places you know and you can see all the traffic on the road; it's kind of cool to be above all that," he shared.
Given that having a private pilot's license while still in high school is quite rare, many are impressed by Larsen's ability to fly.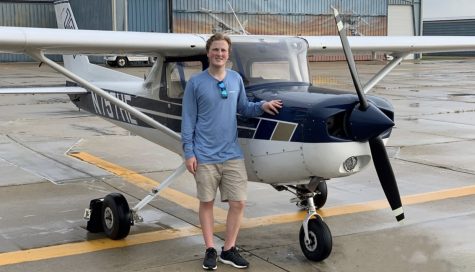 "My friends all think it's really cool; I haven't taken any of them up yet, [but]I think I will eventually," expressed Larsen.
Those looking to obtain their private pilot's license must be at least 17 years old, but they may get their student license at 16. A private pilot's license also allows pilots to fly as many people as the aircraft allows.
Junior Tyler Trigg is in the final stages of obtaining his private pilot's license and plans to do the Air Force Reserve Officer Training Corp in college.
Trigg was a recipient of a national scholarship from the Aircraft Owners and Pilots Association that covered most of the expenses of his flight training; he stated he grateful for this, as he wouldn't have been able to pursue his license without it.
"I'm the first one in the family to become a pilot, and it's just something that's unique to me and I have a love for it so I chose to pursue [it]," Trigg shared.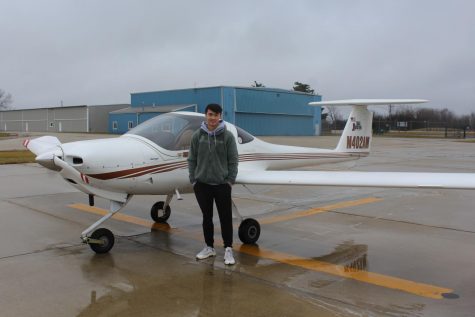 Other students have not obtained their private pilot's license yet but are taking steps toward aviation.
"I always said I [wanted] to be a pilot in my free time, but maybe five or six years ago, I thought, 'I want to do this full-time,'" expressed senior Joseph Nowak.
Nowak had been interested in piloting since he was young and went to air shows with his family. He is currently planning on attending college for aviation to eventually become a commercial airline pilot.
"There's not enough people coming in to match the number of people going out [of the piloting industry], so it's a cool time to be a pilot. You can get a job real fast; you can get a really good-paying job; you can get exposed and start working for a big company early in life, so that's pretty cool," noted Nowak.
In fact, the nationwide pilot shortage is a major reason why some students are eager to go into the piloting industry. According to Forbes, 800,000 new pilots will be needed in the next 20 years.
For senior Nate Stevens, the shortage contributes to his interest in being a pilot; he noted there are many advantages for those looking into aviation as a career field.
"Hopefully by the time I or somebody else would be in college with all the required licenses, hopefully we would be getting paid to start much more, getting better hours and whatnot," expressed Stevens.
Senior Kiley Nolan has had an interest in aviation since she was young and went to airports often due to traveling with her family.
"I think being a commercial airline pilot is really cool because you get to fly a ton of people but then you also get to stay wherever you're traveling," stated Nolan, who hasn't yet obtained a private pilot's license but plans to do so before the end of college.
What drew Nolan to aviation was the traveling aspect. She is interested in seeing the world as a commercial pilot, though she expressed it takes extra time and dedication to build up the hours required to fly internationally. She also has the support of friends and family.
"I've always loved aviation so if that's what I choose to do, my family fully supports that," she said.
Nolan is in the process of applying to schools with strong aviation programs, including Auburn University in Alabama and Embry-Riddle Aeronautical University in Florida.
Another aspect of pursuing aviation as a broad field of interest is that it can be very expensive. Many young pilots have parents or other close family who are pilots themselves, which can give some a leg-up in connecting to flight schools or finding flight instructors. Paying for the expenses of obtaining a private pilot's license, which on average amounts to a cost of approximately $9,900, is also a significant barrier preventing some young pilots from pursuing aviation while they are in high school.
However, these expenses do vary depending on the number of training hours. It is also important to note that the cost depends on the type of pilot license. Expenses include paying for a flight instructor, the charges of the flight school and other factors.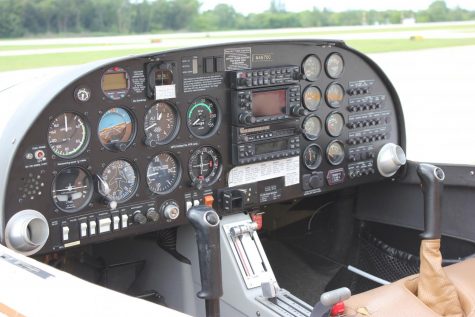 A common thread among students with an interest in aviation is that most had dreams of being pilots when they were young. 
"I've wanted to [be a pilot] for a long time; I've been building model planes forever," stated Nowak. Attending air shows with his dad also convinced him it was a career he wanted for himself.
Trigg also knew from a young age he wanted to go into aviation.
"As a child, my number one goal was to be a fighter pilot. When I was little, I would go to air shows and see the jet fighters flying around; I told myself, 'Yeah I want to do that when I am older,'" shared Trigg. He is currently working towards becoming a fighter pilot for the United States Air Force.
Still, there are many who don't decide to become pilots until later in life or who pursue aviation as a pastime rather than a long-term career. Still, pursuing aviation is a path these aspiring pilot would recommend.
"Go take a discovery flight; if you're not afraid of heights, you will love it," Stevens expressed. "It's something I think everyone should take a look at just like so many people look at business or medical or something else, and at the very least, [aviation] is a really cool hobby." 
Leave a Comment