New dance studio progresses with construction
The new dance studio, which has been in the works since this fall, is expected to be completed sometime in the fall next school year. 
According to Athletic Director John Woods, the dance studio will be approximately 4,000 square feet, with an entrance at the south end and an exit to the parking lot at the north end. One wall will have mirrors and ballet barres, and a theatrical curtain will be installed to not only divide the dance studio in half, but also to minimize the sound from crossing over between the two sides, which would allow multiple groups to practice with music at the same time. 
Mr. Woods added that they are currently deciding what kind of technology they are going to install. 
"We're also working on screen technology for instructional purposes. When I say screen technology, is it gonna be a drop-down screen with a projector, (or) is it gonna be TV screens? So, we are in that phase of the planning right now." 
The dance studio will be located on the ground floor of the renovated two-floor facility, with the second floor containing a multipurpose room. This area will be used as another space for P.E. classes and during the winter sports season, it will be used by the wrestling team. After the wrestling season ends, other organizations would be able to use it for exercises such as yoga and plyometrics, Mr. Woods said. 
The benefit of the new dance studio, for starters, will be that it gives the junior varsity and varsity dance teams a more proper environment to practice in. The dance teams' current main practice spaces are the cafeteria and Link Crew room, but when any gym space is open, they take advantage of that to help them figure out spacing for competition season. 
"Often, the [cafeteria]  floor has a lot of food and gross stuff on it that we have to clean up in order to dance, and people often run into the walls when we are dancing because it is really cramped and because we are moving a lot. It's just not really ideal for dancing, and it's very small," expressed varsity dancer Kara Hogan.
The studio will solve this spacing problem, as the spacious room will allow the teams to practice their choreographies full out, a benefit they can't reap in their current practice spaces.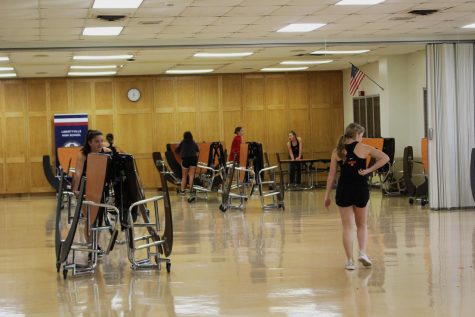 According to Varsity Dance Coach Casey Dugan, the new studio should help to decrease athletes' risk of injury. Currently, dancers are jumping and spinning on mat-laden concrete floors, which,  unlike a marley dance floor, does not support a dancer's legs and their joints well, leading to a potential increase in injuries. 
"The dance floor ground in [the cafeteria] is not really [proper] for jumping and leaping, so we have a lot of injuries [such as] shin splints," said Dugan. "We have girls that have bad knees because of it, bad hips because of it, we have had girls who have had surgery because of injuries sustained here, so the cafeteria is really hard, but it is better than the Link Crew room." 
The new space will benefit more than just the dance teams.
P.E. teacher Mrs. Eryn Brown, who has been teaching dance at LHS for 16 years, stated that she is excited for her dance students to have a new learning space. 
"There will be a space more designated for dance, so we'll be less having to share it with other non-dance specific classes. We probably won't have the freshman PE coming in there on the off hour like we have in the west gym right now."
In the spring, Orchesis will also be able to use the dance studio, allowing them to better prepare for their performances, as they also currently use the cafeteria to rehearse. Other groups that will be able to use the new space include fine arts performers, when they need to rehearse a dance number in a show, for example.
Those who will benefit from the project are enthusiastic to see how the new studio will turn out. 
"I've been working for 16 years, and as the dance teacher here, and it's been a long time coming," Mrs. Brown said. "So it's something we've needed for a long time."
Leave a Comment