Guarding the Money: The Loophole that Assists Wealthy Families from the North Shore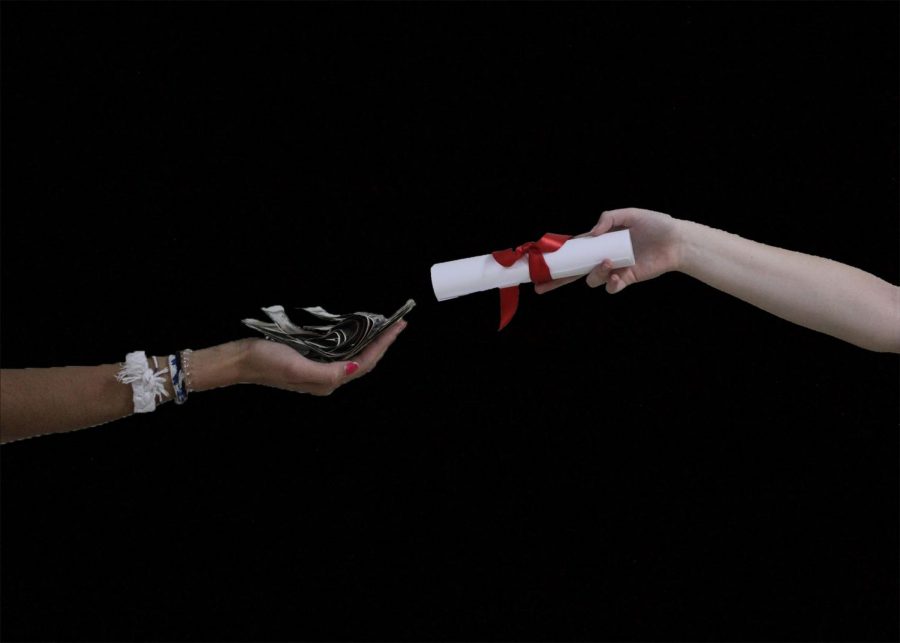 On July 29, a new college admissions scandal arose — not one where Aunt Becky (Lori Loughlin) from "Full House" gets her kids into USC, but instead, one involving North Shore families, including ones from Libertyville. An article, written by Jodi S. Cohen and Melissa Sanchez, published on ProPublica Illinois' website — an independent new organization that investigates abuses of power — examined the families' actions. After the story hit the internet, the scandal made national news, with pieces written by NPR, USA Today and The Wall Street Journal.
The article exposed that some affluent Lake County families have been found changing the legal guardianship of their children in order to reduce the cost of college tuition. In doing so, they are taking money from needs-based scholarship funds.  
Some families were caught when the University of Illinois' Director of Undergraduate Admissions, Andy Borst, had a "high school counselor from an affluent Chicago suburb [call him] about a year ago to ask why a particular student had been invited to an orientation program for low-income students," according to the ProPublica article. Borst said the addresses of some of the students attending the low-income programs were in million-dollar neighborhoods. 
The ProPublica and The Wall Street Journal  articles exposed that some affluent families were working with an independent college consulting firm called Destination College to find a loophole to more easily pay for college as tuition costs continue to rise. The firm itself is located in Lincolnshire, 20 minutes from Libertyville High School. It has billed itself as a resource for Lake County families to help reduce the cost of college as well as plan for a student's future in assisting them with the college selection process, according to Destination College's website. 
For a fee of $5,000, Destination College's owner and consultant, Lora Georgieva, guided families to hand the guardianship of their children over to friends or family members, as reported by USA Today. 
According to LHS's College and Career Resource Counselor, Ms. Amy Belstra, "[Georgieva] had a couple of clients who were lawyers who helped confirm that if they handed over their guardianship to others, then the child didn't have to fill out the parent portion of the [Free Application for Federal Student Aim]." Then, when the student filled out the FAFSA form, they wouldn't have to write in the parental income status since they aren't their legal guardian. The students then show up as financially independent, giving them more access to federal scholarships and student loans.
In the past year and a half, it is believed that Georgieva has assisted many of the 38 guardianship cases of high school juniors and seniors that have been approved by Lake County judges, reported USA Today. Although the actions of these families are legal, "it is very unethical," Ms. Belstra stated. "It takes away money from families who are more in need of money." 
Ms. Belstra said she was aware of one LHS family who participated in this practice prior to the articles' release, but she emphasized that unless someone speaks of a plan to use the loophole, the school would have no way of knowing they were doing so. Ms. Belstra added that, given the publicity of these incidents, she doesn't suspect there will be any more families trying to do so.
Senior Gianna Whitney, who is currently in the college application process, would agree with Ms. Belstra's statement, arguing that "college is very expensive and everyone is looking for a way to bring that cost down, but I also find it odious that families who are more economically well-off are willing to trick the system and are taking away funds from kids who actually need the money."
Drops of Ink attempted to contact two families who are believed to have used the loophole, as well as Georgieva, but did not receive a response back to interview requests. DOI also reached out to a Libertyville family who has used the Destination College service, but they declined to comment in order to preserve the privacy of their student's application process.
At the University of Illinois, there are 14 students who have been discovered to have used the loophole according to ProPublica. Reports have shown that other colleges, including the University of Wisconsin, the University of Missouri and Indiana University, have found students involved in changing their guardianship status to get more money as well.
LHS parent Merry Hirons has a senior daughter applying to three out of the four schools that have so far been found of having students use the loophole. Whitney is also applying to Indiana University. Both of them agreed that the financial aid system needs to be looked at more in depth to make sure that the money is going to the right recipients. 
Most Libertyville students and parents or guardians go through the various steps required in the college application process: creating a budget for schools based on their household income, scoping out universities, applying to colleges and then filling out the FAFSA from. Senior Anna Wilms, who is currently applying to universities, emphasized that she "got a budget from her parents and [she] has been comparing which schools best fit."
After the FAFSA has been filled out, the student or family will be evaluated on how much money they will receive. It is calculated by taking the cost of  the school the student is attending and subtracting the amount of assets and income the family and/or student has. Financial aid can be in the form of a scholarship, grant or loan. Hirons emphasized that even though it wasn't particularly helpful to their family, they still made sure to fill out the FAFSA since any bit can help. 
Both Mrs. Hirons and Wilms stated their anger about the issue. They explained how they wished the money had gone towards students who had actual financial issues. 
"I was so surprised that people who can probably afford college were going through that much trouble," Wilms also voiced. 
As for the future, according to the Daily Herald, some Illinois lawmakers are trying to close the loophole and have trained Lake County judges to be on the lookout for cases attempting to change the guardianship status of an affluent high school student. Only the future can foresee if this will be enforced.