'Lightning Thief' Giving the Fans What They Want
Percy Jackson, written by Rick Riordan, has been a popular book series since its release in 2005. Five years after the first book came out, Fox Studios released a movie based, very loosely, off of the first book. The movie turned out to be an extreme flop, as it seemed that no one working on the movie had even read the book, causing fans of Percy Jackson to erupt in anger and boycott the film.
When a musical was released in 2017, fans were skeptical. They were worried it would be like the movie, until Rick Riordan calmed their fears, explaining that it was much better than the movies in every way. And from what I saw at the "Broadway in Chicago" staging of "The Lightning Thief: The Percy Jackson Musical" earlier this month at the Oriental Theatre, Riordan did not lie.
"The Percy Jackson Musical" is so much more than I expected, and, unlike the movie, went along with the plot of the book almost directly, leaving out only one small scene.
All of the singers had amazing voices, and every song was belted, quite beautifully, too. They belted so much so that I am slightly worried about what will happen with their voices if they do this every night.
The musical opened with a song titled "Prologue/The Day I Got Expelled," kicking off Act One with a bang. Literally, as there was a huge thunderclap at the start of the song. Luke Castellan (James Hayden Rodriguez), Annabeth Chase (Kristen Stokes), Grover Underwood (Jorrel Javier), Silena Beauregard (Jalynn Steele) and Clarisse La Rue (Sarah Beth Pfeifer) sing about the Greek gods and their kids, explaining that their relationship isn't much of a relationship at all, so it's time their parents listened to them. Then Grover and Luke rip away a curtain and Percy (Chris McCarrell) appears and says the iconic first line of the series: "Look, I didn't want to be a half-blood."
The rest of Act One carries the audience through the beginning of the story, including Percy's Mom, Sally (Jalynn Steele), getting killed by the minotaur, meeting Chiron (Ryan Knowles), a rigorous game of capture the flag, and ending with Percy, Annabeth, and Grover starting on their quest to find Zeus' Lightning Bolt, which they believe to be in the Underworld, finishing off the first act with the song "Killer Quest."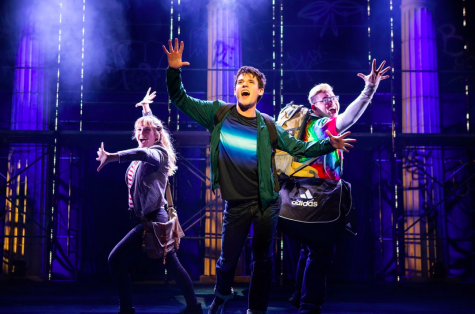 After a brief intermission, Act Two starts up with Percy, Annabeth and Grover getting attacked by Mrs. Dodds and her sisters, eventually leading into the first song of act two, "Lost." After, they end up fighting Medusa (Ryan Knowles), which was probably one of my favorite non-musical numbers.
After Medusa is dead, Annabeth has a solo titled "My Grand Plan." Hearing this song on the soundtrack is decent but nothing I haven't heard before. Hearing it in person and on stage turned it into one of my two favorite songs of the musical. Kristen Stokes' voice during this song, and the other songs as well, is so strong and compelling that when she sang, it seemed as if the audience was in a grand state of awe.
The rest of Act Two goes through the quest, alluding to some parts of other books, like the Hoover Dam and Bianca and Nico Di Angelo. Then, when they finally reach the Underworld, with some help from Ares, my second favorite song of the show begins.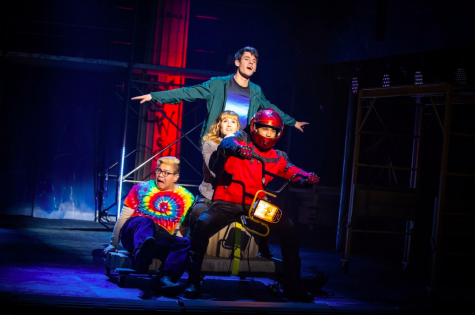 Charon (Jalynn Steele), the faerie man of the underworld, is typically portrayed as a man, but in the musical, a woman takes on the role. She is dressed in a gold-sequined dress, reminding me quite a bit of Beyonce. Steele is by far my favorite singer of the whole cast. Her voice is so strong and powerful; add that with being extremely clear? That makes a perfect singer in my book. Throughout the song, "DOA" which means dead on arrival, she introduces different dead musicians, saying that they either already "have all of the greats" or that they will. "Eventually."
Through several series of events, Annabeth finds the bolt, which had been planted in Percy's back pack by Ares, they escape the underworld, Percy fights Ares, Poseidon shows up with Sally, and Annabeth, Percy, and Grover make it back to camp, having succeeded in their quest. At camp, Percy finds out that Luke is the lightning thief. When Percy tries to tell Luke that what he's doing isn't right, Luke attacks him. The stage fighting, in this scene and all the other fight scenes, is choreographed beautifully. It's hard to do stage combat where no one dies, but "The Lightning Thief" does it quite wonderfully.
Eventually, Grover, Chiron, Annabeth, Silena and Clarisse make their way on stage just as Luke is about to stab Percy. Luke looks up and tries to recruit the others to his cause, and when even Annabeth rejects him, he lunges forward, stabs Percy and runs off stage to make his escape.
Annabeth quickly jumps to attention and feeds Percy some ambrosia, the food of the gods, to heal him. Once Percy sits up and doesn't feel as if he was just stabbed, even though he was, the final song of the show begins, "Bring On The Monsters."
Every actor in the play joins in, and even though there are only seven people on stage, their voices mix so well together, and they all have such strong voices that it makes it sound as if there are many more than just seven people on stage.
Even though everyone in the cast, excluding McCarrell and Stokes, plays more than one character, it works surprisingly well. Each actor plays their respective characters so differently that I forgot a few times that there were only seven actors.
It's obvious that everyone on stage is having a blast. Overall, "The Percy Jackson Musical" was an amazing experience. I wish it was here in Chicago longer so that many more people can see it, and so that I could see it twice!
Leave a Comment