Vernon Hills hosts a new development: Mellody Farm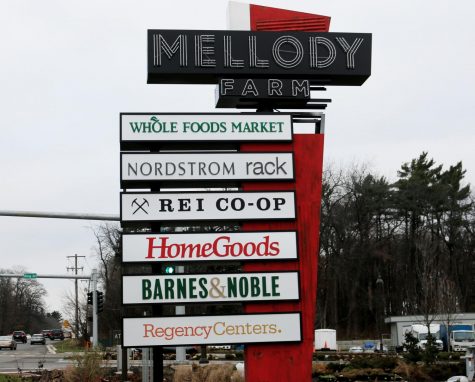 Mellody Farm is a new shopping center in Vernon Hills that began construction in April 2017 and opened some anchor tenants in October.
Aside from the stores that are already open, including REI, Whole Foods and Nordstrom Rack, there will be 15 additional restaurants in Mellody Farm, said Matt Hendy, a vice president at the Regency Centers real estate company, which owns the development.
There are several first-market restaurants that are nowhere else in Illinois, including Next Door and Lazy Dog. There are also several restaurants that are new to Vernon Hills and Lake County, including Kuma's Corner, which is already open.
There are also 260 apartments on the site called The Atworth, built by Focus Development, Regency Center's partner.
Dr. Andrew Young, the Director of Programming and Data Analysis at Vernon Hills High School, doesn't know exactly, but estimated in a phone interview that three or fewer students at VHHS live in the new Mellody Farm apartments, meaning the development hasn't really impacted the VHHS population.
VHHS has already participated in some fundraisers with the new businesses, and one student created a mural for Mellody Farm and has been asked to do a second, Dr. Young said.
The construction of Mellody Farm was a public-private partnership. When everything is complete, all the private companies will have contributed $200 million to the development. The village of Vernon Hills contributed $20 million, $4.4 million of which was for the roadway construction. The buildings will be 95 percent leased by this time next year, estimated Hendy.
Some effects Mellody Farm will have on Vernon Hills include the addition of more than 500 full-time jobs and around 500 construction jobs, a better roadway system, private investment used in the local economy and a high amount of sales tax revenue, according to Hendy.
During the construction process, the local environment was considered.
"It didn't have much of an environmental impact because it was always just a soybean field, which just grew with some non-indigenous trees around it," expressed Hendy.
He added that they planted two times the amount of trees that were originally on the land and that the new trees were native species. The development had to meet a land ordinance from Vernon Hills, along with some other requirements; David Brown, the Vernon Hills Public Works Director and Village Engineer, held Regency Centers strictly to the requirements.
"[The Mellody Farm] property has been zoned for its intended use for longer than I've been [working in Vernon Hills] (since 1993)," Brown said, adding that he didn't think there was much controversy over the site environmentally. "It's at the intersection of two major highways, so it's always been anticipated [that some development] would go here."
Brown said that part of the land is a conservation area, where the majority of plants and habitats are, which is preserved and no development can be on the site.
"In terms of best management practices, …  I think we've done a good job in terms of trying to balance where development would be and still allowing good environment for our residents to enjoy all of the benefits of the environment," stated Brown.
When the development's first tenants opened in October, there was a high interest in them, so there was some concern over the amount of parking spaces allotted. Hendy believes it is no longer a problem because it has worked itself out with the normal shopping patterns.
In 1937, John Cuneo, Sr. bought the approximately 3,000-acre property that was known as Hawthorn-Mellody Farms. This piece of land was once one of the largest dairy farms in the Midwest and also a popular attraction in Lake County.
Hendy met with the representatives of the Cuneo family about five years ago. In the first year following that initial meeting, Hendy worked on planning the development and trying to secure tenants. About a yearlong approval process with the village followed to study the project, its environmental impacts and effect on the roadway systems, to make sure everything was done correctly. The land was bought from John Cuneo Jr. in April 2017 after the plans were approved from the village.
Regency Centers was not the first developers to look into the land, since it is a high-profile spot on the corner of Townline Road and Milwaukee Avenue.
"The right timing came along and we [struck] a deal with the Cuneos and [struck] a deal with the village and struck a deal with these retailers all at the same time," commented Hendy over the phone. "So it was a good conflux of a lot of different market factors and a lot of willing partners to pull it off."
The Hawthorn Mall was a part of the original farmland, and it was sold to a developer who built the mall. The mall sits across the street from Mellody Farm, which was given its namesake so Hawthorn and Mellody could join together again and maintain history, Hendy said.
The new development aims to improve suburban retail. "Things need to change in suburbia if retail and retailers are going to take the next step … Developers have to change their ways and develop more interesting places people want to be," Hendy explained. "Mellody [Farm] was supposed to be that inspiration behind it for the next evolution of what suburban shopping could and should be. It should be interesting."
Lake County's demographics have changed a lot over the past couple decades, yet the shopping experiences have not, according to Hendy. A lot of the architecture seen in Mellody Farm is inspired from Hendy's research of design elements in Chicago, across the country and around the world.
Hendy noted that while the layout of the shopping mall is different — for example, all of the retailers' front doors face the interior to create energy — it's going to still function as the typical suburban shopping center.
So far, Mellody Farm has been widely successful, according to Hendy, and all of the tenants have reported sales above their projections.
"To us as developers, we have to create spaces where people want to be because people will always want to be around other people and are always going to want to experience new things," said Hendy. "That's what Mellody Farm is designed to do. If we're successful at Mellody Farm, people will go there five years from now and find something new and something different that they find interesting."
Leave a Comment