Same opponent, same stakes, same result
Boys soccer earns state runner-up two years in a row
Nov. 3, 2017, and 2018 were spent strikingly similar for the Libertyville and Naperville North High School communities. For the second year in a row, the Wildcats and Huskies faced off for the 3A State Championship boys soccer game, with Libertyville again finishing as the runner-up.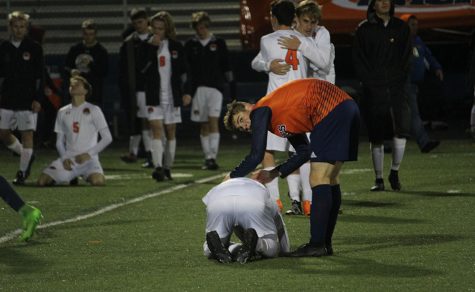 For the first time in boys soccer state history, there were two unbeaten, untied teams playing in a state title game.
Both teams battled back and forth throughout the first half.
"We knew what they were going to do, and they did it," said senior goalie Zach El Ghatit. "Set pieces, dead balls — that's how we knew they were going to score."
"
We knew what they were going to do, and they did it," said senior goalie Zach El Ghatit. "Set pieces, dead balls — that's how we knew they were going to score."
And that's exactly how Naperville North got their scoring opportunity. From a corner kick, Naperville North's Colin Iverson headed the ball into the net, setting the score at 1-0 in minute 36 of the game. He was the one and only athlete who put a point on the board in the state championship game, the third straight title for the Huskies.
Libertyville Head Coach Kevin Thunholm stated that Iverson's header managed to "beat us at our own game, because that's how we've been winning games all year, with the head ball."
Coach Thunholm added that in the first half, he felt Libertyville had the edge for the first 10 minutes, which was responded to with 10 minutes of tough play by the Huskies, followed again by Wildcat dominance. This continued until the last four minutes of the first half.
"I think we put our heads down for a little bit, came back out that second half and put it back at them. Put them down under for a while and then just kind of ran out of time," said Coach Thunholm.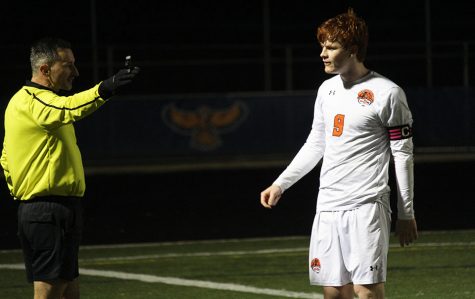 Senior, University of Michigan commit and captain Evan Rasmussen received a yellow card in the first half of the game and felt frustration with some referee calls.
"Personally, I don't think it was that good of officiating, I mean you can't expect it to be the best every time, but you just [have to] keep playing and doing what you're doing," he said.
Coach Thunholm said that play got physical and even "a little out of control" towards the end.
Rasmussen added that Naperville North cleared the ball off of the goal line at least three times during the game, diminishing Libertyville scoring opportunities.
"I really thought we would end up putting one in, but it's just how the game goes. We can have so many chances, so much time in the box, but we just can't finish," said El Ghatit.
The Cats went 22-1 for their 2018 season, playing in their third state title game in four years. Their high-achieving run included an undefeated North Suburban Conference title, being nationally ranked and having two players — Rasmussen and Grant Herbek (also a member on the DOI staff) — named All-State on their road to the state championship game.
El Ghatit said that this had been one of the best seasons he's ever had, and Coach Thunholm shared a similar perspective.
"It's been an amazing ride," he said. "I know they're disappointed right now, but when they look back at this, in 20 years, they're gonna realize what a ride they had."
"
It's been an amazing ride," he said. "I know they're disappointed right now, but when they look back at this, in 20 years, they're gonna realize what a ride they had."
— Coach Thunholm
Leave a Comment