Keeping Libertyville Safe:
A look into the groups and people who dedicate their lives to protecting the community
   According to the 2016 U.S. Census Bureau Population Estimates Program, Libertyville has a population of 20,405 people. That number encompasses all residents, and among them are people who devote their life's work to the security of others, like those at the Libertyville Police and Fire Departments, as well as the LHS Campus Safety Team.
Fire Department
   Located at 1551 N. Milwaukee Ave. is the Village of Libertyville Fire Department headquarters. The department services Libertyville, Green Oaks, Mettawa and areas covered within the Libertyville Fire Protection District, under contract.
   The Fire Department is staffed by paramedics and firefighters. All firefighters at the Libertyville Fire Department (LFD) are paramedics, trained to the highest level of pre-hospital medicine. There are three different locations that the LFD sends aid from. These locations are strategically placed to allow for efficient and effective response to the various emergency calls they receive, according to the Village of Libertyville website. Station One, their headquarters, is located on Milwaukee Avenue; Station Two is located off of Golf Road; Station Three, a district station, is located off of Atkinson Road.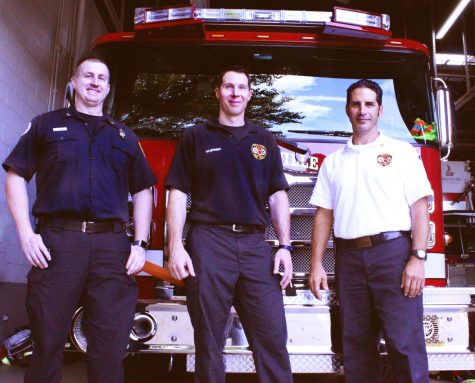 They normally staff four to seven firefighters at Station One, and three at Stations Two and Three. The LFD services about 4,300 calls in a given year, and Deputy Chief Mike Pakosta further explained that 70% of those calls are medical-related.
   In a given shift, there are normally 10 to 14 firefighters on call between the three locations. A typical shift for a member of the fire department is anything but typical, as no two days are the same. Furthermore, every shift is 24 hours long, starting at 7 a.m. There are three separate shift groups: red, black and gold, which rotate every three days.
   Due to the nature of their job and shift duration, the firefighters have strong relationships with one another. Deputy Chief Pakosta expanded by saying that each shift group essentially spent a third of their lives together and bond intensely through the work that they do specifically because of the calls that they answer.
   "[The firefighters] come from all different backgrounds, everybody is different, but the commonality of it all is when the alarm goes off, everybody goes to work … [to] make a difference," said Pakosta. "It's just a trick bag full of different personalities around here."
   When they aren't responding to calls but are still on shift, they are free to do a number of things. That can include anything from cleaning and checking equipment to engaging with the community. The department interacts with the community at various times, such as last month, when firefighters educated the elementary and middle schools for fire safety month; the department also participates in events like the Homecoming parade, Libertyville Days Festival and various block parties.
  Above all, Deputy Chief Pakosta described the department as a welcoming and open place to any seeking help.
Deputy Fire Chief Mike Pakosta
   Mr. Mike Pakosta has worked at the Libertyville Fire Department for 17 years. He currently works as the Department's Deputy Fire Chief, working under Fire Chief Rich Carani, and Pakosta oversees operations on a daily basis.
   The 1989 Libertyville High School graduate went to Iowa State University, originally intending to be an engineer. While still at Iowa State, Pakosta changed his major and set his sights on sports medicine. Once Pakosta graduated, it wasn't until after he took an Emergency Medical Training class that he decided become a public servant.
   The Deputy Fire Chief feels great pride to help the public and described it as rewarding.
   "It's public service and it's not for everybody, but it's something where you're not behind a cubicle Monday through Friday, and you're actually doing something that benefits other people," stated Deputy Chief Pakosta. "It's just that selfless type of satisfaction where what you're doing, you know it helps."
Police Department
   Another 24/7 organization provided by the Village of Libertyville is the Libertyville Police Department. The department is divided into Operations and Support Services, employing 54 sworn and non-sworn members, according to the Village of Libertyville website.
   Under Operations lies Patrol, Investigations and Community Services. Patrol officers work eight-and-a-half hour shifts for five days a week. The exception to that schedule is that every other week, they have an extra day off, working four days a week. Under Investigations are various investigators including the School Resource Officer assigned to LHS, Officer Dusan Racic. Lastly, Community Services includes Public Service Officers who work with non-criminal calls of service, parking and ordinance enforcement and animal calls.
   Within Support Services is administration, which does exactly as its namesake suggests: they support the various officers and direct them to where they are needed. This includes information technology, human resources and finance for the records unit. Furthermore, this division handles training, evidence and property.
   "When you think about it, we're the middle man. When you come to us, there's obviously an issue or a problem that you have and you're looking for us to try and help you with that," said Patrol Officer James Davis. The police department witnesses various civilians on their worst days, and their life's work is to make that day better by solving that problem.
   The Police Department interacts with the community in similar ways to the Fire Department. They participate in the Libertyville Days and Homecoming parades. They also have outreach events for Special Olympics through a multitude of events; for example, they raise money through "Cop on the Rooftop" at Dunkin' Donuts; "No-Shave November" and sometimes a continuation of that with "Double-Down December." These events allow the police officers to bond outside of shift time and with cooperation from the community, donate money to a cause.
Officer James Davis
   "My name is James P. Davis and my position is patrol officer," stated Officer James Davis.
   Officer Davis, who once desired to be a chef, has worked at the Libertyville Police Department since 2000. As a patrol officer, his duties include resident and business checks, patrolling and traffic control, which he described as his most frequent responsibility. He further expanded that their chief, Clint Herdegen, encourages proactive patrolling, in order to prevent possible car accidents.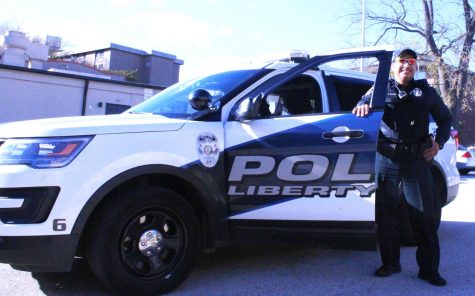 "A lot of people think patrolling is out there because we want to give out tickets. It's more about prevention of accidents…We give out more warnings than we do tickets," said Officer Davis.
   On-shift experience for Officer Davis has been both protecting and serving the community; this has ranged in activities such as preventing a suicide attempt to rescuing ducks from a sewer.
   During his time at the LPD, Officer Davis said that he has saved four lives, two of which were the result of CPR.
   Although Officer Davis appreciates the welcoming and encouraging community of Libertyville residents, he expressed that that notion isn't necessarily the opinion of the general public toward police in modern-day America.
   "It's definitely a different climate than when I was [younger]. I think all you have to do is go on YouTube or [read] the newspaper. It's a little bit tougher now, and I think it's par for the course, but that's what makes the job unique," Officer Davis said. "It is [worthwhile]. There's a lot of good to it, [and] gratification when you help someone out."
LHS Safety Team
   The Safety Team at Libertyville High School is comprised of 10 full-time individuals, dedicated to maintaining the safety of the high school's students and staff.
   "First and foremost, our biggest responsibility–our main task–is making sure everybody in the building is safe, every single day," said Mr. Robert Uliks, Director of Campus Safety.
   Before each school day starts, the team meets to review video camera footage from the night before, looking for anything out of the ordinary. During the daytime, two members of the team are stationed at either of the entry and exit points, located at the Main and Studio Theater entrances. They also check different areas of the building like washrooms, common areas and the parking lot.
   All of the members of the Safety Team are personally invested and involved with the school and dedicated to the main goal, as described by Mr. Uliks. Additionally, four of the security members are retired police officers and a number of them either currently have children enrolled at LHS or have had children graduate.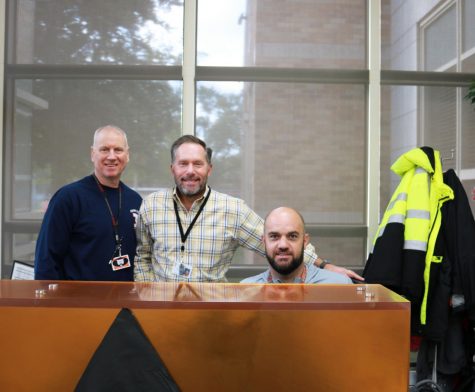 Many on the team aren't here singularly for the job but also the interpersonal relationships it brings.
   "I really liked working with kids because I saw the positive influence and interaction you can have … I was able to bridge that gap between the community and school," said Mr. Uliks, a retired police officer who was the School Resource Officer at LHS for 16 of his 28 years as a police officer.
   "The most important thing is the human factor and building relationships and knowing what might not be right and getting people to feel comfortable to communicate with us," Mr. Uliks said.  
   This especially applies to students, on top of "brick and mortar things," like protective bollards, security cameras and electronic door locks. Because of the various security measures that LHS and Vernon Hills High School have, District 128 was recently voted the safest school district in Illinois, according to an article posted by Niche, a school ranking and review website.
   The team itself was described by Mr. Uliks as cohesive and dedicated to their profession. They also have social outings, like gathering to celebrate someone's birthday or going to LHS sporting events.
   "Even though there's 2,000 students and 200 staff, [we're] a family, so we all take care of each other when we're here, and that includes raising concerns and looking out and being accountable," said Mr. Uliks.
Mr. Bill Kinast
   Mr. Bill Kinast, a new member to the campus safety team this year, started working at the beginning of October. Prior to coming to LHS, Mr. Kinast was employed at the Libertyville Police Department for 33 years and retired as the lieutenant in charge of the Investigations Unit. After receiving notice that there was a position available from a previous co-worker of his, Mr. Uliks, Mr. Kinast applied.
   "I figured it would be a nice job coming from the police department and into the security position here at the high school," stated Mr. Kinast.
   From the area, Mr. Kinast went to Lake Forest High School and after graduating, attended Lake Forest College. While in college, he completed an internship with the Lake Forest Police Department, which solidified his aspirations to go into police work.
   After graduating from college, Mr. Kinast took a job as a police dispatcher for the Lake Forest Police Department. Shortly after, he began testing and was hired by the Libertyville Police Department. He has been a member of the Libertyville community since 1993 and has two daughters, one who has already graduated and another who is currently enrolled at LHS.
   In his free time, Mr. Kinast can be seen in his 1968 Ford Mustang Fastback GT. A hobby of his is to attend vintage car shows with some friends from high school, who all have purchased an American muscle car.
   Because of his experience at the police department and involvement with the community, Mr. Kinast feels comfortable at LHS.
   "I do feel working with the police department, I actually worked very closely with the high school on a lot of cases, so I feel very at home here, I know I'm going to enjoy it," said Mr. Kinast.
Leave a Comment