DREAMers of Lake County
Hang on for a minute...we're trying to find some more stories you might like.
Deferred Action for Child Arrivals (DACA) and Development, Relief, and Education for Alien Minors (DREAM) determine the futures of millions both already residing in and immigrating to to the United States. Maybe you're a second- or third-generation immigrant, or your parents are immigrants, or maybe you don't know any immigrants, but they're here in Lake County — even in Libertyville.
Though they face many challenges along the way, immigrants are finding their place in the United States with the help of counselors, families and friends.
"Being called American is something a lot of immigrants really value," stated Jael Mejia, Engaged Citizens Program Coordinator at the Mano a Mano Family Resource Center in Round Lake. Mano a Mano is a non-profit organization whose goal is to help immigrants mesh into life in the U.S., through finding jobs, going to school, etc..
Aspirations for a better life are becoming harder for immigrant families to reach. Although Obama issued the executive order for DACA in 2012, President Donald Trump has repealed it, putting the program on probation. As of now, DACA is still in effect for its recipients, however, no requests or renewals of DACA are being accepted. DACA allows undocumented immigrants who were brought to the United States as children to obtain a valid driver's license, enroll in college, legally secure a job, be protected from deportation and reside legally in the U.S.
In order to be accepted into the program, DACA applicants must meet a strict criteria of requirements. In addition, applicants must renew their request for DACA every two years. Mejia explained that DACA applicants "have to pay $495 [to renew]. Some people will be able to apply, but they aren't able to renew because they don't have the money."
DACA recipient and LHS senior Danielle Navarro is experiencing this issue of application renewal costs. She stated that without DACA, "I [could] still apply to colleges, but I wouldn't be able to get a job or drive or anything like that… it's just a matter of waiting, and that's [hard to do]." She has been a part of DACA for over two years now and recently began her process of renewal. "It was very difficult for me because they kept sending my information back because it wasn't enough, and with that it passed the deadline." The renewal process requires money, adherence to strict deadlines, and extreme specificity in applications. Navarro was able to talk to her attorney to renew DACA, but nevertheless, one simple mistake can make or break whether or not an application is accepted.
According to Navarro, the application process  was much easier before President Trump's decision to revoke the program. In her recent renewal request, she experienced some difficulties because now "the Department of Homeland Security sends everyone's back because of one certain thing. For me, it was because the country I was from [Belize], my attorney spelled it wrong. They forgot an 'e' and they gotta send it all back." The process caused a lot of unease for Navarro and her family. She admitted, "The whole situation with my attorneys not getting my information in on time [is] making everyone so stressed and worried. Recently we've been getting into arguments over it."
Over the past 16 years, a bill called the DREAM Act has repeatedly been proposed to help undocumented immigrants, but has remained a policy rather than a law. This Act would not only include the benefits of the DACA program, but also carve a pathway to legalization for undocumented students.
Mejia said that "immigrants do value and hope that they eventually have a pathway to become an American citizen. That's something that is like a dream, it's kind of like, 'I want to buy my first home' kind of thing.' That's [something] that immigrants would really love to have."
LHS principal Dr. Tom Koulentes believes that if the DREAM Act were to be passed, it would mean that this undocumented population "would be able to reconcile their identity with the way the country sees them. It would be an official declaration that our country acknowledges these kids as true Americans, and that you can't put a price on it. That is why it's so important to so many of our DREAMers." DREAMers are young people who have grown up in this country and generally identify as American but lack documentation to be called United States citizens.
"The term DREAMer to me is a child who is dreaming of having the same opportunities that every other American and child has, which is to get an education, to obtain a college education, and to work hard in their passion and dream job," stated Dr. Koulentes.
Navarro agreed that "a DREAMer is someone who really wants to get far in life, maybe not be the most successful person in the world, but everyone has dreams and especially for us, the DREAMers, it's really important because we not only want to help ourselves, but we also want to help our families." She checks the news on DACA every day after school and says she doesn't want DACA to be permanently revoked because "[With DACA] I'm not scared to tell people that I'm a part of this program because I feel like I'm safe under it."
According to Mejia, who works with immigrants on a daily basis, families of undocumented students tend to have a low economic status, as the parents are not protected under labor rights and end up working all day, under the table, for minimum wage. Undocumented students are also exempt from financial aid for higher education, making their financial situation all the more difficult. The goal for many of these immigrant students is to assist their families by graduating high school, going to college, and getting a high-paying job that will provide for their families. DACA has helped Navarro with "getting a job and being able to help my mom with money [among other things]."
As DREAMers pursue higher education, it becomes more and more difficult. Dr. Aliza Gilbert is a Highland Park High School counselor and one of the top spokespersons for the National Association of College Counselors on DREAMers and undocumented student rights. She stated fewer than half of all undocumented adults ages 18-24 with a high school degree have attended any college. Counselors like Dr. Gilbert who work with undocumented and DACA students have determined the issue of these students not pursuing an education after high school has nothing to do with laziness and everything to do with a paucity of motivation because of limited college options.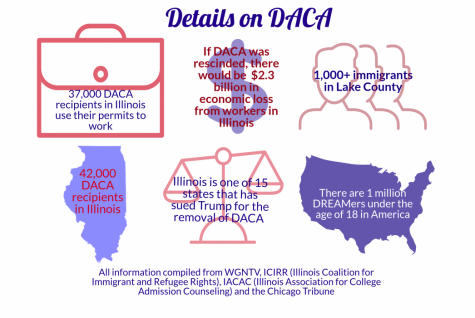 "If high school is only the path to college and you think you can't go to college, then what's the value of high school? High school needs to do a better job of helping students understand from day one [that] if they are undocumented, college is still a possibility."
Undocumented students tend to struggle regularly with their status. Dr. Gilbert said that DREAMers "live every day with fear. They live in fear of being deported themselves or fear of a loved one being deported. So imagine you going to school everyday, and you are afraid that when you come home, your parents will not be there."
It's no surprise undocumented students rarely disclose their status for fear of being kicked out of the country. With this constant apprehension instilled in undocumented families, there comes secrecy. "Many undocumented students have grown up and have been told by their parents, this is something you cannot ever tell anybody, you cannot share with anybody," Dr. Gilbert said.
However, they can be more upfront about their position if they feel they reside in a welcoming community. If undocumented students reveal their status, counselors are able to help and give them specific information on college and their future. Having a wide range of races, ethnicities, sexualities, and backgrounds can all contribute to how accepted an undocumented student feels at any given school, according to Dr. Koulentes.
Here at LHS, there are stickers and posters in some classrooms, offices, and LSTs that read, "DREAMers Welcome." This logo, depicting a butterfly with patterns made up of different people's faces to represent different backgrounds, came from the National Education Association. It was created in hopes of raising support and awareness for DREAMers in the United States.
Lake County is home to a large immigrant population "because [immigrants] know there's a support network. They know there's family there, they know there's people there who have made it and been established, and there's a network of people who will help them get established," said Dr. Koulentes.
Dr. Gilbert shared that there are other schools "like Evanston, [that] have really been the leaders in [undocumented student awareness]. Dr. Eric Witherspoon, chief superintendent of ETHS, has come out and made some vocal statements in support of undocumented students: 'Evanston is a sanctuary city and we are going to support our students.' Not every principal, superintendent or school board is comfortable with that."
DREAMers are present at LHS as well as many other schools; they want and learn all the same things as any American, so educating others on their battle is "important for everyone to know," Navarro explained. "I'm not saying you have to support it or not, just [that] it's good to be aware of it because [DREAMers] don't really speak up for themselves because they are worried that someone will come after them or judge them… [we] need that extra support."