Competitive Clubs
When students hear the acronym "IHSA," they may think of the concussion video or new rules and referees that affect high school sports. However, the Illinois High School Association does much more than regulate sports; according to its website, they provide guidelines, rules and competitions for many other activities, all of which help students participate and excel in their passions.
Debate Team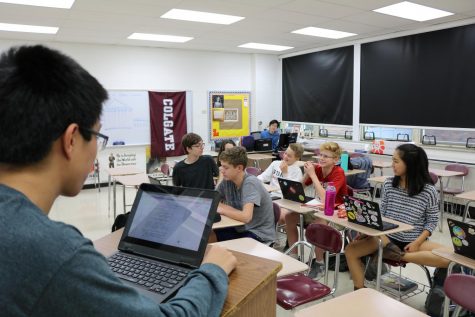 While some students may be familiar with the Libertyville High School Debate Team, what few people know is just how competitive the team is. Debate is demanding of its members but is also extremely rewarding. Sarah Greenswag, a social studies teacher, and Nicholas Gerjol, a substitute teacher for the math department, are the team's coaches and approximately 40 students make up the body of the team.
Debate is divided into four different sections: Lincoln-Douglas, Public-Forum, Congressional and Policy. The LHS Debate Team has a Lincoln-Douglas team and a Public-Forum team, and they have added a Congressional team this year. Members of the Lincoln-Douglas team compete as singles and the captains of this team are Emily Regan and Claire Mills. The Public-Forum team is led by Olivia Gauvin and Matthew Huang and this group competes in partners. The Congressional team is run by the coaches, as this is the first year it has been in action. The congressional team focuses on legislative processes. All of these groups are competitive, require vigorous effort and dedication and focus on improving similar skills.  
The debate coaches are passionate about how debate prepares students for the real world that lies ready ahead in students' futures. Over email, Ms. Greenswag shared some of the key skills debate directly develops: "the Debate Team provides opportunities for students to develop research, critical thinking and public speaking skills in a way no other activity allows."
Four-year debate member and current co-captain of the Lincoln-Douglas team Claire Mills has experienced debate's skill sharpening herself. She joined debate her freshman year  "as soon as [she] could."
"I knew I wanted to do clubs at LHS, not sports, and debate is a really good blend because it is a club, but it is one of the more intense clubs where we still compete. I liked that it was still a club that I was interested in — and it was sort of political — but it was going to fill up more of my time."
Mills recalled that debate not only improved her public speaking but also her ability to conduct research and to organize and execute writing assignments. One of the reasons she loves debate is because she "feel[s] like it actually develops skills that you need to know in the real world in a super direct way."
The opportunities that debate provides for students at LHS would not be as vast without the IHSA. The IHSA hosts the State tournament at the University of Illinois-Springfield every year. The organization also sets guidelines and rules for how competitions are run and how winners are selected.
Scholastic Bowl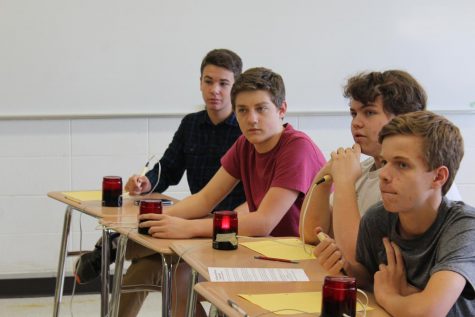 Scholastic Bowl is a competitive, IHSA sponsored, team activity here at Libertyville High School. The team competes with both conference and non-conference schools in the area.
The purpose of Scholastic Bowl is "to provide students an opportunity to develop and showcase their knowledge in a variety of scholastic areas, as well as topics like sports, pop culture and current events," according to Karen LeMaistre (an English teacher), who coaches Scholastic Bowl along with Laura Guiard (a French teacher)
Members of the club practice about once a week and compete a few times a month with local schools. There is a junior varsity and varsity level in the club. Both levels compete, but for varsity, the "focus shifts from participation to performance in the North Suburban Conference tournament and IHSA State Series," Mrs. LeMaistre stated over email.
In competition, five members sit as a team to answer the questions asked. Four-year member Suraj Rajendran explained the process: "It's basically like 'Jeopardy!' except you are on a team, but you're not allowed to discuss." Each member has a buzzer and once they have individually come up with an answer, they press the big red button and answer for their team.
The competition is fierce between teams and there is pressure put on competitors to perform. "There is pressure from a team, since there is individual effort and a team effort. If the individual fails, the team doesn't necessarily do well, so there is that individual pressure," said Rajendran. This competitive environment can help members improve skills such as: critical thinking, responding quickly, and working as a team.
The IHSA has a large role in the function of Scholastic Bowl. The association has created a set of rules and guidelines for all schools competing in the activity and also organizes and helps fund the State Series. The also create many of the questions for the regional and sectional contests. The IHSA also hosts and runs the Illinois State Championship. Many schools also are part of the Illinois High School Scholastic Bowl Coaches Association (or IHSSBCA). The IHSSBCA helps schedule competitions and tournaments throughout the season, Mrs. LeMaistre explained over email.
Bass Fishing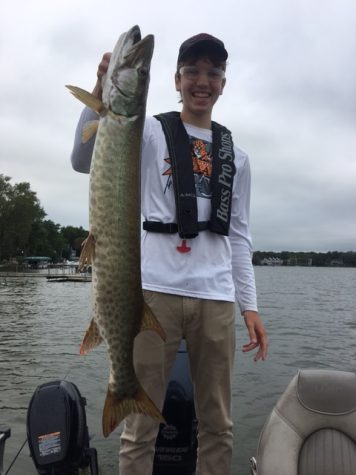 One club at Libertyville High School that the IHSA sponsors is bass fishing. The team competes in IHSA tournaments under strict rules that the IHSA has outlined to ensure that competitions are fair, while also helping participants practice timeliness and preparedness.
Another area that bass fishing touches on is ecology and pollution; because the club spends so much time outdoors, they get to "see the implications of pollution, littering, invasive species… and how it affects ecology," according to one of the team's coaches, Mr. Bill Reichert, who teaches in the career and technical department at LHS.
The team starts to practice and compete the moment school starts and goes until fall kicks in and weather conditions are no longer ideal for fishing. Once winter arrives and the ice is thick enough, the team begins to practice and compete in ice fishing. The team then waits for the ice to thaw, and in early April they begin open-water bass fishing again.
The IHSA sectional tournament occurs the first weekend in May. From there, the team can qualify for the IHSA State tournament, which normally is held on the first weekend in June. The winner of a competition has the highest total fish weight, while still only having a maximum of five largemouth bass.
In addition to Mr. Bill Reichert,  Officer Robert Uliks (the head of security at Libertyville High School) coaches the team. Years ago, the two competed against each other in bass fishing tournaments and when they met here at the high school, the pair decided to coach the team together.
Mr. Reichert finds that the club provides a social platform for kids who have a common interest in fishing to meet each other and improve their skills on something they really enjoy doing. The current captain of the team is senior Ryan Muller. Muller joined freshman year with some friends because the group had "always liked to fish and heard there's tournaments and stuff so [they] decided to try it freshman year." Muller stuck in the club for four years and is now one of their top competitive players.
According to Mr. Reichert, fishing is not simply luck: "There's skill and what's cool about it is there's strategy, there's science, there's weather, there's all these factors that play that you need to consider."
Preparedness, timeliness and how to adhere to rules are all taught through the club as well. Reichert explains that players "are in a boat for eight hours — it is against the rules to get out of the boat — so you have to have everything with you, everything organized and sure enough, if something goes wrong, even if it's just the smallest detail, it could just derail your entire success because you need every fish."
Leave a Comment