You Are What You Do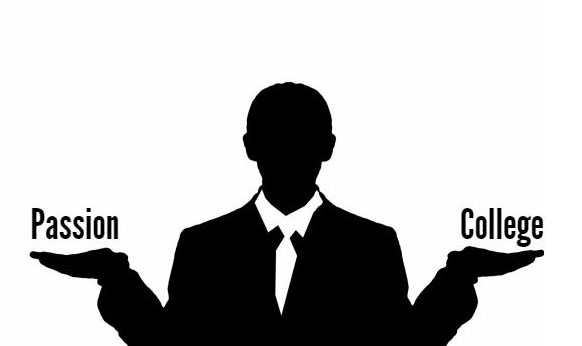 Hang on for a minute...we're trying to find some more stories you might like.
Test scores. AP classes.  Extracurriculars.  Jobs.  Social life?  Passion?  Happiness?
There's no doubt that high school is a means of preparation for college: it's a time to learn, to grow, and a time to dabble into potential career paths.
A lot of emphasis — from parents, friends and the community — is put on having great test scores, consistent extracurriculars and academic achievement across all subjects.  And they're not wrong.
Upon browsing almost any college's admissions recommendations one can find these very same credentials, many of which coincide with standard high school graduation requirements (there are some classes one must take), but with flair such as "weight of course load" or "academic rigor."  However, in today's competitive environment, extracurriculars can be just as important.  
Many staff members concurred that extracurriculars provide a greater image of a student's genuine interests and who they are as a person… at least in the eyes of college admissions.  There's a definite pressure to take classes and extracurriculars under the mindset of I'm just doing this so I can put it on my application. Followed by Ugh. More volunteer hours…to get every edge one can get on their application.
Obviously for those that already know what they want to do, it is important to take preparatory classes; if you're going to be competing for a specific program (whether it's pre-med  or music), it's equally important to have extracurriculars which extracurriculars provide the best opportunity to develop such as volunteering at a hospital or simply being a part of band or developing work of your own outside of school.
Regardless of what it is you pursue during high school, these are the memories and experiences you have.  Challenging yourself to take a class out of your comfort zone can be a good experience, extracurriculars provide opportunities to learn life skills and figure out your strengths as a person.  And honestly, if going to one of the most selective schools is what matters to you, the sometimes overwhelming schedule that students put themselves through does prepare for them for the real world, but it's not for everyone.
So should we do things for college or passion?  And hopefully your peers and adults in your life have encouraged you to find your "balance" (or heavily weighted to one side) .  Amongst the staff, some members found a rigorous college to be their goal, while others preferred  ideally a more balanced version, or wishing they may have been adult enough to drop an excruciating AP class, and even fewer spoke strictly of passion as being the deciding factor in their college decision.  Some members concluded that upon choosing a college, the college environment (opportunities, vibe, etc.) is more important than the school's rank, while others disagreed.
It's okay to not know exactly what you want out of life as aspirations change of course, after new experiences (no worries we won't be talking about starting families and marriage quite yet).  The beauty (or scary part) is that you may not know what your plan is and you may have not found anything you're really passionate about.  Maybe you'd rather not pursue your passion in terms of career (whether it's gaming or writing), but given the opportunity to make a passion a part of your life, the staff overall believed that it is important to make room for it.  
This means that what you did or didn't do in high school matters, but there's still a whole life ahead with new opportunities:  jobs, internships, relationships, leadership roles, times to put yourself out there, times to take a risk or go for the more comfortable option.
We ultimately are the things we actually decide to do.
While our staff is only a percentage of a body of many bodies of people, few weighted passion more than college as what should be the driving factor for decisions made in high school.  But if you're lucky enough to pursue your something you love, why not?
Now a writer, or maybe a lover of sports, or maybe you really enjoy being there for other people.  Maybe all the required NHS hours actually gave you a passion for volunteering.  Maybe you got into that great engineering program at that great school and you cannot wait to be a part of the new research going on. Maybe you're already feverishly writing one-acts and your portfolio landed you a great opportunity.   Passions can be specific or general.  One may find that they simply enjoy helping people.
So check in every here and now.  Find time for your hobbies however quirky or crazy they may be to to others (they help keep sanity) and consider weaseling your passions into your bigger choices as you discover what they are.