Changes Coming to US Currency by 2030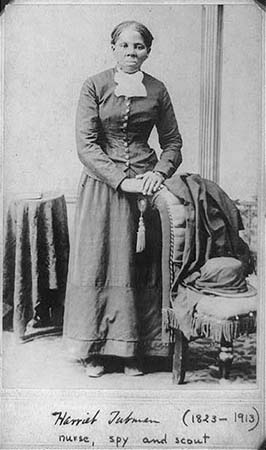 Hang on for a minute...we're trying to find some more stories you might like.
   United States currency changes are set to take place around 2030. Abolitionist Harriet Tubman is going to replace Andrew Jackson on the $20 bill, but his face isn't leaving American currency.
  Instead, the United States Department of Treasury is redesigning the bill and Jackson is being moved to the back. The back of the $10 bill and the back of the $5 bill will be getting changes as well, according to The Huffington Post.
 Historical figures in the women's suffrage movement, such as Sojourner Truth, Elizabeth Cady Stanton, Alice Paul, Lucretia Mott and Susan B. Anthony, will be featured on the back of the $10 bill. According to the Los Angeles Times, the back of the $5 bill is also set to be graced with the presence of notable people, including Martin Luther King Jr., Eleanor Roosevelt and Marian Anderson.
 Harriet Tubman was voted onto a petition to be featured $20 bill as the result an online poll conucted by Women on 20s, a non-profit organization whose goal is to "put a woman's face on our paper currency." The organization issued a primary poll from March 1 to April 5, 2015 on which candidate should be featured on the $20 bill and then a final poll from April 6 to May 10, 2015. According to W20, "Over a period of 10 weeks, more than 600,000 people cast votes."
  Finalists in the poll included Eleanor Roosevelt, Rosa Parks, Wilma Mankiller and of course, Harriet Tubman, who ultimately won. On May 12, 2015, Women on 20s presented their petition to President Barack Obama that requested that he "order the Secretary of the Treasury to change the current portrait portrayed on our American $20 bank note to reflect the remarkable accomplishments of an exemplary American woman who has helped shape our Nation's great history."
  Tubman was born into slavery in Maryland around 1820 and is known for a multitude of accomplishments. Tubman is most well-known for is her dedication to fighting against slavery and being a main figure in the Underground Railroad, which was a network of safehouses for slaves who escaped and were looking for freedom. According to PBS, in a span of ten years, Tubman "made 19 trips into the South and escorted over 300 slaves to freedom."
  Aside from this, Tubman worked for the Union Army and served as a spy, scout, nurse and guerilla soldier during the Civil War. She is considered "the first African American woman to serve in the military," according to the National Women's History Museum and because of her war efforts, Tubman was "buried with military honors at Fort Hill Cemetery in Auburn, New York", according to the Harriet Tubman Historical Society.
  Future changes to the appearance of three different bills haven't come without controversy. In a New York Times article, writer Feminista Jones claimed that it would be insulting to Tubman's legacy by making her the face of the $20 bill.
  Jones explained that, "By escaping slavery and helping many others do the same, Tubman became historic for essentially stealing 'property.' Her legacy is rooted in resisting the foundation of American capitalism…Harriet Tubman did not fight for capitalism, free trade, or competitive markets…I do not believe Tubman, who died impoverished in 1913, would accept the 'honor,' were it actually bestowed upon her, of having her face on America's money."
  Others are pleased about Tubman's upcoming appearance on the $20 bill and consider it long overdue. Currently, no females and/or people of color are on any paper money and Tubman will be the first black woman on U.S. currency. Many believe that adding Tubman to currency will be a positive change and will promote gender and racial diversity, such as LHS sophomore Trinity Carlisle.
  Carlisle is pleased about the upcoming currency changes, saying that adding Tubman to the $20 bill, "is kind of a breakthrough." Carlisle also stated that money is "something that people look at every day of their lives" and that placing Tubman and other historical figures on money "shows that not just the [past] presidents of the United States were … the only impactful people."
  Even though money is something that most handle everyday, unlike Carlisle, some do not observe the appearance and design of currency. Samantha Bee, host of the political show "Full Frontal," sarcastically commented that, "When we make such a dramatic change to something no one ever looks at, we have to consider the fragile feelings of white men, who, tragically, only appear on seven out of seven bills currently in production."
  Hannah Daguinsin, another LHS sophomore, feels similarly to this and believes that "the lack of diversity in our paper money is discouraging and misrepresents America."
    And then there's the controversy surrounding Andrew Jackson's presence on the $20 bill. Criticism against replacing Jackson with Tubman has been abuzz, as well as criticism of Jackson being moved to the back of the $20 bill and the action being insulting to Tubman, a former slave now having to share the bill with the former president, who was a slave owner. According to The Wall Street Journal, Jackson "owned about 150 people by the time of his death in 1845."
  Backlash against Jackson on the $20 bill isn't new — his appearance on the currency has been controversial ever since he was put on it in 1928. The unpopularity of Jackson can be attributed to his killing of the attorney Charles Dickinson in a duel, owning dozens of slaves and most notably, his presidential legacy that includes discriminatory actions such as establishing the Indian Removal Act. This act allowed the orchestrating of the Trail of Tears, which was the event in which "nearly 50,000 Indians were relocated to eastern Territory."
  A different argument against Tubman replacing Jackson exists as well. Some people are upset about the former president being removed from the front of the $20 bill and moved to the back. In an interview with The Today Show, likely Republican presidential nominee Donald Trump revealed that he believes that Jackson should stay on the $20 bill. Trump said that Jackson's presidency has a  "great history of tremendous success" and commented that he "think[s] it's pure political correctness. [He has] been on the bill for many, many years and really represented somebody that was very important to this country."
  Business magazine Fortune interviewed government officials and businesspeople who believe that Jackson should remain on the front of the $20 bill in an article on its website. Bob Corker, the junior senator from Tennessee, defended Jackson's place on the currency, simply stating, "I do not think it's a very good idea." Corker then argued that Jackson "was the president of the United States, a consequential presidential of the United States."
 Despite all of the different sides of controversy, many U.S. residents don't seem to be upset over the currency changes that are due to change in 2030. Daguinsin said that Tubman "is an American hero who saved a lot of people's lives and deserves recognition."