Wildcat Hall of Fame
Many faces have walked the halls of Libertyville High School over the past 99 years. Some of them went above and beyond after their time at Libertyville. Some have gone on to become news anchors, Broadway stars or rock stars. Mark Suppelsa, Phillipa Soo and Ike Reilly did just that.
Mark Suppelsa: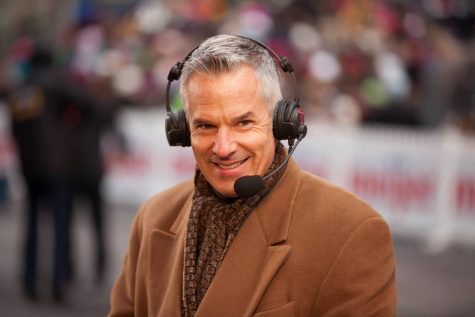 Photo courtesy of Mark Suppelsa
After a long day of work or school, it always feels nice to just kick back, relax and turn on the TV.  You grab the remote and turn it onto Channel 9 to watch the news. Soon, Mark Suppelsa makes an appearance on your TV screen because WGN News at Five and Nine are home to this TV broadcaster. Along with WGN, Libertyville is also a place that Suppelsa can call home.
Suppelsa did not attend Libertyville High School for all four years, but he did spend the majority of his childhood years in Libertyville.  Even though he only attended Libertyville High School during his freshman and sophomore years, he certainly made the most of the time that he spent here by getting involved in many sports.
"I would have to say sports dominated [my high school experience]," Suppelsa said.  
During his time at LHS, Suppelsa did not get involved in journalism.  He mentioned that he may have been too young or just too shy to think about getting involved at that point in his high school career.
"I remember before school, and I would hear the high school radio station, and I remember thinking, 'Wow that sounds really cool,'" Suppelsa stated.  "But I remember I didn't really think about [journalism] until just about my senior year of high school when I was at Lincoln-Way."
Even though Suppelsa didn't get involved in journalism at Libertyville High School, the town of Libertyville had a big impact on his future career.
"When I moved from Indiana to Libertyville, and you know the Cub games were on every day on Channel Nine, I just distinctly remember being in the backyard as a youngster having imaginary baseball games doing my own imaginary announcing," he stated. "So it might have planted a seed there. It wasn't necessary at the high school, but it was during my years [in] Libertyville that I began to think about broadcasting."
Suppelsa has been in the broadcasting business for more than 30 years, including work that he did at Marquette University while he was in college. He is the co-anchor for WGN News and greatly enjoys investigative reporting.
"It has evolved to the point where I really, really like working on investigative stories that uncover things that people know about and that we didn't even know about that might actually affect some sort of change," Suppelsa said. "Those are the most rewarding."
Thanks to Libertyville, Suppelsa was able to find his true calling and his true talent.  What started with reporting for imaginary baseball games in the backyard evolved into a lifelong career of reporting in Chicago.
The advice that Suppelsa shared with all Libertyville students is: "Don't let anybody talk you out of [chasing your dream] because you may regret it in 20 or 30 years. I think the simple thing is, if you love something or think you love something, then chase it. And if you really want it, you'll get it."
Phillipa Soo: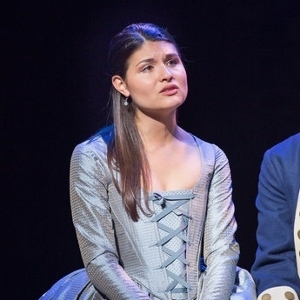 Photo from tvtropes / CC
In a few short months, the Grammy-winning Broadway musical "Hamilton" will be coming to Chicago. Thousands will gather to witness and watch a talented group of actors tell a powerful story about the life of Alexander Hamilton.
The lead female role, Eliza Hamilton, is played by the actress Phillipa Soo and for her, Chicago is familiar territory. Only an hour north of Chicago is a place where Soo can call home.  A place where Soo's acting career began.  A place called Libertyville.  
Soo attended Libertyville High School for all four years and spent a lot of time in two rooms in particular.
"I was very involved in the theatre and choir program, it was a great experience. Some of my most fond memories were in the theatre and choir rooms," Soo stated.
These are the rooms where she realized her passion for theatre and the art of acting. In these two rooms, she spent hours practicing and performing. Many people at Libertyville inspired Soo, as well. Her teachers, along with the other students she met at LHS, impacted her and the career she now has. They all persuaded her to continue a career in acting, and she did just that. Now, Soo is living the dream she has had from a young age.
Being a Broadway star is not your average career. Soo enjoys having a unique and extraordinary job where she gets to express herself through the characters that she plays.
"I get to play pretend for a living! How cool is that!?" Soo said via email.
However, even though Soo gets to play pretend for a job, she also has to live her life out in the real world.  Many people come up to Soo and approach her after they have seen a play she has acted in and share their feelings about her work. To know that her work has inspired others makes it all feel real, according to Soo.
Despite how far she has come since she walked the halls of Libertyville High School, Soo still appreciates all the support and opportunities that LHS gave to her.  Her four years of high school seemed to fly by, but she made use of every moment.  She encourages every current Libertyville student to do the same.
"When I was in high school, I remember being so impatient, but always remember to enjoy it, four years is not a long time," she said. "You make it what you want it to be."
Ike Reilly:
Photo courtesy of Ike Reilly
"Paradise Lane," "Born on Fire," and "Hangin' Around" are just a few of the hundreds of songs rock star Ike Reilly has written. Libertyville is where some of his inspiration comes from. More specifically, Libertyville High School.
Living in Libertyville his whole life and attending Libertyville High School all four years, Reilly found his calling. Throughout the years, Reilly has developed a passion for music. Writing, performing and touring with his band, Ike Reilly Assassination, is something he has loved to do for 15 years.
High school, along with other experiences, shaped his music and writing process.
"Every breathing moment affects it. That and everybody I meet and every job I've had. I've had a lot of jobs, doorman, gravedigger. Lots of different jobs to pay the bills until I can make a living doing this. The work I've had [affected] my writing and of course having a family really changes things and makes you have to look out for people other than yourself," stated Reilly.
Generally, the music that is written by Reilly can be related back to many different ideas. From work to love to lust to drug abuse to dealing with everyday life of American people.
"We want people to come to shows and feel exhilarated and challenged, but sometimes in my songs, characters say things that can be offensive or provoking. That's the music I liked as a kid," explained Reilly.
At a young age, Reilly wasn't involved with many activities that have to do with music. During high school, Reilly ran track for all four years and ran cross country for two years. On a more musical standpoint, he played the harmonica. He loved to go to the Brainerd building where there was a stairwell with great echos. He would just stand in the stairwell and play.
These times in his life affected the way he writes music and what he writes about. "I think at some point, the things people say to you when you are in these formable teen years can affect you forever, especially if it's negative or if it feels real," expressed Reilly.
When he went to school here, LHS was not as academically competitive. Reilly realizes this because he has a kid who attends school here right now, Kevin Reilly.
"I enjoyed my high school there but there was no pressure like there is now to achieve. Without the pressure to achieve, I was a fantastic underachiever," said Reilly, laughing.
These good and bad aspects of Reilly's high school career have in some ways had a bigger effect on his life on both a musical level and a broader level.
Reilly thinks it is pretty fulfilling when people come to the shows, know the songs and are able to sing along. A while ago, he got a taste of high schoolers that had a love for music.
He and his band were playing a show, and 12 high schoolers were trying to sneak in. Reilly thought that they were just high schoolers that were out messing around. However, he let them into the show, which was 21 and older, and put them in an area where all they could do is watch the show, what they wanted to do all along.
Although Reilly tours all around the country, he has only played in Libertyville twice. He performed here in 2015 at the local restaurant, Mickey Finn's.
Through it all, Reilly found what he loves to do and what he is passionate about. With some help from Libertyville, he went on to follow his dreams.