Claudette Colvin: The Brave Teenager Who Started the Montgomery Bus Boycott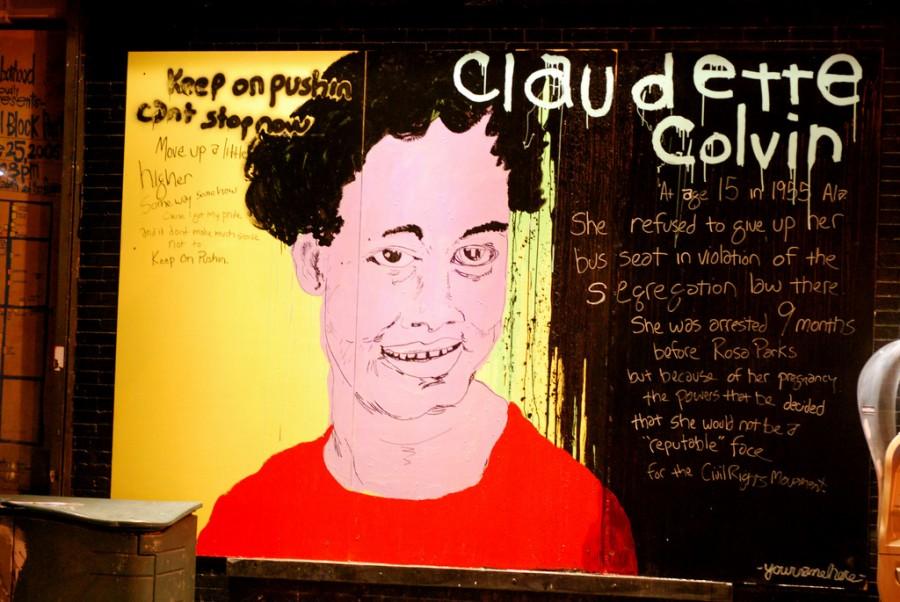 Most people know the story of Rosa Parks: In Montgomery, Alabama, in 1956, Parks refused to give up her seat for a white man and was then arrested; it made her one of the faces of the civil rights movement. Alongside Martin Luther King Jr., Parks has become the poster child for peaceful and nonviolent protests against segregation and for black rights.
  Although Parks' display of a civil protest is both remarkable and brave, Claudette Colvin was actually the first person to refuse to give up her seat. Parks had even based her planned protest on Colvin's. In 1955, a then-15-year-old Colvin was taking the bus with friends and had not planned to protest any segregation laws but snapped once her classmates and she were forced to move by a white woman boarding the bus.
  In 2013, Colvin participated in an interview with Democracy Now, a radio program that describes itself as a "daily independent news program…airing on over 800 stations" and is hosted by investigative journalists Amy Goodman and Juan Gonzalez. While being interviewed, Colvin said that the woman "had a whole seat to sit down by—opposite me, in the opposite row, but she refused to sit down; because of Jim Crow laws, a white person couldn't sit opposite a colored person. And a white person had to sit in front of you. The purpose was to make white people feel superior and colored people feel inferior."
  Although Colvin had moved seats multiple times before due to the high amount of strict segregation laws at that time, on March 2, 1955, she decided to stay put and unknowingly changed history forever, ultimately sparking the Montgomery Bus Boycott. Due to her actions, the bus driver then scolded Colvin and the police were called according to Robert Shetterly's website, Americans Who Tell the Truth, where "Models of Courageous Citizenship" are displayed.
   According to Phillip Hoose's 2009 biography on Colvin, Claudette Colvin: The First to Keep her Seat, she was forcibly removed while repeatedly shouting, "It's my constitutional right!" The police had handcuffed her, violently dragged her out to the police car and she was thrown in jail and charged with misconduct, violation of segregation laws, assaulting a police officer and resisting arrest.  Both her mother and the reverend of the church she attended bailed Colvin out of jail and she was free to go home, but that wasn't the end of it.
   Because Colvin had been charged with multiple offenses, Colvin and a lawyer had to make an appearance in court. The NAACP (National Association for the Advancement of Colored People) had admired Colvin's refusal to give up her seat and since her family couldn't afford a lawyer, civil rights attorney Fred Gray was hired for Colvin's representation in court by the organization.
   One of the witnesses to Colvin's brave act of defiance was Annie Larkins Price, a fellow black classmate of Colvin's at Booker T. Washington High School.
    According to the Congress of Racial Equality, when Price was speaking about Colvin's actions, she said, "The bus was getting crowded and I remember him [the bus driver] looking through the rear view mirror asking her to get up out of her seat, which she didn't." Price added in a 2005 article in The Huntsville Times (a thrice-weekly published newspaper in Alabama) that, "there was no assault", and testified on Colvin's behalf in court. Colvin stated that she "couldn't get up that day. History kept me stuck to my seat. I felt the hand of Harriet Tubman pushing down on one shoulder and Sojourner Truth pushing down on the other."
  While Colvin was protesting bus segregation, Parks had been a secretary for the NAACP. After hearing about Colvin's courageous act of rebellion, the NAACP was both impressed and inspired. Despite all of this, Colvin did not become the "face" of the Montgomery Bus Boycott; Parks did instead. Many reasons for this have been cited, such as Colvin being a teenager at the time; as well as being unwed and pregnant during the time of the protest (In December of that year, Colvin gave birth to a son, Raymond Colvin.); having darker skin than Parks, which had negative, racist and classist connotations attached to it. Colvin later said to NPR in 2009 that Parks's "skin texture was the kind that people associate with the middle class," and that, "She fit that profile." Colvin also recalled what mother also told her shortly after her protest, which was to, "Let Rosa be the one. White people aren't going to bother Rosa — her skin is lighter than yours and they like her," in a 2009 New York Times interview with journalist Brook Barnes.
  According to one of Taylor Branch's three volume history books, Parting the Waters: America in the King Years 1954-1963, The NAACP thought that this would speculate negative attention towards the anti-segregation movement, so they chose Parks to "recreate" Colvin's refusal to move for a white passenger, which happened nine months later. Park's arrest is what caused the public's interest in the Montgomery Bus Boycott, which lasted 381 days.
  However, Colvin isn't bothered by Parks becoming one of the most recognizable figures in the civil rights movement; she even advocated for her, having stated, "I'm glad that they picked Mrs. Parks because I wanted that bus boycott to be 100 percent successful," in a 2013 interview with CBS News. Colvin just wanted the credit that she deserved.
  "Rosa got the recognition. I didn't even get any recognition. I was disappointed by that because maybe that would have opened a few doors. After the 381 days, I was not a part of things anymore. When I heard about stuff, it was like everybody else, on TV," Colvin said in an interview with USA Today when talking about how she felt left out of a movement that she had originally begun.
  While Democracy Now was interviewing Colvin in 2013, she closed off her statements with wise words on change, social justice and the fight for equality, elucidating that "the struggle is not over." She explained that, "Every day presents a challenge," and how there has been "hard work that we have made progress as African Americans, we do not want to regress. We want to progress." Her advice for young people? It's to "keep on moving. Don't give up. Hold on to your dreams."
  After the Browder v. Gayle case (the famous court case that ended bus segregation in Alabama after it was declared "unconstitutional") and all of the legal proceedings were over, Colvin moved to New York to escape the teasing that had followed her protest. It was there where Colvin became a nurse's assistant and gave birth to a second son, Randy Colvin. Currently she is 76 years old, retired and still resides in New York.
  According to the National Women's History Museum, Colvin recalled the encouraging and foreshadowing words that her reverend said to her after bailing her out of jail and driving Colvin and her mother home: "I'm so proud of you. Everyone prays for freedom…But you're different – you want your answer the next morning. And I think you just brought the revolution to Montgomery."