Laura Zeng Strives for The Olympic Dream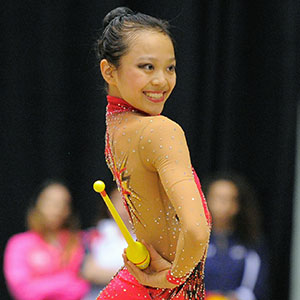 Have you ever had that feeling of success when you get an A on a test or take first place in a sport? That feeling can make a person's day ten times better.
Now imagine getting that A on a test and achieving third place at the Youth Olympics. Freshman Laura Zeng had this similar feeling of success this past summer, when she took third place at the Youth Olympics Games in China.
The story of how Zeng got to this point in rhythmic gymnastics is different from what many people would expect.
"When I was 6 or 7, which was a while back… I was a pretty good swimmer and apparently my mom was like, 'Do you want to do rhythmic gymnastics or swimming?' because I had to focus on one, and I chose rhythmic gymnastics," Zeng explained.
At such a young age, Zeng was already showing signs of a gifted athlete.
"I used to do Chinese dancing, and a friend of mine did both and she kind of recommended me to try it, and ever since then, I've just been doing it always," Zeng stated.
Many people haven't heard of rhythmic gymnastics, since it isn't very popular in the United States, but Zeng is unbelievably talented in this sport.
Rhythmic gymnastics is a form of gymnastics that emphasizes dance-like rhythmic routines, typically involving the use of ribbons, hoops, balls, and clubs. In this competitive sport, gymnasts either compete in a group or as an individual. Zeng prefers to compete as an individual and with the amount of talent she possesses, she shines.
Unlike how most people have a favorite class in school, Zeng doesn't have a favorite discipline (ribbon, hoop, ball, and club) in rhythmic gymnastics.
"I like all of them  equally and I can't say I have one favorite because that's kind of superstitious and I don't want one to get jealous of the other," Zeng jokingly explained.
Although Zeng doesn't have a favorite, there are certain risks to different disciplines. Just doing a routine with a potentially dangerous object, like a club, can be terrifying to even think about; Zeng does this every day.
"One time… It happened during a control practice…I was doing a somersault with a club on my foot, and as I did the somersault the club hit my head and I had to get stitches… That was pretty scary," Zeng explained.
There are several risks associated with rhythmic gymnastics, but the devoted and courageous Zeng disregards them and focuses on her dream. "The hope for [the] Olympics is always something in mind and it's the goal that I strive for," stated Zeng. "I think it's one of the main things that helps motivate me."
Having a busy life training can cause Zeng to miss out on some other opportunities. Some people are able to go to the mall with their friends on the weekend or go see a movie; more than likely, Zeng would be found perfecting her routines.
To accomplish what Zeng has done, there are countless things that must be sacrificed. "I don't get to participate in a lot of [school] clubs, but I do get to have some social life too. Like on weekends sometimes or during the holidays, I make up for it," Zeng explained.
Most of Zeng's friends agree that having to train for so many hours results in Zeng missing out on most Friday night football games, for example. Freshman Kelly Xu has been one of Zeng's good friends for years and is proud of how far she has come.
Through her athletic career, Zeng spends most of her time training but also has some time to get together with friends and watch YouTube videos or talk about life. Xu describes Zeng as "a very fun, charismatic, and kind girl."
Zeng's natural talents are one of the things that got her to the point of winning third place at the Summer Youth Olympics Games in China last year. Her coach, Natalia Kilmouk, contributes to her success as well.
Kilmouk is the former coach of the Belarus national team and also has more than 20 years of experience in rhythmic gymnastics. Kilmouk is currently on the Rhythmic Elite International Committee Chair. It's no wonder why Zeng has reached the level she has with her own talent and having a well-rounded coach.
"We start[ed] work with Laura for national/international level when she was 11. Laura was showing every day on practices her great focus and ability to work with full concentration. Those two main things bring her to success which she has now!" Kilmouk explained.
Zeng's competitions allow her to live a life of travel. Some of the places she's been to include Germany, Portugal, Italy, and Bulgaria. And just this past month, she traveled to Spain for a gala where she performed in front of hundreds of people. This was her first time alongside world class gymnasts. With all this travel and competing, it's easy to get homesick, so Zeng likes to keep her loved ones in mind.
The good luck charms that Zeng keeps with her remind her of family back home. "I have two key chains. One's from my sister in China and the other one's from my dad. I always have them on my bag," Zeng said.
Living two lives–a student at home and an Olympian in training–and traveling the world and winning awards is without a doubt difficult to manage. Her parents are there to support her and are available to take her to every practice and cheer her on at competitions. This support makes the tough times a little easier for her to handle.
Many people look up to Zeng for her kind heart and talent, but she doesn't have a specific role model in mind.
"I don't really have one specific role model, but I think that each gymnast has their own specialty and I like to learn from each gymnast," Zeng stated.
Coach Kilmouk explained what makes Zeng stand out from other gymnasts: "When she performs on carpet, people love to watch because she lives with music in that moment. She is very, very elegant and so graceful."
The nerves that a person often experiences before a final exam is a feeling somewhat similar to what Zeng may feel before competing.
"I am really nervous before I compete and right before I compete, I try to calm myself down as much as possible," Zeng explained.
But unlike taking a test, Zeng is performing and competing in front of her peers, friends, family, and judges. Now imagine that kind of pressure; students often calm their nerves before a test with gum, but Zeng has a different method: chocolate.
"I feel like I do have a lot of superstitions before I compete; I just don't necessarily think about them as superstitions. I like to have a small piece of chocolate before I go just to give me some quick energy," Zeng revealed.
With the long three to four hour daily practices, Zeng has realized that this dream she has is actually becoming reality: "I started getting better and better and I realized this is something that I can actually do."
Laura Zeng Hoop Finals 2013 U.S. Rhythmic Championships