LHS softball bests Grant Bulldogs to secure first win of the season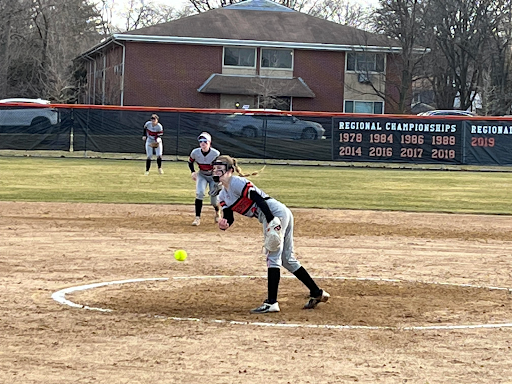 Coming off of two close losses to start the season, bested by the Carmel Corsairs 6-4 and the Buffalo Grove Bison 7-4, the Libertyville softball team was itching to get a win, especially on their home field. On Thursday, March 23, 2023, the team succeeded, beating the Grant Bulldogs 10-5 to get their first win of the season.
The opposing team from Fox Lake was first up to bat, kicking off the first of a seven-inning game by drawing first blood against the Wildcats. However, with Libertyville senior and pitcher Finnley Olsen (2) launching throw after throw against the Grant offense, the Bulldogs stayed at only one run in the top of the first inning. When the Wildcats came up, on the other hand, they were ready to win. The Wildcats scored three runs in the bottom of the first before the Bulldogs secured three outs to close the inning, with sophomores Makayla Boone (20) and Zoe Kinsella (14) and senior Peyton Murphy (15) each scoring a run for the home team. Murphy, a catcher and outfielder who has been on the varsity team for all three of her years playing softball for LHS, said that the team's energy was a highlight.
"We kept it up the whole game," said Murphy. "We didn't make it too high, after like the first inning we hit those three, so I think that was good."
Kinsella echoed her teammate's sentiment, saying that energy worked in her team's favor.
"Energy was definitely there," Kinsella said. "That's a key thing we need to continue to do."
The Bulldogs scored their second run in the second inning, while the third inning went scoreless for both teams. It was in the bottom of the fourth that the Wildcats began to pull away, scoring a total of seven runs over the fourth, fifth and sixth innings. With the board reading 10-3 in favor of the home team, Grant threw everything they had at LHS in their last turn at bat, and succeeded in closing the gap slightly, before the Wildcats achieved the final three outs of the game, beating the Bulldogs 10-5 and getting their first win of the season.
"We broke out offensively," said Mr. Sean Ferrell, in his third year as the team's head coach. "We hit the ball well, we had good approaches at the plate. That's probably the biggest thing. We had a good approach at the plate. We made the plays defensively also. We threw the ball around a little bit the first two games [but tonight] we made the plays defensively."
The team looks forward to their games over spring break, as well as their first game after, a home game against the Warren Township Blue Devils, on Monday, April 3, 2023.
Leave a Comment