Orchestra dazzles audience during performance
On March 2, 2023, the Butler Lake Auditorium bloomed with passionate music as the LHS Concert, Chamber and Symphony Orchestras performed a breathtaking concert at 7:30 p.m., dazzling the audience with a selection of pieces such as "Fiddler's Fury," "Symphony No. 8 Finale," "Italian Serenade" and "American in Paris."
Behind this brilliant performance was an abundance of hard work and dedication. "This is our third concert and we've been practicing since the beginning of second semester," stated freshman Lu Li Tompson before the performance. "I think we're going to do super well."
Conducted by Mr. Jeremy Marino, the orchestras poured their heart and soul into the performance, jumping between the high and low notes with grace. "It's really hard for people to be in sync, when everyone's keeping together, but increasing and decreasing speed in sync? Now that's a very advanced skill," Mr. Marino stated with pride. "That was something that we worked on a long time… and eventually people started trusting the process. Our concert had a bunch of those and they all went really well."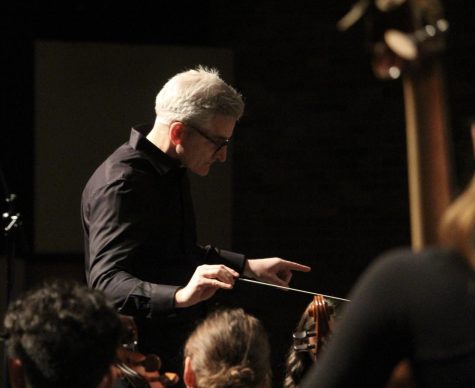 Towards the end of the concert, senior Samantha Chen performed an incredible solo of her selected piece, "The Mendelssohn Concerto." "I've been studying [my piece] for two years in total, since the summer of my sophomore year. It's a piece I knew really well," Chen said. "There were a ton of different styles of technique, and I had to rely a lot on my interpretation. It took a lot of time, but it was worth it."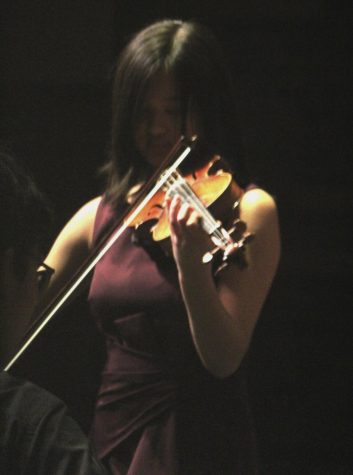 "One of the great things about teaching orchestra is that you get to see students from freshmen all the way through seniors, and I've been able to see that with Samantha," Mr. Marino stated. "Seeing her absorb everything she learned and work on it over these four years, and then play a piece that you can't play without these skills makes you proud."
Chen has been involved with music since the age of five, and starting playing the violin in fourth grade; she believes that a personal connection to music is just as essential as knowledge of different techniques. "I've realized that it's not all about the notes themselves, but your unique interpretation too," she reflected. "Music is shaped by you and your personal voice, and I like to feel the emotion and love what I'm feeling [while playing music]." Chen hopes to continue music outside of academics after high school in an orchestra or ensemble.
Passion, synergy and the desire to excel characterize the orchestra."I'm always impressed with how [the performers] lock into the moment, and are really focused on doing what they're doing," Mr. Marino said. "It's obvious that they really care, and we're all committed to making things happen as best as we can, all together."
The Orchestra will be traveling to France to perform on March 24th, and have upcoming performances in April and May.
Leave a Comment