The New Foods Rooms Bring a Sense of Home to Cooking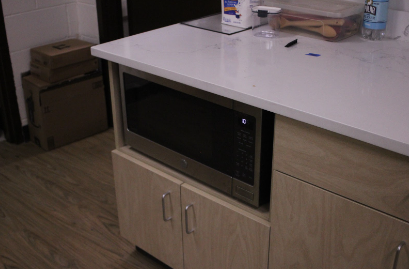 It's Oct. 2022 and the LHS Foods classrooms 140 and 141 are finally renovated after necessary updates and improvements. The Foods classrooms are ready for the Foods class students to start creating dishes and memories.
The LHS building was originally built in the 1930s. The kitchens were built around the 1970s. The Foods rooms were last touched about 10-15 years ago.
"There was a mini mini facelift done about 10 or 15 years ago, and that was a coat of paint," Career and Technical Education Supervisor Debra Kellum said. "They put down a new countertop but it was very ineffective."
With this latest Foods rooms renovations, they did a lot more than a coat of paint and new countertops.
"This renovation is a true gutting down to the cement," Kellum said. "[They] cut through the floor to address piping issues and some of the piping underneath was collapsed. They needed to get that fixed and completely [redesign and renovate everything]."
Labs and the lounge areas are also getting renovated. They're also even adding some improvements to the preschool, a class for LHS students to teach 3-5 year olds.
Consumer Management teacher Kristen Tarrant wasn't expecting for the school to fully renovate the Foods classrooms. "We've been [wanting to do] renovations for a couple of years [since] our countertops were not in the best shape," Tarrant said. "The cabinets were old and were [not] working properly. But one thing that set it off was there was a plumbing issue under the tiling of the floor that they had to address. So while they decided to do that, they figured that it was a good time to renovate the classrooms as well."
In addition to structural changes to plumbing and flooring, the Foods rooms also have new appliances and equipment. 
"The ranges, which is your stove on top and then the oven, [are] double ovens," Kellum said. "One is an electrical convection and then the bottom one is gas. So students have an opportunity to learn what to do with gas and electric in their own space."
Tarrant and Kellum both started working at LHS, 19 years ago. 
"It's been interesting with the two of us, evolving through the kitchens together," Kellum said. "And now we have [Lauren] Vogg who was a student at LHS. So she comes from the student perspective and the culinary rooms into the teacher role."
The importance of making the Foods rooms right for the students
 Both of the Foods rooms have brand new ADA compliant kitchens. 
"[They] have TV monitors placed so in case the teacher is at the board and if you're in the back of the room, you'll still be able to see from the monitors that are closer to you," Kellum said. "The presentation about information is much more accessible to everyone."
Foods teacher Lauren Vogg has heard a lot of positive comments about the new rooms. "From what I've heard so far, a lot of kids have told me it feels like a home kitchen," she said. "I think that makes it easier for them to see themselves cooking at their own homes while they cook [at school]. I think they're really excited to have a little bit more space. [These] kitchens are bigger [and the] appliances are nicer. So it gives them new experiences in our rooms."
"Any student of any cooking experience should feel comfortable taking Foods or Consumer Management class," Vogg said. "We teach the kids who have never cooked before and who cook all the time, so all levels and all needs are met."
How students are feeling about the new Foods rooms
In addition to teachers being excited about the new rooms, so are many students. "There's a lot more space so it won't be as cramped," said senior Margot Kaufman. "[And] having people learn how to cook is very important, especially going into college. Right now, we've been using this small classroom in the main hallway, and we've just been doing appetizers and stuff that we've already had before. So I'm very excited to try something new." Kaufman said that she particularly wanted to cook big meals.
Freshman Caitlin Hakanen is also enjoying the new rooms.. "Yesterday we made cookies. It's like the first thing that we did and everyone was super excited. The new food rooms will definitely come in handy."
Junior Ranya Belabbes feels the new Foods rooms are a big improvement. "Everything is very organized. Everything is separated. I've seen my Foods teachers in the first couple of days and it's not hectic at all, [in comparison to the previous classroom we had been using]."
Belabbes feels there's a lot you can do in this new room such as fries, chicken nuggets, milkshakes, puppy chow, and pizzas and she is excited to experiment and try cooking new things.
Sophomore Celia Cathlina feels the new Foods rooms have fulfilled her expectations. "I'm very interested in learning about different cultures. And I wanted to go into the International [class] because different foods from different cultures [interests me]. I really want to make Hispanic dishes."
The new Foods rooms have definitely had more than a facelift done in comparison to their previous small renovation 10-15 years ago. Not only do the new Foods rooms have a modern sophisticated feel, they also have the important updates to make the new Foods rooms best for the lives LHS lives today, and whoever the students may be.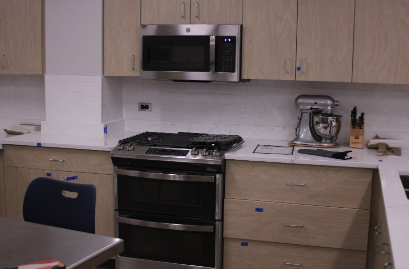 Leave a Comment