Behind the Scenes of Grease
The theater department is outstanding, and one of the various reasons why LHS stands out from many of the other schools in the state. From Matilda to Starlight Express, the musicals never fail to make Libertyville proud of its brilliantly talented people. It is definitely safe to say that the upcoming production of Grease will be one that continues the tradition and rocks audiences. 
Written by Jim Jacobs and Warren Casey, Grease premiered on Broadway back in 1972. Since then, there have been over 3,000 performances of this beloved musical on the Broadway stage. Grease the movie premiered in 1978 directed by Randal Kleiser. The film starred the beloved Olivia Newton-John as Sandy and John Travolta as Danny. Set in the fabulous fifties, the show follows the story between the new girl in school, Sandy Dumbrowski, and the coolest greaser at Rydell High School, Danny Zuko. Sandy and Danny meet during summer vacation and don't think they will run into each other after that, but to their surprise, Sandy ends up moving to the same town Danny lives in. 
The LHS musical will be coming to audiences this October starring seniors Sophia Rynes as Sandy and Cris Montero as Danny. The musical would not be what it is without the wonderful directors who provide their time and expertise to have it come together: Mr. Thomas who directs acting, Dr. Brown who directs all the singing, and of course, Mrs. Brown who choreographs all of the dancing.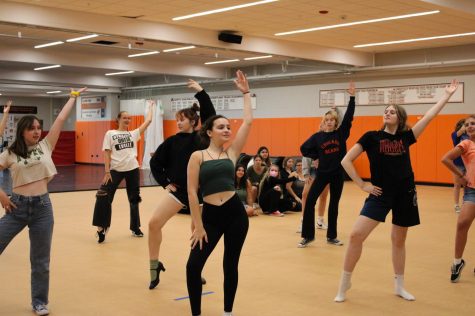 Auditioning for a musical can be a scary experience, especially for someone who is new to theater. However, that did not stop senior Sosi Hagopian from auditioning for her very first onstage role at LHS. Hagopian described the challenging audition process, saying, "You're given ten minutes to rehearse. And then you're with a partner and then you have to act your heart out and show what you can do." 
Hagopian added, "The audition process itself is difficult and truly puts students' acting, dancing, and singing abilities to the test." According to Hagopian, "There were a lot of cuts made. So everyone that you see in the show really are the best of the best." It is made quite clear from the start that the standards are set high for these students and the talent they are bringing to the show. Being a part of a musical is just like being a part of a sports team. It takes time, commitment, and it takes more than one person to bring their group success, pride, and satisfaction. Thankfully the theater environment is definitely full of charisma and energy, something that Sosi looks forward to after school. "Every single day after school until six o'clock, I am either dancing, singing, or working on the blocking for the musical," Hagopian said.  
From lighting to costumes, there are always people working behind the scenes of the show in order to make it the best production possible. The production is made up of crew members that work on the set, lighting, props, sound, painting, and costumes. There are also students who provide their musical talents to the show by playing their instruments live for audiences during the show. One thing that Hagopian looks forward to is something many other actors do as well, costumes. Costumes are an essential part of theater as they are important to fully bring the characters to life.  
Hagopian, head of the costume crew last year, is excited for this year's costume designs."I love [David] the costume designer. He's already taken our measurements. So currently he is going out buying fabric, going out buying outfits, and  just trying to put stuff together to make us look good." Something Hagopian is looking forward to is "getting my costume and like fully like embodying a character. As an ensemble, I get to make up my own character embodying that character. And like fully seeing them come together." Audiences are certain to see exciting bright and bold costumes on the stage.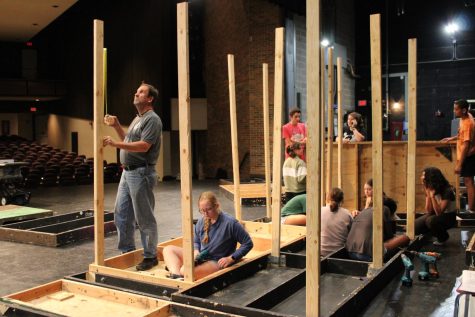 Senior Regan McCane has the honor of being the stage manager for the show. This will be McCane's second time having the role as a stage manager. Her previous experience being a stage manager for the winter production of Picnic has helped her with stage managing this show, although Grease is a larger production. Crucial to the show, stage managers have several responsibilities. McCane said, "When the musical happens, all the adults are gone and I'm in charge of the entire thing and calling cues for the lights, sound sets, and for anyone to do anything and when the actors come on stage."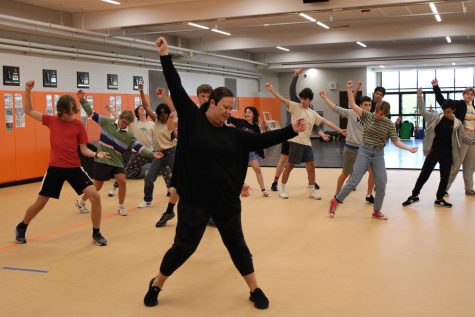 In other words, McCane said that "it's like I'm in charge." McCane also has the help of two other assistant managers working with her, and said that "They are on each side of the stage and they're in charge of everything that goes on back there: making sure people are quiet, making sure the running crew moves on the set when I say to, etcetera." Just like actors on stage McCane has to be at rehearsal after school helping out with a bit of everything and truly gets to watch the show come together from start to finish. McCane said that the show is full of energy. "You're The One That I Want is probably my favorite dance number because it's very energetic," he said. 
The students will be displaying their hard work and talent to audiences from October 27th through the 29th at the LHS auditorium. Make sure to come watch the story of Sandy, Danny, and Rydell High come to life right here at the LHS auditorium. You will not want to miss out on seeing the incredible amount of talent that will unfold onstage right in front of your very own eyes. 
Leave a Comment