How Student Awards Are Chosen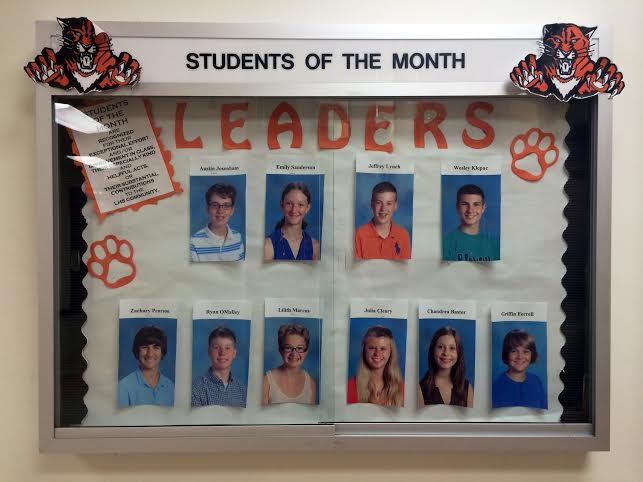 Emily Luce, Social Media Editor
March 14, 2014
At Libertyville High School, it is agreed upon that students who perform outstandingly should indeed receive some well-deserved recognition.  The main types of recognition are Student of the Month and Athlete of the Week.  Both are an honor to receive and each comes with its own form of reward.
Students of the Month are nominated by the department supervisors here at LHS.  Mrs. Jennifer Uliks, the student activities director, is in charge of the Student of the Month responsibility.  The department supervisors submit their nominees to her, and she handles the rest.
"We don't give them any criteria for who should become a student of the month.  What makes the program unique, I think, is that we let them determine the reasons someone should be nominated," Mrs. Uliks said.
According to Mrs. Uliks, each month focuses on a specific grade level.  The students may be different in their personalities, but each chosen Student of the Month has been noticed demonstrating effort in their schoolwork as well as showing overall good character. There is a ceremony each month that takes place during eighth period, which the student's parents and teachers are invited to attend.  Domino's Pizza provides certificates to each student for a free large pizza, and other free things such as pencils, coupons, and bags are given as well.
Students can be chosen more than once, although faculty attempts to keep track of who has been chosen previously.  Everyone is given a fair chance of being nominated.
Student of the Month has been a tradition for quite some time.
"I've been here for 14 years, and it has been going on since before I started working here. It's really evolved into something pretty special," Mrs. Uliks said.
Athlete of the Week is another tradition carried out at LHS.  The criteria are pretty simple: athletes are chosen who play their sport at a varsity level and must be in season.  Mr. Briant Kelly, athletic director at LHS, is in charge of choosing the athletes of the week.
"Weekly, I get information from coaches on the accomplishments of certain individuals…it gets tricky because I want to recognize as many as possible without making it seem unimportant to be an athlete of the week," Mr. Kelly said.
He chooses between one and four athletes from different in-season sports each week.  Each athlete receives a signed certificate from Mr. Kelly as well as their picture on the TV screens throughout the school and their name in the announcements.  Mr. Kelly tries to deliver each certificate himself, making appearances at practices or games to congratulate each athlete personally.
Senior Patrick Birck recently was awarded athlete of the week for diving.
"Being chosen as an athlete of the week was an honor because it showed that the improvements I had made and all the hard work throughout my season were noticed by the school," Birck said.