First Covid-19 vaccine approved amid surge in case numbers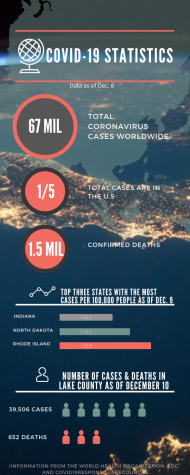 Almost nine months after the initial closing of schools, businesses and other places nationwide, Covid-19 is still ravaging the United States.
With over 17 million confirmed positive cases domestically, the U.S. currently makes up more than one-fifth of the world's 74 million total Covid-19 cases. As of Dec. 17, the virus has also taken the lives of more than 308,000 people in the U.S., which is about one-fifth of the world's 1.6 million confirmed deaths, according to The New York Times.
In Lake County, the county with the third-most cases in Illinois, 41,942 people have tested positive for Covid-19, according to the Lake County Health Department (LCHD). The LCHD has also recorded 670 deaths, which results in a recovery rate of 96.8%.
Despite President Donald Trump and other high-ranking government officials insisting that Covid-19 would disappear due to the hot summer weather, the U.S. continues to break records with surging coronavirus cases inside its borders. Johns Hopkins University reported more than one million new cases in the U.S. through the first five days of December, while averaging around 205,000 cases per day since. It took the U.S. almost 100 days to reach one million cases when the first positive case was reported on Jan. 30.
Due to the resurgence of case numbers, governors across the country have reinstated safety precautions, just weeks before large holiday gatherings are expected to occur. These new rules have ranged from no indoor or outdoor dining, to the halting of in-person learning for some schools. Some states have enforced stricter rules than others depending on the severity of the virus.
In California, a curfew has been instated in certain counties that have recorded the highest number of cases. The curfew, which will be in place until Dec. 21, puts a halt to all nonessential movement and prohibits residents from being with people outside their household from 10 p.m. to 5 a.m.
In Illinois, new restrictions have cancelled sports and other recreational activities, as well as restricted indoor and outdoor gatherings to 10 individuals. There is no set date for when the restrictions will be lifted, according to Governor J.B. Pritzker.
Every state is hoping to slow down the spread of the virus, as over 113,000 Americans were in hospitals due to Covid-19 as of Dec. 14. An immense amount of pressure has been placed on the American health care system due to the increasing number of hospitalizations.
Pfizer, one of the largest pharmaceutical companies in the world, and Moderna, an American-based biotechnology company, have been the first two companies to announce a finished coronavirus vaccine. Both companies' vaccines have finished clinical trials, with both claiming that "the vaccine was over 90% effective in clinical trials," according to a Fox News interview with the Food and Drug Administration (FDA).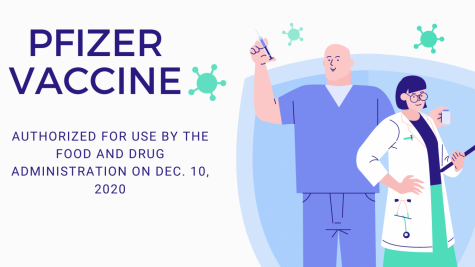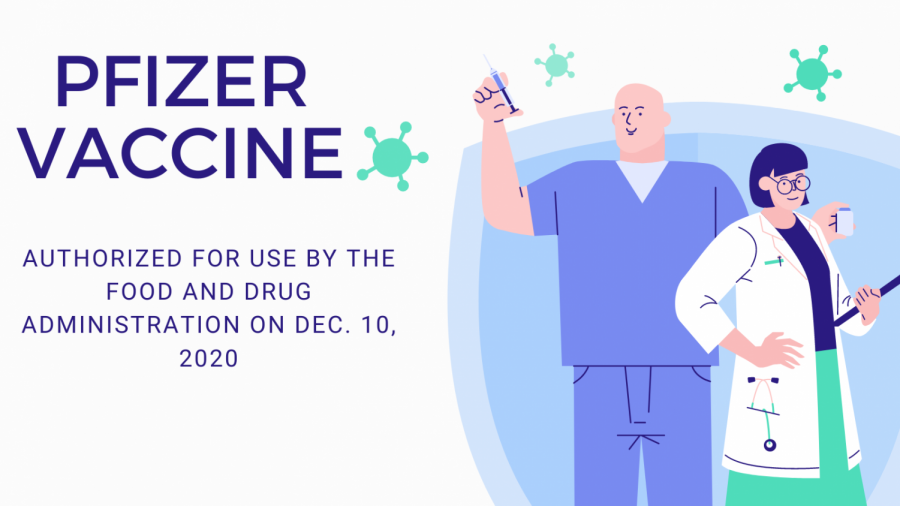 The FDA authorized Pfizer's vaccine for use on Dec. 10. Moderna's vaccine will be reviewed by the FDA for authorization on Dec. 17, according to a Fox News report.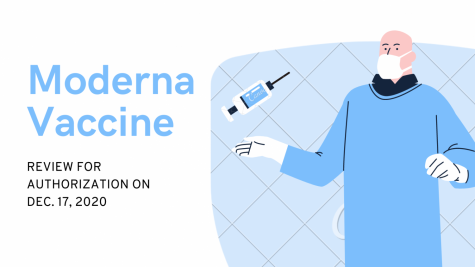 Illinois is set to receive roughly 100,000 doses of the Pfizer vaccine by Dec. 19, according to the Chicago Tribune, which stated that "the state's initial doses of the vaccine are reserved for health care workers and nursing home residents in the 50 counties that have seen the highest death rates from COVID-19." The Tribune also reported that businesses will be able to require their employees to receive the vaccination, with some exceptions, including for disabilities and religious beliefs.
While the fast track of vaccines has been mostly successful, the first batches of vaccine will only go to the highest-risk groups, which include health care workers, nursing home residents and other first responders and essential workers. After that, adults ages 65 and up, and anyone considered high risk under age 65, will be vaccinated in January, according to an ABC News report. Due to the shortage of supply and such a high demand, the rest of the population can expect to receive a vaccination by June of 2021, ABC reported.
Leave a Comment