Let's See What's Brewing: A look into coffee's popularity across America
Whether it is the Starbucks on the corner, the drive-thru Dunkin' that's just a block away or the local coffee shop down the street, coffee is deeply embedded in America's food-and-drink culture. In fact, in 2018, Starbucks reported that they have more than 14,000 stores in the United States, not even including the coffee that they sell to college campuses, catering, corporations or kiosks. Dunkin', another dominant coffee corporation, reported having more than 9,100 stores in 2017.
Furthermore, looking closer at coffee drinkers themselves, what are the driving forces behind today's coffee consumers in America? Why do hundreds of students at Libertyville High School walk into class each morning with a Dunkin' cup, a Starbucks mug, or even a thermos from home? What is the appeal to studying or even just relaxing with friends at local coffee shops as opposed to other locales?
Let's take a sip and find out.
Coffee Culture
A 2013 study by the National Coffee Association stated that a coffee drinker from the United States will drink, on average, three, 9-oz. cups of coffee every day. So why is 53 percent of the U.S. population drinking so much of this beverage? Some reasons may be the caffeine kick, the bittersweet taste or potential health benefits.
Sophomore Lily Hieronymus, an avid coffee drinker, believes "that a big reason we drink coffee is to feel more energized throughout the day. Even though the [LHS] start time is later, we're still up late doing homework or at practice."  
Hieronymus's assessment is true; according to the U.S. Food and Drug Administration (FDA), caffeine, a molecule found in all coffee, is a drug stimulant specifically because it stimulates the central nervous system, causing increased alertness. Thus, coffee is commonly consumed by individuals who feel fatigued or require potential alertness throughout their day.
Moreover, coffee also has substantial benefits to frequent consumers. Medical News Today, a news outlet focused on medical advancements, indicates on their website that "the potential health benefits associated with drinking coffee include protecting against type 2 diabetes, Parkinson's disease, liver disease, liver cancer and promoting a healthy heart."
The FDA further notes that "caffeine can be part of a healthy diet for most people, but too much caffeine may pose a danger to your health."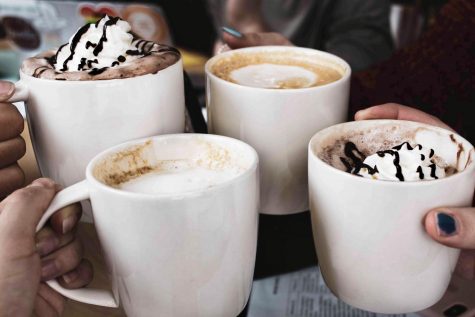 In fact, senior Elizabeth Chapin "started drinking [coffee] to stay [awake] and get homework done." Yet, despite coffee providing her with the energy to finish assignments, Chapin did explain that some nights, with too much coffee in her system, she struggles to fall asleep.
It's important to note that some individuals don't only drink coffee for the caffeine boost. Chapin even noted that drinking coffee can have a "sophistication element" for coffee drinkers. Specifically, when asked about individuals who are particular about their drinks, Chapin jokingly cited herself, explaining that "at Dunkin', if they are out of the specific flavor I like, I go to a different Dunkin' because I don't want to waste my money if it's not my favorite coffee."
While coffee can be beneficial for some due to its energy-boosting effects, there are also negative implications to consuming large amounts of caffeine, as mentioned prior. A 16-oz. latte holds around 100 milligrams of caffeine, which is the maximum amount a teenager should have in a day, according to the U.S. Centers for Disease Control.
Moreover, medical research from the Mayo Clinic has shown that an excessive amount of caffeine can cause rapid heartbeats, jittery limbs, upset stomach, as well as migraines and even insomnia.
Megan Higgins, a junior at LHS, can attest to those symptoms, as she explained that when she drinks too much coffee, "my heart rate dramatically increases and I get very sweaty." To avoid those symptoms, however, Higgins emphasized how she "tries to drink more water than coffee" to maintain a healthy balance.  
Starbucks barista Emilie Henning noted her occasional worries when she sees customers, particularly younger customers, consuming large amounts of coffee or caffeinated drinks in the downtown Libertyville store she works at.
"Sometimes I get concerned when I see kids come in and consume a little too much [coffee] … because it does happen and you don't realize until it happens and then they need water, fast," Henning explained.
Looking closer at the taste of coffee itself, both Chapin and Higgins mentioned that they genuinely enjoy the taste of coffee, which also heavily influences the amount of coffee they purchase per week.
Though she began drinking coffee to keep herself awake throughout the day, and even during evenings, today Chapin does "really love the taste of coffee. A lot of people don't really like it," she noted, "but I really just like the taste."
Like others interviewed, Hieronymus enjoys the flavor of coffee, but she specifically drinks lattes without the added sugar. Many specialty drinks at coffee shops have high caloric and glycemic content, which can be harmful to consume in large doses within a small duration of time.
Junior Van Shannon, who drinks his coffee black, believes that "[coffee] keeps you from not eating throughout the day, and I am a wrestler, so I am trying to cut weight or keep it where it is."
Henning expressed that, not only does she enjoy drinking coffee, she also enjoys serving coffee to customers, and particularly likes the diversity of coffee in the world today.
"There's always going to be a niche for high-end or rarities or uniqueness in everything in the world. That's human nature, that's what we love, we love exploring things. I think in the coffee world, it's no different. There's going to be explorations and new drinks and unique things and all are welcome," she concluded.
Coffee Shop Talk
If you stroll into a Libertyville coffee shop, like Starbucks or Hansa, after 3:25 p.m., chances are you will see a fello
According to research conducted at the University of Illinois, this is not just a coincidence — a reason why you may see your peers is due to "a level of ambient noise typical of a bustling coffee shop … [which enhances productivity] performance compared with the relative quiet of 50 decibels," the recent study concluded.
LHS junior Bridgette Wilson's studying habits reflect those seen in the university's study. Wilson often goes to Hansa since she feels that "it's a really good environment; it's very peaceful, and [she] can actually sit down and get work done."
Higgins often studies at Hansa as well for similar reasons to Wilson.
Hansa's intention in opening the store was to create a shop centered around coffee, according to co-owner Tom Maegdlin. The store intentionally plays upbeat music so consumers will be energized while doing their stuff.  "We aren't a library. We want people to talk," Maegdlin said over the phone.
Furthermore, as many of the students interviewed commented, Hansa has an artistic, independent interior design, which often attracts a diverse group of customers to their stores.
Higgins particularly enjoys Hansa's atmosphere because "it's very open. At the library, there are low ceilings and the tables are very close, but Hansa's is more open and bright."
Coffee shops, big or small, often prioritize that same inviting, productive atmosphere to welcome their customers. One of Starbucks's corporate goals is to create a "home away from home," Henning, the Starbucks barista, emphasized.
"We want customers to grab a coffee, share a table with someone they don't know, or study or just hang out and talk for hours," she explained. "Especially within the last five years, [Starbucks] has absolutely tried to reach out and tried to make [their stores] more comfortable for anybody and everybody."
Moreover, Henning detailed her goal to be a welcoming and familiar face as a Starbucks barista, and explained her efforts in learning her customers' names and even their popular orders to ensure they feel valued, as opposed to just another customer.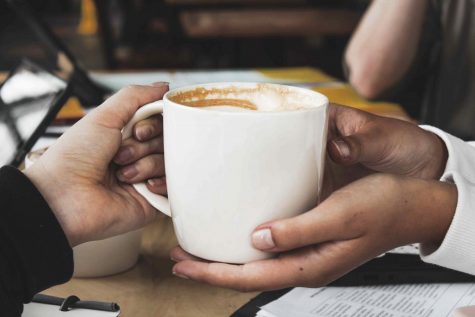 The homely coffee shop atmosphere even reaches all the way to Libertyville High School with the Wildcat Warehouse.
Despite the fact that it is not just exclusively a coffee shop, the Wildcat Warehouse has also tried to incorporate an environment where staff and students can spark conversation, with smooth jazz music and high tables, Mr. Bill Reichert, one of the store's founders, emphasized. As a business teacher at LHS, Mr. Reichert explained how, to attract business, "we keep prices low so that everyone can benefit."
Wildcat Warehouse also stresses the importance of serving high-quality coffee. Before opening, the shop held a taste test to find the best brand. "Why should we give [customers] mediocre coffee, when we could give them Starbucks coffee for a dollar?" Mr. Reichert commented.
However, not every coffee shop focuses on the same atmosphere. While Hansa, Starbucks and even the Wildcat Warehouse may encourage their customers to stay and interact with one another, or potentially find a quiet place to focus and study, Dunkin' employee Diego Lara explained that that's not the case with Dunkin'.
Dunkin' offers similar amenities as Starbucks, Hansa and Wildcat Warehouse, such as free Wi-Fi, seating or standing areas and even food options, however Lara explained that "not many students are here to do homework. If they come in to do homework, they don't normally stay long."
Lara also explained that while he doesn't exactly know why students prefer to meet and spend long amounts of time at other coffee shops, "more tables and more seating" at Dunkin' could attract more study groups.
Chapin noted that, despite the fact that Dunkin' coffee is her favorite, she has never gone to Dunkin' to study. She explained how "Starbucks has more of an environment to study and I feel like in Dunkin', no one really sits in there; people just go through the drive-thru."
And as Henning explained, that productive environment is unique to the Starbucks in downtown Libertyville. Working at different Starbucks over the past 10 years, Henning underlined how a comforting, study-friendly environment "only works if the community wants it and if that's the environment they want to have."
Therefore, Henning feels Libertyville's Starbucks is special to her.
"What I love about this [Starbucks] is that, at 7 o'clock at night, there's just people in here, working, hanging out, meeting up with people, which is nice," she concluded.
Whether it be global coffee chains, or local, independent coffee shops, there is an undoubtedly diverse coffee culture. Maybe you prefer to find your favorite shop and stop on by, take a seat, or order through the drive-thru. Your favorite drink may be iced, steamed, big, small, sweet, bitter, creamy or anywhere in between; either way, in the world of coffee culture, there's more to the classic "cup of joe" than we may realize.
Go and see what's brewing.
Leave a Comment