Teacher Power Couples
Included among the many faculty and staff members working at LHS are around 15 married couples. So, with Valentine's Day just around the corner, it seemed to interview five of these couples.
Dr. and Mrs. Brown on the musicals
The Browns met in 2007 when they worked on that year's musical together. The director at the time, Tim Frawley, had been in a motorcycle accident and would not be back until the beginning of October, recalled Dr. Jeff Brown, LHS choir director. By October, the school's musicals are in full swing, so Dr. and Mrs. Eryn Brown, LHS dance instructor and choreographer, had to work on it and prepare together.
Dr. Brown stated that, during this time, he was his wife's dance partner, and he told that year's cast members that he is "a terrible dancer, so if [he] can kind of do it, [then so] can the boys [in the show]."
Mrs. Brown added that "whenever we have a show up on that stage, that we've worked on together, and we get to celebrate that, that's as good as it gets."
Monsieur and Madame Guiard: France vs. America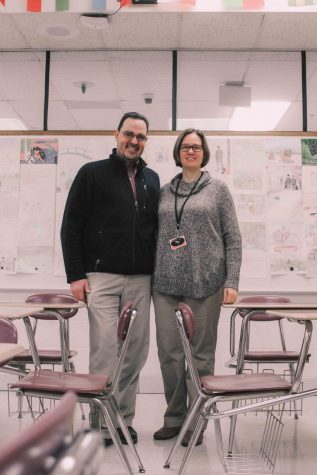 The Guiards met in France in 1992, making it 27 years ago this summer. They met at a school Lycée Marguerite de Flandres, where they both taught. Madame Guiard was an English assistant and Monsieur Guiard was a student-teacher in geography.
"Initially, we wanted to stay in France. But because of the immigration laws at the time, it was too difficult. So we decided to come here and try our period of one or two years to see how it was," Monsieur Christophe Guiard shared. And in the end, the two French teachers decided to stay in Libertyville, and it has been 25 years since they moved here.
This year, the Guiards are both teaching French II, with Madame Laura Guiard taking over French I and III while Monsieur Guiard has French IV and V.
Monsieur Guiard stated that when both Monsieur and Madame "are on vacation in France, [they] talk about what [they] can do in class, what [they] can bring back from France."
Mr. and Mrs. O'Neill and their favorite moments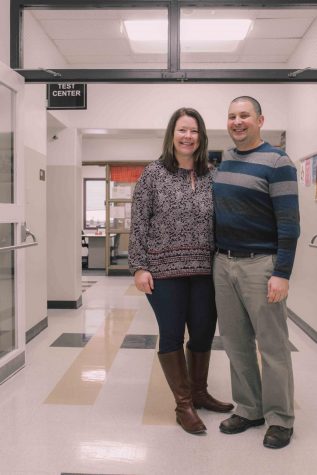 When asked about a favorite memory, Mr. Kevin O'Neill, a social studies teacher, almost instantly said that he loves when he and Mrs. Amy O'Neill "would work on projects together," like rebuilding their deck. Even though they don't do it much anymore, he enjoyed it because both of them were "working together doing something [they] want to do, even though neither of [them were] very good at it."
While Mrs. O'Neill, a special services teacher, agreed with her husband of 13 years, she mentioned that she loves having "little people (their children), that they act like yourself, like your spouse can either be really hilarious or really maddening."
The O'Neills have four kids: Maggie, the oldest at 6 years old, and the triplets, at 2, Annie, Claire, and Shannon. Mrs. O'Neill noted that Annie, like Mr. O'Neill, "is super funny with an innate sense of humor." She then stated that "seeing our little people that are kind of taking on our own traits has been really fun."
Mr. and Mrs. Aubin and their rainy wedding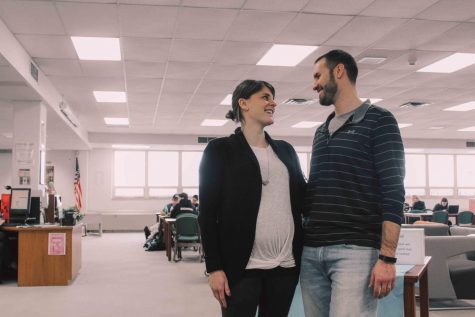 The Aubins got married in downtown Arlington Heights on an extremely rainy October day in 2017. Mrs. Melissa Aubin, a librarian, remarked that "it ended up being the rainiest day in Chicago in October since the 1870s." Since all their pictures were supposed to be outside, they had to change the photo location last minute to the Arlington Heights Library.
When talking about the wedding specifically, Mr. Casey Aubin, social studies teacher, noted that it was "very barnyard-esque, as [Mrs. Aubin] wanted a barnyard chic feel [to the wedding]."
Mrs. Aubin then added that "it was really pretty, and actually there was one side of the venue where it was all windows. So, it's raining and lightning and super dark. It made the room just feel warmer and brighter. As much as no bride would love to have rain on her wedding day, in hindsight, it actually made the pictures look better. The venue was even prettier. So it worked out."
Mr. and Dr. Loika and their "interesting" wedding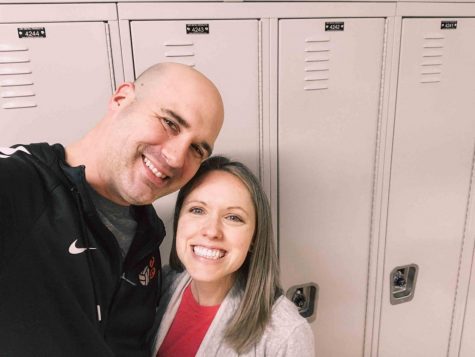 When thinking back to his wedding with Dr. Jennifer Loika, the first thing that Mr. Greg Loika, social worker and varsity girls volleyball coach, recalled was that his "volleyball team crashed [their wedding] ceremony." The ceremony was at Mr. Loika's family church, so his team got to see it, and "they all were there for that, [which] was very sweet."
The wedding reception was at Middling Country Club.
Their "first dance was in front of these big windows," Mr. Loika informed. Then, as a surprise from Dr. Loika, a math teacher, to her husband, "in the middle of our first dance, outside of the windows, it started raining down fireworks," stated Dr. Loika.
Then, as a surprise for the guests, their "first dance turned into a techno dance song for the entire wedding reception," she said.
Leave a Comment