The CRC Trifecta
Brightly lit from the windows and smiles in the room, along with the colorful decorations hanging from every wall and the ceiling, the College/Career Resource Center, commonly referred to as the CRC, is a unique space for students to learn and work in at LHS. This relaxed space revolves around the three women who work in it: Ms. Amy Belstra, Mrs. Jennifer Lund, and Mrs. Michelle Jones.
Ms. Belstra has been the College and Career Counselor at LHS for eight years. Similar to the other counselors around the building, her primary role is to engage with students and help guide them for their life after high school. The only difference is she doesn't have a caseload, or set number of students to help, like the other school counselors; this allows her to interact with anyone who voluntarily chooses to meet with her.
Helping her with all of the events, meetings, and scheduling is Mrs. Lund, the CRC secretary. She also sends out emails for all of the CRC events, reminders, and any community opportunities, such as jobs or scholarships. Going on her seventh year working at LHS, Mrs. Lund is known for her bright smile when greeting students at the door.
Finally, but certainly not least, is Mrs. Jones. As the transcript manager for five years, she ensures that all of the official college application documents, such as the transcripts, recommendation letters, and counselor letters, are updated in the system in order to be bundled and sent off to colleges.
Each fall, about 200 college representative visits are scheduled by Mrs. Lund. These representatives talk with interested students, answer questions, and try to encourage students to consider their school moving forward.
"It's a great opportunity that, I wish going into the future, students would really take advantage of because there really is nothing like creating that nice relationship between the representative from each of the colleges that you are interested in," explained Mrs. Lund.
As college application deadlines approach later in the fall and in the winter, they can cause a frantic rush for seniors to complete and submit their official documents. The CRC assists during this time by hosting different events that are targeted with helping students figure out not only where to apply, but how to apply.
"It's always my goal to have more students than parents at those [college events] because I know how busy [students] are. Parents are a big part of the process, but they don't own it. The students do," explained Ms. Belstra.
The CRC's main focus begins to alter course during winter, when it becomes more about scholarships, mostly aimed at seniors. The CRC annually hosts Honors Night as a way to celebrate and recognize students who have won community and department scholarships at LHS.
Moving into the spring means bringing in new faces to the CRC, as this is the time when juniors really start to become "curious and start thinking about college," according to Mrs. Jones. The CRC mostly deals with upperclassmen, especially seniors, because their "comfort level [about college and their career] is growing," explained Ms. Belstra.
When the school year comes to an end, the women gear up for another round the following year but also look for ways to improve their process. Looking ahead to next school year specifically, the CRC is converting to a completely paperless system in the hopes that it will be more accessible and faster for students.
"Every year the seniors only go through it once. So the process is new every year to the seniors, but we are still teaching the same thing. So we tweak things," explained Mrs. Jones.
Having worked together for five years now, the trio emphasised their love of working with each other every day. Mrs. Jones described her favorite part of working in the CRC as "the people I work with. Honestly. We just work so well together."
The constant laughter and smiles in the CRC indicate the strong relationships that not only the trio has built up in recent years but also those secured with the students.
"I think [the students] feel that we're relaxed. When they first come in here, they are intimidated sometimes because college is kind of scary to think about, but I think the more they're in here, they get to be more laid back," explained Mrs. Jones.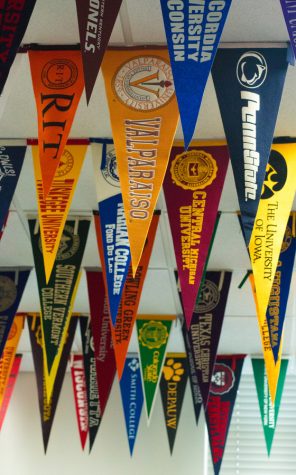 Maria Thames
Home Away From Home
To some LHS students, the CRC has become their home away from home, supported by the three women inside. Between the resources in the room and the helpful staff, students like senior Ramon Neira turn to the CRC as their go-to place within the building.
"I just go there whenever I have a free period or get a chance to do that. It's the staff, but it's also the atmosphere [that I like]," said Neira. "It's really relaxed and you can talk and don't have to worry about someone telling you to be quiet, and they're really nice."
Starting his junior year, Neira used the CRC to meet with Ms. Belstra for college guidance, and he now attends it for his first-period study hall every day. He plans on attending Northwestern University in the fall with the hopes of studying biomechanical engineering.
Junior Carrie Jeffrey is new to the CRC this year but has already taken advantage of all of the resources, specifically the community opportunities.
"I remember one time I went because I wanted to volunteer at the [Adler] Planetarium and I asked [Mrs. Lund] if she knew of any opportunities, and she sent me an entire list of volunteer things that I could do. They're all super helpful and have so many resources," explained Jeffrey.
She utilizes the CRC space for her free period every day and plans on continuing her visits until she graduates.
Besides having a fun place where talking isn't restricted, LHS senior and future student of Valparaiso University, Gina Sylvester, enjoys the company of the dynamic trio inside the CRC.
"They're not only there to help you, they're kind of like moms, which is awesome, explained Sylvester. "They give you advice on life and are always super sweet."
Leave a Comment