Finding Refuge in Libertyville
"Who am I? Well, I am Martin."
In 1996, the Nyarugusu Refugee Camp was created in Tanzania due to the civil war that erupted in the Democratic Republic of Congo, according to Doctors Without Borders. Since then, Congo has been plagued by unrest and political corruption, and the civil war has claimed more than six million lives.
Martin Apimbu's parents fled Congo in 1999, when his mother was pregnant with his older brother, and moved into the refugee camp, where his older brother, Apimbu and three of his four younger siblings were born.
"When you are in a refugee camp, you are waiting. You apply [for a visa], but it takes about three years to get through the visas and the application process and the interviews and the vetting and all the security clearance. When [the Apimbu family was] finally cleared, they were told they were coming to [Chicago]," shared Mrs. Kristen Palic, a teacher at Highland Middle School and Apimbu's host mother.
Apimbu spent the first 13 years of his life in the camp, and while he says he does not miss the living arrangements and food, he does miss his friends.
"I [liked] to play and hang out and go to the river with [my friends]. There was a river close. There was a youth center. We [played] basketball there. [Sometimes we played] soccer with boys from Kigoma (a nearby town) and some from [the] camp youth center," Apimbu said.
Eventually, an agency called Refugee One sponsored the Apimbu family and brought them to Chicago in October 2016. The agency was contacted for the purpose of this article, but they did not respond to interview requests.
"Normally how it works is the refugee agency places them with a sponsor, but because of the change in [the presidential] administration, because it was just after the [2016] election, they rushed a bunch of visas so people could come because they feared what was coming with the new administration," Mrs. Palic said. "Martin's family didn't get a sponsor until February, so they were here without any support, any guidance, any help whatsoever, for about five months."
Due to the lack of sponsorship, the Apimbu family found themselves in a new place with no source of income, merely doing the best they could. Soon, the Lake County Resettlement Group, which is a group of volunteers in the area that helps co-sponsor families alongside Refugee One, helped out the Apimbu family, according to Linda Wiens, a founder and main fundraiser of the group.
The Lake County Resettlement Group helped sponsor, support and tutor the children in the Apimbu family, as well as teach the parents different skills they would have to use in their new lives.
"We have been helping the family with basic material goods they needed; learning to do all the 'ordinary' things like banking, smart grocery shopping and laundry; getting to medical appointments; using the library and other services; finding ESL programs; getting jobs and getting to them," Ms. Wiens expressed over email. "We have also been tutoring the children in English and other school subjects, since their schooling in the refugee camp was very poor."
In October of 2016, shortly after arriving in the U.S., Apimbu began his freshman year at Sullivan High School alongside his older brother. Sullivan is located in the Rogers Park neighborhood of Chicago and was nicknamed "Refugee High" by Chicago Magazine due to its large population of refugees from around the world.
"
Am I scared? That is why I am here. He was my friend, and the [gang], they saw me and him together. They shoot him. I am scared maybe they are going to shoot me too
— Martin Apimbu
However, according to Mrs. Palic, in addition to a large refugee population, there is also a significant amount of gang activity in the neighborhood and school. The administration at Sullivan High School was contacted multiple times for the purpose of this article, but they did not respond.
"[Since Martin's arrival], there has become a bit of a gang problem and the gangs target the refugee boys, particularly the black refugee boys," Mrs. Palic explained.
A year after the Apimbu family moved, in October 2017, one of Apimbu's friends, who was also a refugee, was shot by a member of one of the gangs. While the friend did survive, his sponsors immediately relocated him to a different state in order to escape the danger. Apimbu, however, was left behind, and he soon became a target.
"They would walk up to Martin, making gun symbols with their fingers and poking him with them. They said, 'We shot your friend…We'll shoot you too,'" Mrs. Palic shared, choking up.
Soon after, Apimbu stopped attending school for fear of his safety.
"Am I scared? That is why I am here. He was my friend, and the [gang], they saw me and him together. They shoot him. I am scared maybe they are going to shoot me too," Apimbu said.
Mrs. Palic had been volunteering with a tutoring group through Lake County Resettlement and had gotten to know the Apimbu family through her work there. After hearing the news of Apimbu's situation, she consulted with her husband, and the two of them came to the agreement that Apimbu should move here, to Libertyville.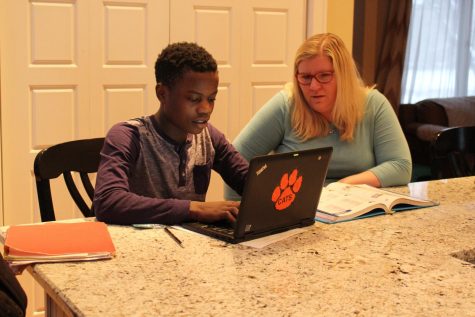 Ella Marsden
Apimbu began school as a sophomore at LHS in November. During the week, he lives with Mr. and Mrs. Palic and their 6-year-old daughter.
On the weekends, Apimbu returns to Rogers Park to stay with his family. When asked if he missed them during the week, he said "so-so," as he currently has his own bedroom for the very first time in his life. The Palic house is much quieter too, which Apimbu enjoys, but that's not to say being away from home is always easy.
"He misses his family. I've caught him with FaceTime on in the background, not actually talking to them, just hearing them," Mrs. Palic said, smiling.
When he's not at school, home, or tutoring, Apimbu can be found playing his favorite sport: soccer. Twice a week, Apimbu goes to the Libertyville Sports Complex and practices with the U17B FC 1974 team of the Greater Libertyville Soccer Association (GLSA).
"[The team] has been so kind. They let him practice for free, they just invited him to come because he was there and they saw him," Mrs. Palic said.
Coach Scott Steib, the U16B FC 1974 team coach, was the one who invited Apimbu to play with the program; he was contacted for this article but could not be reached. Apimbu soon moved to the U17B FC 1974 team and has been with them for about two months.
"Apimbu is talented and [has] good foot skills. He is good on [one-versus-one] attacking, [has] good shooting skills, and [knows] great attacking moves," Apimbu's current soccer coach, Memo Marin, said over email.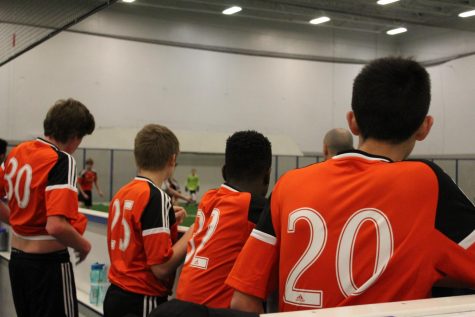 Ella Marsden
As for future plans, no one is quite sure where Apimbu will be. He is staying with the Palics until June, but after that, nothing has been decided.
"I don't know [if I will be here next year]," Apimbu said. "Maybe. I hope so."
Leave a Comment