Vaulting To The Top: Lily Moore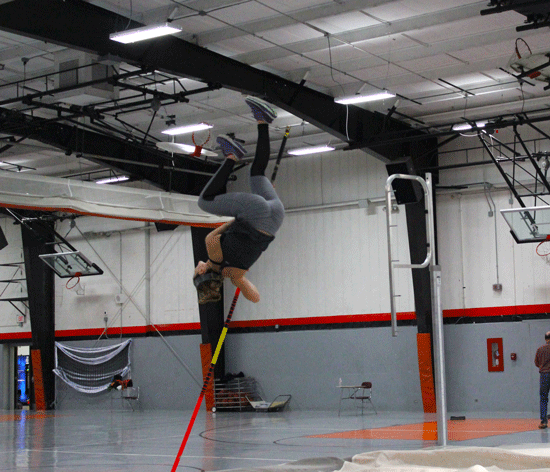 Lily Moore steps up to the starting position, pole in hand, eyes on the prize. She sprints forward, preparing to plant her pole and propel her body several feet into the air, before safely landing. It is just her and her pole out there; nothing stands in her way.
Moore, a senior at Libertyville High School, is no rookie to the sport of pole vaulting. She followed in the footsteps of her father and took up pole vaulting her freshman year of high school. She had been running since fifth grade and decided to challenge herself in a unique, individual field event under the broad umbrella of the sport of track.
"I like that you're competing against other people, but at the same time, you're always going to be competing against yourself," said Moore.  
Successful Seasons
Pole vaulting has become more than a mere extracurricular activity to Moore; it has become her life. She trains year round both during the spring high school season as well as with her club team, Get Vertical, during the off season. She even had the opportunity to attend a pole vaulting summit in Reno, Nevada, this past winter.
"It was really amazing to be around everyone who all have a passion for the same thing [pole vaulting]," explained Moore.
During Moore's sophomore year, her talent and dedication took her very far in the postseason. She was the champion of both the North Suburban Conference and the Illinois High School Association (IHSA) sectional. She then went on to place seventh at the IHSA State Finals with an 11-foot jump.
Riding high on her success, Moore was more than prepared for another high placement at the State level during her junior year season. But an unfortunate accident took place in February of last year, putting her dreams on hold.
Trampoline Trauma
Moore broke both the ulna and the radius in her right arm after a severe trampoline accident. She underwent emergency surgery that night to repair the broken bones with metal rods and screws that are still in her arm to this day. She was faced with a four-month long recovery and had to miss the entire high school track season.
But, because of Moore's determination and work ethic, she was able to persevere in the face of adversity. After her months of intense physical rehabilitation, starting with two-hour sessions three times a week, she is back and better than ever.
Her physical therapy began immediately after surgery with a series of stretching, ultrasound and astym therapy that is designed to break up scar tissue. After she started to regain some mobility, she worked primarily on rebuilding her strength through weight training.
"When I think of Lily…I think of all the hard work that no one has seen over the last year to get her back to where she is so she can achieve her goals this season," said Mr. Bill Etnyre, physical education teacher at Copeland Manor Elementary School and Moore's pole vaulting coach.
Tiny Team
Not many LHS students participate in pole vaulting because it is such a difficult event. Moore is accompanied by her teammates, Claire Neuberger and Jenny Blake.
They form a family-like bond throughout their season, and according to Blake, they even make t-shirts for just the three of them. Moore takes on a leadership role for the close-knit team, as she is so advanced in the sport.
"If our coach is off doing something else, she is good at helping us with steps [because] she's so good at technique," said Blake, a senior.
Fearless Focus
When it comes to meets, Moore's focus is unrivaled. She describes how she must go into every meet completely confident in her abilities. In pole vaulting, there is such a small margin of error, so if one thing goes wrong, there is a high possibility of injury.
"We usually go into a meet with a plan for what we're focusing on.  Sometimes you're not trying to jump a [personal record], but working to reinforce some techniques you've been working on during practice.  Either way Lily is not someone that you want to mess around with when she's in that competitive mindset," explained Mr. Etnyre.
Pole vaulting must be thought about as a sequence of steps. The vaulter must start with their run, and then plant their pole in the box just outside of the vaulting pit. He or she must then drive their body over the cross bar in order to safely dismount onto the mats on the other side of the pit. The pole itself is vital to the sport, and the athlete must choose his or her pole based on their weight, speed and strength.
Moore joked, "People always ask me, 'Oh is it scary? You probably have to be really strong,' but I think that the really good pole vaulters just think about it in steps."
Going for the Gold
Ultimately, Moore hopes to place in the top three at the State Finals this year in her last season at LHS. She also aspires to break the school record of 12 feet with her ending goal being a 13-foot jump, which would surpass her current personal record of 11 feet.
"The great thing about track is we know Lily ultimately needs to be at her best on May 20 and 21.  We have a process to get her there, but we believe that if she's at her best on those days, there are few girls in 3A that can match her," said Mr. Etnyre.
So far this season, Moore has already mastered a 10-foot, 6-inch jump, and plans to improve that finish greatly throughout the next few months. Unlike most high school athletes, Moore won't be saying goodbye to her sport after her senior season. She has verbally committed to the University of Memphis and is ready to reach new heights in her pole vaulting career.
Leave a Comment