Cheerleading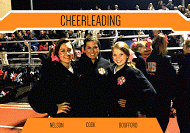 Hang on for a minute...we're trying to find some more stories you might like.
NAMES
  Hannah Boufford — senior, 4 year varsity
  Kenzie Cook — senior, 3 year varsity
  Allison Nelson — junior, 3 year varsity
PRACTICE SCHEDULE
  Mon., Tues., Thurs. –practice
  Fri. — game (fall) or practice (winter)
  Sat./Sun. — practice or competition (winter)
PRACTICE LENGTH
  2.5-3 hrs
SEASON LENGTH
  10 Months (May to February)
AVERAGE PRACTICE INCLUDES
  A cardio warm up, stretch, jump and tumbling warm-ups, tumbling/stunting technique practice, and routine run throughs.
HOW THEY COMPETE
  Competitions; size and time based on the amount of teams signed up to compete