Boys' Cross Country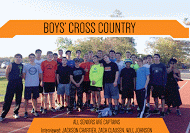 NAMES
  Every senior is a captain
PRACTICE SCHEDULE
  Mon. – Sat.
PRACTICE LENGTH
  2 hrs
SEASON LENGTH
  3 Months (August to October)
  Running camps in the summer
AVERAGE PRACTICE INCLUDES
  Varied running distances ranging from 3-10 miles; easy days = 4-5 mile, hard days = 6-7 mile, prep days = 4 miles at race speed
HOW THEY COMPETE
  Meets; the team usually gets on a bus at 6 or 7 a.m. and returns around 2 p.m.