Students at LHS are actively raising money for a worthy cause – Alex's Lemonade Stand – that fights cancer, bringing more meaning to their participation in sports. Namely, sophomore Jack Treutelaar, who plays for the varsity football team as a middle linebacker and long snapper, has been donating his time and working at the pop up lemonade stands. Raising over $13,000 in total, his active participation has brought awareness to his teammates, friends and students.
The Beginning of the Stand
At the age of four, Alexandra Scott decided that she wanted to hold a lemonade stand to raise money to help find a cure for childhood cancer. Little did she know that this stand would lead a national movement and her decision would be a progressive step forward in finding cures for childhood cancer. 
Before her first birthday, Alex was diagnosed with neuroblastoma, a rare form of nerve tissue cancer. Her determination to find a cure inspired many people, especially her parents, who officially created a non-profit organization, Alex's Lemonade Stand Foundation, in 2005, one year after Alex passed away at the age of eight. 
Alex's determination at such a young age has remained a sign of hope for the children affected with cancer and their families. Alex's passing did not take away from the hope of finding cures, but instead sparked hope within the lives of many. 
What began as a simple lemonade stand, has now become a foundation funding over 1,000 research projects. The stand is not just a charity, but a symbol of empowerment that sparked from a young girl who has impacted many lives. 
Inspiration sparks with students
With each stand and donation, the mission of ALSF (Alex's Lemonade Stand Foundation) stays the same: to raise funds and awareness for pediatric cancer research. The cause has inspired many students.
The foundation inspired Treutelaar on and off the field.
"I want to play for something bigger than just football," Treutelaar said.
Treutelaar became involved with the organization after hearing about it at Kohl's Kicking, a long snapper camp in Gatlinburg, Tenn. Since then, he has been an active participant in the fundraising. 
Treutelaar never had trouble finding volunteers for stands or donors for the cause. Friends and family have been nothing short of supportive. The same inspiration that flowed through Jack has flowed through the lives of many generous and determined individuals who have given time, money and energy for a crucial cause. 
There are other examples at LHS of involvement in the fight against childhood cancer. Medcats, a club at LHS for students who are interested in studying medicine, has come together to make "chemo care bags" to provide some extra love and comfort to chemo patients. 
"I've been incredibly lucky and blessed for the fact that everyone that I've known [who has] been affected by cancer has survived," senior Grace Schulenburg said, an active member of Medcats. "I think that's why I'm so passionate about Medcats because [cancer] affects more than just the one person."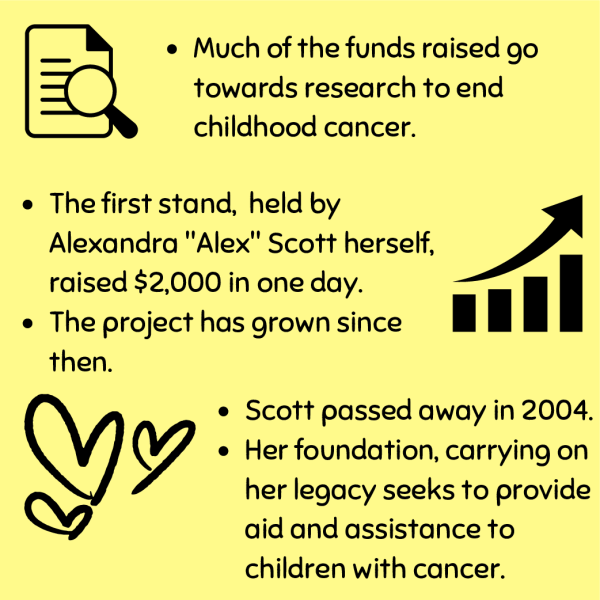 Operations
Each pop-up stand at events sells lemonade and popcorn, both for $2. 
"It's more than just a couple dollars," Treutelaar said. 
Each purchase adds to the already $191.5 million awarded in research grants since the project's inception. This sum of money has been the positive product of many lemonade stands, donations and partnerships that have ultimately been the reason for such high success of the foundation. 
Many large companies and organizations such as Country Time Lemonade have partnered or joined forces with ALSF to fight together. With the money raised, the foundation donates 88% of the revenue to benefit kids with cancer through individuals, research centers and organizations. ALSF has recently announced the Crazy 8 Initiative to research cures for rare forms of childhood cancer. With high hopes for the initiative, ALSF allotted $25 million towards the Crazy 8 initiative, which has already funded six projects. In 2022, they increased the funded money to a total of $50 million, which has already supported 10 different projects. 
The project has connected passionate and informed researchers from all over the world. ALSF also uses donations to support clinical trials, which are a vital aspect in evaluating new treatments for childhood cancer patients. These trials can help with finding new routes a doctor could take to find the best possible treatment for patients. 
As the necessary treatment for some patients could not be available nearby, ALSF offers a Travel for Care program, which provides financial support for families that must travel for cancer treatment. This program alleviates additional stress or boundaries that could be a setback for a child's treatment. With each important step the foundation takes with their donations, they also send a message of importance and awareness to others all around the world.
Future Hopes:
The mission statement of ALSF has remained "to change the lives of children with cancer through funding impactful research, raising awareness, supporting families and empowering everyone to help cure childhood cancer." 
Through the persistent work the foundation has done, they have not strayed from the statement and students like Schulenberg and Treutelaar have helped the foundation by sparking inspiration in others. 
"After I leave LHS," Treutelaar said, "I hope that the school or others can keep supporting [the foundation]." 
As he has brought attention to the foundation amongst friends, classmates and neighbors, he also states that he hopes "the foundation could help the entire community." 
The next stand will be held on Saturday and Sunday, Nov. 11 at LHS for The Chicagoland Youth Football League's (TCYFL) Super Bowl football game.)